In 1994, Hilltop Artists was developed with the intention of providing a creative space for 'at risk' youth—at risk of dropping out of school, or of getting involved with drugs or gangs, or of becoming a 'Menace to Society.' Well-known artists were offered residencies and at-risk youth from the Hilltop neighborhood were invited to help them create their art. Over time the program evolved from being Hilltop Artists in Residence, where professional artists were in residence on the Hilltop, to Hilltop Artists, where young people from the Hilltop learn to become artists in their own right.

GATHER: 27 Years of Hilltop Artists represents a fraction of the diverse artists who have emerged from our programs. There is diversity in their ethnic and cultural backgrounds, their economic and class positions, their cognitive abilities, their tastes, their choice of subject matter, and in the contextualization of their work (Is it fine art? Is it craft? Is it a hybrid of the two?). Bringing this diversity into the museum is significant because of the historic position of the museum in society.
Museums are the keepers of what is most valued and sacred in society, and as such they are institutions that maintain the cultural hegemony of the dominant class. The dominant class, or ruling class, or bourgeois, use cultural institutions to maintain power in capitalist societies. Power is being in control of the narrative, assigning value, deciding who is equal and who is not. In the hegemony of Western society, the ruling class is predominantly white and upper-middle class and their values are considered to be the norm.
Bringing the artists in GATHER: 27 Years of Hilltop Artists into the museum is challenging the status quo, it questions who is an insider and who is an outsider, who is an authentic artist and who has value in this space. We may not be part of the ruling class, but for a few months we will occupy this space and create positive change for all of the Hilltop Artists who will come after us.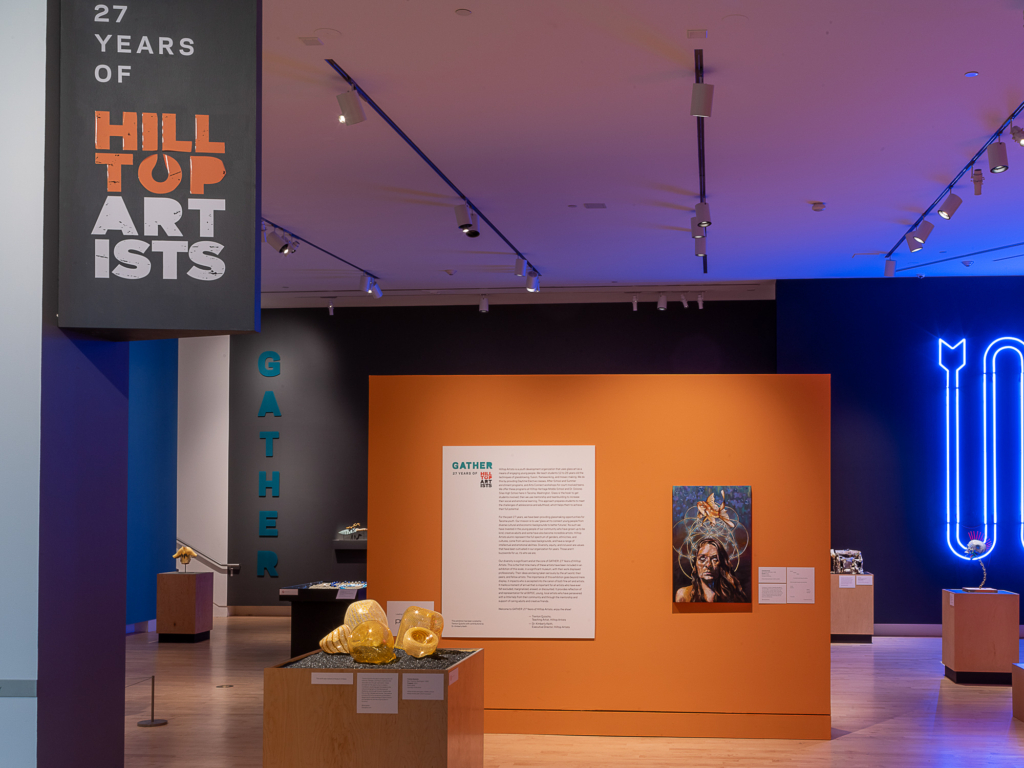 The Future of Hilltop Artists:
"It's not about the glass, it's about the kids" is a popular mantra at Hilltop Artists. As you can see from the objects around you, it's really about both. It takes a team to blow glass. Team members need to develop strong technical abilities and excellent verbal and non-verbal communication skills. Honing these skills takes time and practice, which happens through instruction, mentorship, patience, determination, and resiliency. What we do goes beyond shaping objects, we help to shape people.
Hilltop Artists started with famous artists and instruction in glass, and grew into a program that places the development of social, emotional, and technical skills at the center of our students' experience. We are in the youth development business, shaping the community members that we want to be neighbors with, some of whom happen to also be the amazing artists you have been introduced to in this exhibition.
Text contributed by Dr. Kimberly Keith, Executive Director of Hilltop Artists.
GATHER: 27 Years of Hilltop Artists has been curated by Trenton Quiocho with contributions by Dr. Kimberly Keith.
We are thankful to our Leading Sponsors for making this exhibition possible:

We also appreciate our Foundational Sponsors for their generous support: ArtsWA, National Endowment for the Arts, and Virginia Mason Franciscan Health.
Copyright for the artwork and the photography of the artwork lies with the artist, their assigns, or the museum. Photographs not provided by the artist are by Steven Miller. Images are available to view here for educational purposes only and are not for commercial use.