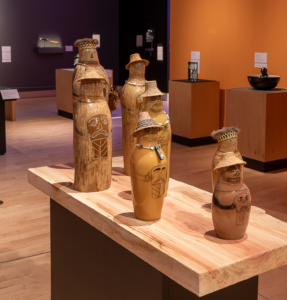 "Mindfulness Totems are delving into the trials and tribulations that each of us experience in varying degrees of severity. The totem's facial expression is meant to convey how an individual wishes to portray themselves to their peers or the outside world, whereas the totem's mid-section represents how this individual may feel internally based on past experiences. Too often individuals don't take into account the internal struggles of who we interact with on a daily basis or just in passing."
-Douglas Jan Burgess II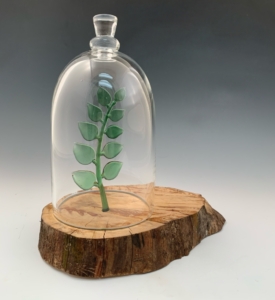 Ellye Sevier's work focuses on the transparency and strength of glass as a medium. She loves to create work that highlights both aspects, either through optics or construction. She finds it joyfully challenging to play with the limits of glass' strength in the construction and design of objects and glass jewelry, especially in flameworking with borosilicate glass. She draws inspiration from nature and the beautiful Pacific Northwest. She finds working with glass to be highly therapeutic and nourishing.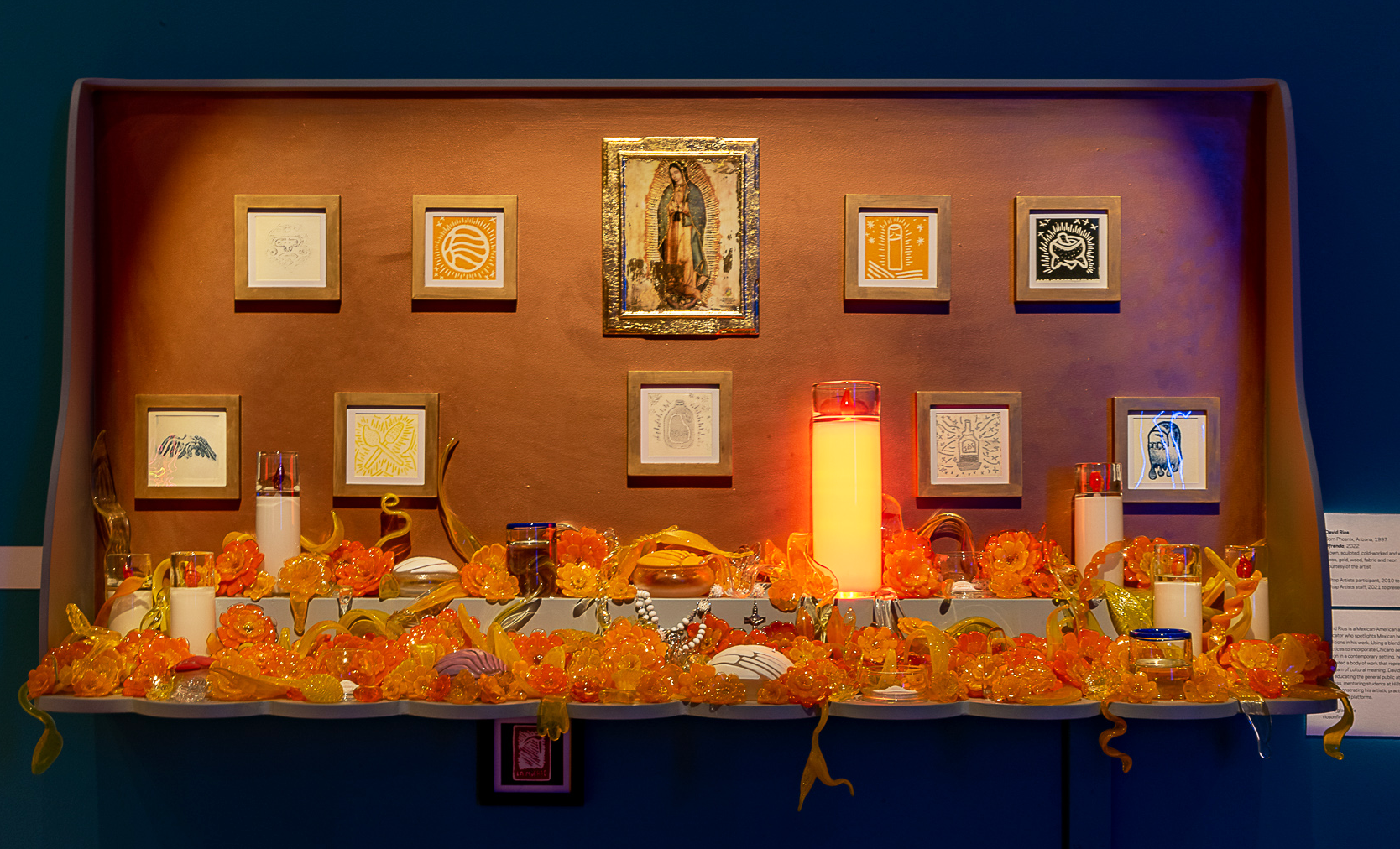 David Rios is a Mexican-American artist and educator who spotlights Mexican heritage and traditions in his work. Using a blend of studio practices to incorporate Chicano aesthetic and design in a contemporary setting, he has cultivated a body of work that represents a rich amalgam of cultural meaning.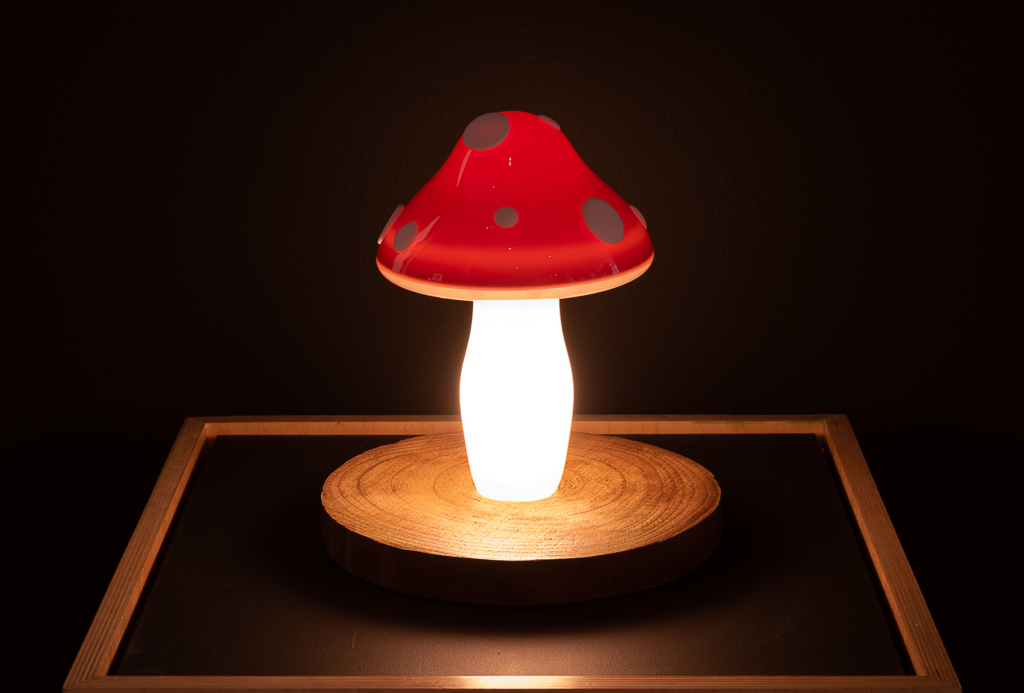 Samantha Scalise is an instructor at Hilltop Artists. She enjoys teaching glass to the youth and the life lessons that go along with it. Sam appreciates the never-ending possibilities and the creative nature of glass, and specializes in flameworked, kiln-formed, and furnace glass.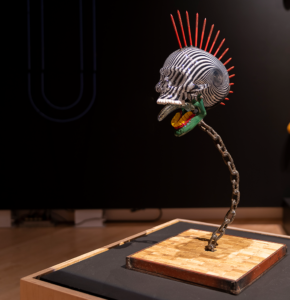 Evan Schauss assisted well-known artists in the Pacific Northwest and traveled to the Czech Republic, Italy, Hungary, and Iceland to learn from European glass masters. He built his first "Hot Shop in a Box" in 2004, to enable him to blow glass in places such as Burning Man. In 2009, Evan placed a Hot Shop in a Box in Maui and called it home. He donated an entire Hot Shop to the Hui No'eau Visual Arts Center, effectively starting the first education program for glassblowing in Maui.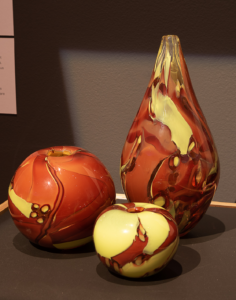 Jesse Sorgenfrei considers himself more craftsman than artist. He loves manipulating hot glass into free-form pieces like vases and bowls. The hot shop is his Zen space where he can focus on the glass and what color combinations he wants to use. He loves working with the movement of the material and seeing it come together into something beautifully crafted. His color combinations are inspired by nature and are the focal point of his work.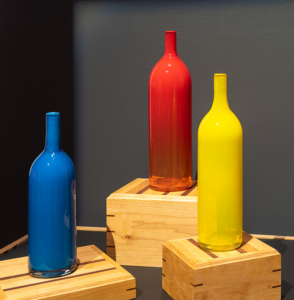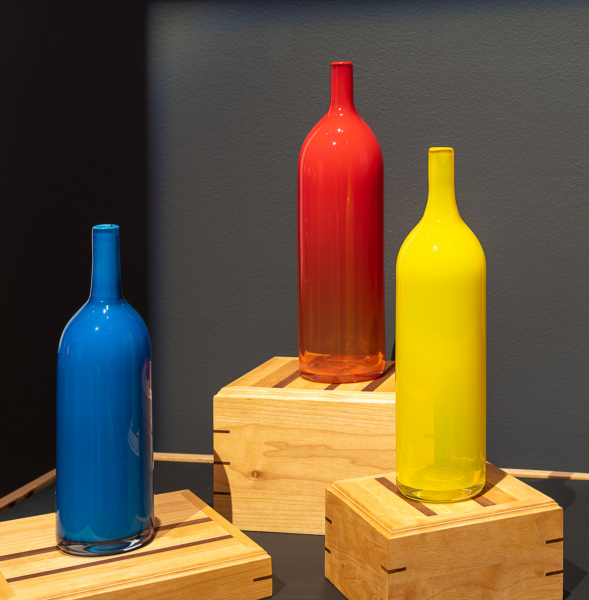 Jack Spitzer works at various studios in the Northwest including the Museum of Glass. His work is formed around his strong grasp of the fundamentals of glassblowing. He enjoys exploring and creating contemporary themes using traditional techniques. He likes to use basic shapes and skills to express the craftsmanship of the bubble. Jack's work is constantly changing and growing as he is still a young student of the material.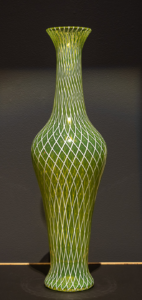 Shayne Nutter was introduced to Hilltop Artists by his older brother Seth. His younger sister Sadie joined shortly after. Much later his nephews Ezekiel and Asa became second generation Hilltop Artists. Shayne has worked with numerous glass blowers around the Puget Sound. He has been refining his craft for 25 years and considers himself more a craftsman than an artist. He continues to be excited by the material and looks forward to what the future holds for glass.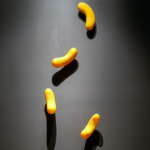 Jessica Hogan has been making glass with a variety of mentors at numerous studios in the Puget Sound area since she was 13 years old. Today she mentors and teaches young people as the Programs Manager at Hilltop Artists. Her artwork explores the relationship between nature and the industrialized world of food and human consumption. She enjoys revealing the hidden beauty of unnatural foods and the reality of modern-day living, transforming ordinary food items into beautifully elevated works of art.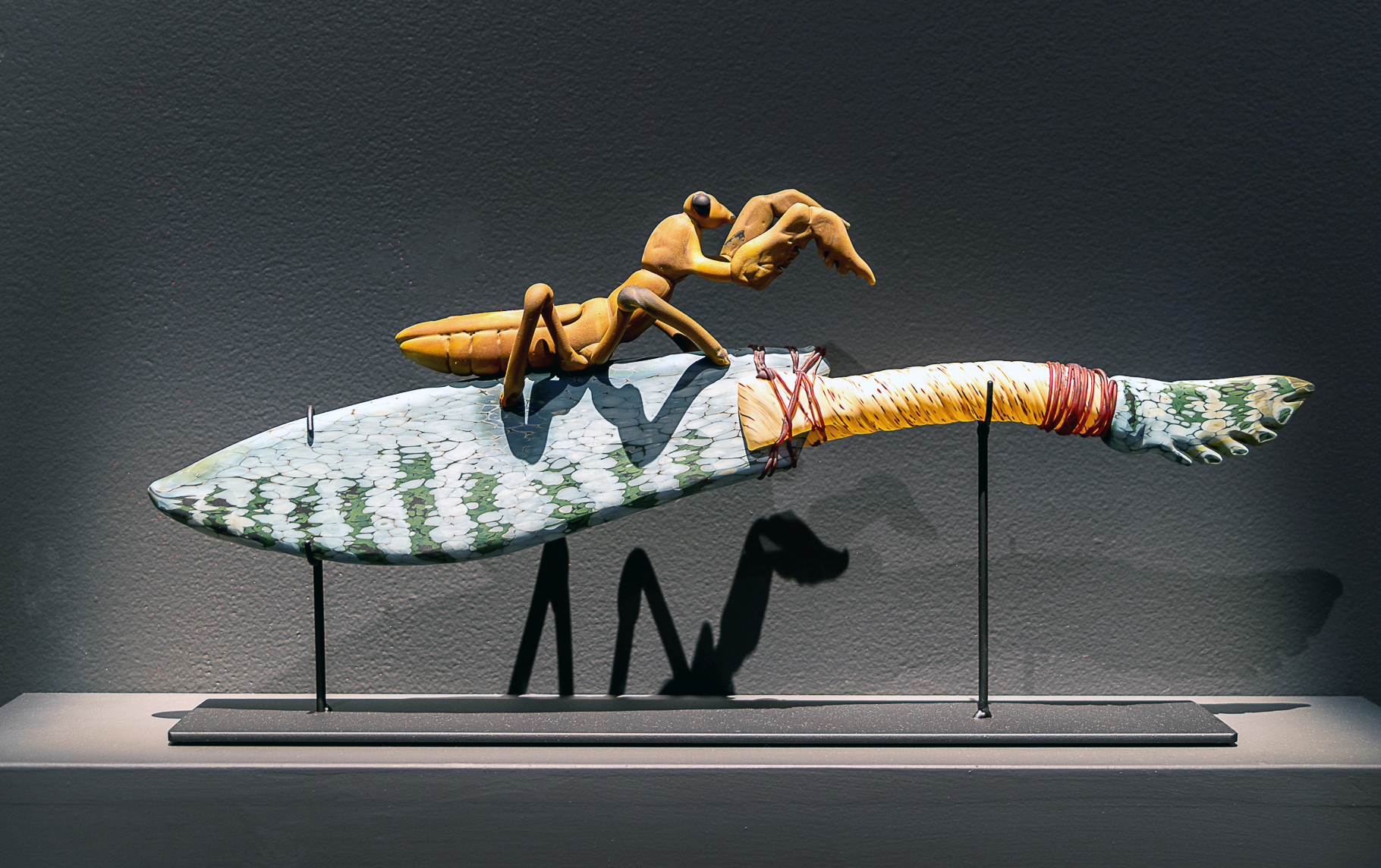 Tony Sorgenfrei's glass sculptures are informed by Mesoamerican and Norse mythology and culture. With his Artifact Series, he hopes to inspire people to imagine what it might be like to go back in time and be among the Indigenous people of Mesoamerica. Tony's intention is to stir imagination and emotions in viewers, encouraging them to think about history and what it means to them individually. For Tony, the true power of art is getting people to reflect on themselves.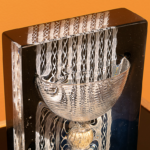 Jason McDonald has spent the majority of his glass career focusing on Venetian technique, including goblet and pattern making. His work examines the inequalities that exist between Black and white America, seeking a dialogue between the viewer and the viewer's relationship with the reality of a nation built on slavery. He also explores the limits of the material itself, studying specific techniques and properties of glass, while investigating ways to merge stories about social inequality with exquisitely made objects.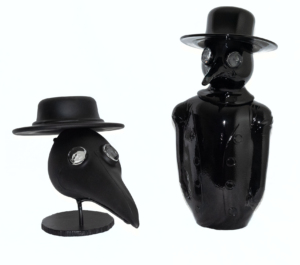 "I want viewers to know my art is very specific. It's not really meant to be a "What is it?" kind of piece. It's very straight and to the point. That being said, I want the viewer to take away whatever they feel on their first approach. My intentions for creating could be completely different from what the audience receives. I love that. But, one of the most important things about glass that most people don't know just by looking is that there are multiple different types of glass and there are multiple ways in which it is worked."
-Edgar Valentine
Text contributed by Trenton Quiocho and Dr. Kimberly Keith, Executive Director of Hilltop Artists unless otherwise noted.
GATHER: 27 Years of Hilltop Artists has been curated by Trenton Quiocho with contributions by Dr. Kimberly Keith.
We are thankful to our Leading Sponsors for making this exhibition possible:

We also appreciate our Foundational Sponsors for their generous support: ArtsWA, National Endowment for the Arts, and Virginia Mason Franciscan Health.
Copyright for the artwork and the photography of the artwork lies with the artist, their assigns, or the museum. Photographs not provided by the artist are by Steven Miller. Images are available to view here for educational purposes only and are not for commercial use.
Image credits: (banner) Trenton Quiocho. "Trapped," 2021. Blown glass and wood. Courtesy of the artist. Photograph by Steven Miller. (mid-page) Douglas Jan Burgess II. "Mindfulness Totem Pole Park II" (detail), 2022. Blown, enameled and engraved glass, redwood plank, woven cedar, woven spruce root, abalone shell, fur, and dentalia shell, 22 x 15 x 30 in. (55.9 x 38.1 x 76.2 cm). Courtesy of the artist. Photograph by Steven Miller; View of GATHER: 27 Years of Hilltop Artists featuring works from Jesse Sorgenfrei, Jack Spitzer, and Shayne Nutter. Courtesy of the artists. Photograph by Steven Miller; View of GATHER: 27 Years of Hilltop Artists featuring works from Tony Sorgenfrei, Emily Martin, and Edgar Valentine. Courtesy of the artist. Photograph by Steven Miller.