Departures and Divisions: Variation in American Styles, 1900 – 1950, drawn almost entirely from TAM's own collection, demonstrates how artists in early twentieth-century America moved away from conservative European and American influences—notably the French impressionists and New York's National Academy of Design—towards more distinctly American styles. Exhibition curator and executive director, David Setford, explores a few of his favorite selections from the show.
Organized mainly by Arthur B. Davies and Walt Kuhn, under the auspices of The American Association of Artists and Sculptors, The International Exhibition of Modern Art (or the Armory Show) aimed to bring artists and the public examples of avant-garde European art, including fauvism and cubism. It astonished and even offended many Americans who were used to realism and academicism; one critic referred to Marcel Duchamp's Nude Descending a Staircase as "…an explosion in a shingle factory." Despite the reception, the show had a significant influence on the development of several styles in America.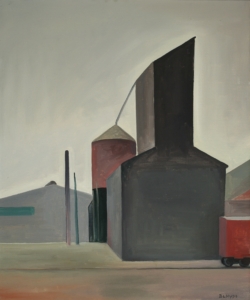 One of these styles was Precisionism, in which artists came to use cubist-influenced geometries in their portrayal of industrial structures. Barns and mills (seen here in Beulah Hyde's "Old Mill") and other rural structures were also favored subjects of this loose-knit group of artists, to which Beulah Hyde came as a later practitioner.
Beulah Hyde was an important figure in Tacoma as both a contemporary artist and patron. Hyde attended Annie Wright School, the Abbott Academy (a women's preparatory school, in Andover, Massachusetts), and studied privately with Mark Tobey. She was a gifted painter who brought modernist ideas about art to Tacoma, focusing on broad shapes and color rather than details. She preferred everyday subjects and was particularly interested in industrial settings and port scenes. She showed frequently with the Tacoma Art League and Women Painters of Washington.
Hyde focused most intently on her painting during the 1940s and early 1950s. As a patron, she was a staunch advocate of the Tacoma Art Museum in its early days and a passionate collector and supporter of Northwest artists.
Born in Gloster, Mississippi in 1909, James Washington Jr. was an African-American artist who taught himself drawing and painting through home-study courses and careful observations of other artists' work. After moving to the Northwest in the mid 1940's, he began studying with artists Mark Tobey and Yvonne Twining Humber to create stone and wood sculptures.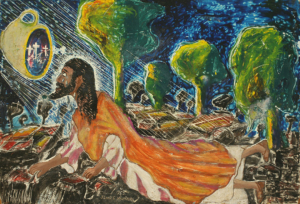 "If I'd been taught painting I wouldn't be any good. I wasn't regimented by any teacher. I had to dig up what I was about, and articulate it. There is a condition you have to be in when you create in order to animate your work. First, be humble, and realize that you don't "have" it; it emanates from your soul. Your body is a temple for a force you acquire. I have to synchronize with the spiritual force until I feel it oozing out." – James Washington, Jr.
By the time of his death in 2000, his paintings and sculptures were renowned internationally and featured within many public exhibitions including the M. H. de Young Memorial Museum in San Francisco in 1959, Frye Art Museum in 1980, Bellevue Arts Museum in 1989, and the Washington State History Museum in 2002. Additionally, in 1990 the City of Seattle's Historic Landmark and Preservation Board designated Washington's home and studio a cultural center landmark.
Works by Beulah Hyde and James Washington Jr. are both currently on view as part of Departures and Divisions: Variation in American Styles, 1900 – 1950 through September 4, 2022.