Artist Dani Kaes' unique approach to glass art and neon is now on view as part of the Museum's latest exhibition, GATHER: 27 Years of Hilltop Artists. Featuring a variety of contemporary glass artworks as well as paintings and mixed media, GATHER highlights the outcomes and reach of the Hilltop Artists program while shining light on the opportunity gaps faced by these artists. Kaes graciously took the time to speak with Tacoma Art Museum and give some background on how their artistic journey has unfolded over the years.
What is your earliest memory of Hilltop Artists?
Dani Kaes [DK]: I actually remember walking in for the first time. I had gotten a job interview to be a part of the Hilltop Artist production team after taking some glassblowing classes at Tacoma Glassblowing Studio just down the street. I remember walking into the interview pretty clearly—the sounds of blow pipes and tools hitting the bench, the smell of burning wood and newspaper, all the talking, and so much movement. It was overwhelming but super exciting.
Which artists inspire you? Are there any specific pieces of art that inspire you?
[DK]: "Traditional" artists: Maurice Noble and Paul Julian.
Light artists: Dan Flavin, Keith Sonnier, and all my neon friends.
I find a lot of inspiration in the iSpy object books. Which I think are art.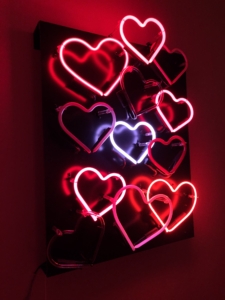 How did you continue your training after Hilltop Artists?
[DK]: I interned at the Museum of Glass while at Hilltop and continued to intern after I left. But, I moved away from traditional glassblowing soon after. Hilltop provided me the opportunity to go to the Pilchuck Glass School where I was able to take a neon class with Jeremy Bert. He was able to get me a job at a sign shop in the neon department after the session ended. From there, I was able to really hone my skills in all aspects of neon, which I am enterally grateful to all parties for.
Have you apprenticed with any artists? Who? Where?
[DK]: Before I left for Pilchuck, I learned the basics of neon from Tacoma local Galen Turner who I met through the Museum of Glass. I still think he taught me the most out of anyone. Once I entered the sign industry, I had a couple of "traditional" apprenticeships in neon that ended unconventionally. My first apprenticeship ended halfway through after my mentor left the industry to live in the Alaskan brush. So, I don't think I ever graduated.
What is the best part about working with glass?
[DK]: The community.
What should exhibition visitors know about your art? About working with glass? About Hilltop Artists? What are the important things about glass that someone wouldn't know just by looking at it?
[DK]: For neon, there's so much that goes on to get something lit up. It's not just about bending and getting the tubes to be shaped as an object or word. There's also processing—the use of high voltage electricity to sterilize the inside of the tube, creating a vacuum and filling it with gas—and assembly and install. All the steps require specialized training. Every neon sign you see is made by a person; it is not a process that can be automated in anyway because there are so many variables to juggle. There's years of training and knowledge packed into that $100 open sign.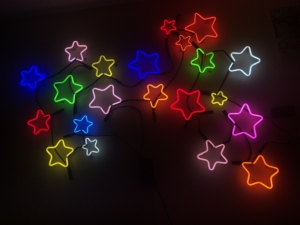 What would you say to a student who was considering signing up for Hilltop Artists?
[DK]: It's a great learning experience—even if you end up not being interested in traditional glassblowing or glass at all. There is a lot of value being involved in a team and producing something tangible together. Working at Hilltop has provided me so many opportunities both in and outside of the glass world that other people only dream about. It's a really special place. Get involved if you can. More than just the glassblowing, the staff is truly incredible.
Who are some fellow glass artists, or artists in general, who have inspired you throughout your career?
[DK]: I would never say this to his face, but Trent Quiocho at Hilltop has been an ongoing inspiration to me. I really admire his work ethic and drive. I tried to emulate him a lot growing up, and I think that set me up for success in a lot of ways. Similarly, the entire team at the Museum of Glass have always been my heroes. I started my internship there at a really pivotal time in my life and every lesson I got from each of them has always stuck with me. For neon specifically, I am inspired by those who are doing the work to remove the barriers to learning and participate in our industry: Kacie Lees and Percy Echols come to mind immediately. Patty D, who I met through Hilltop, continuously inspires me with her spirit and attitude. I want to be Patty when I grow up.
What message, if any, do you hope to convey through your work?
[DK]: I used to think the stuff that I made wasn't about anything. I still believe that for many of my older pieces—they were generally experiments about some idea or technique, artifacts of curiosity more than anything. Or just shapes I liked, or stuff ripped from old cartoons and comic books that I felt deserved a life in 3D.
I think my newer work has become a manifestation of my own anxiety in a lot of ways, even if I didn't mean them to feel that way. Representations of feeling deeply overwhelmed or paralyzed by having to make meaningful decisions in my adulthood. I haven't decided if it's a cathartic process or just kind of a bummer to be living in it so heavily.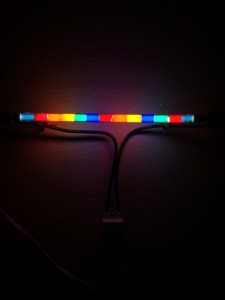 In what ways do you share your passion and engage with the community and fellow artists?
[DK]: I have taught neon on and off. But, I stay involved in my community through sharing all the information I have gathered in my years in the industry. Historically, neon has been a medium that is closed off to outsiders or newbies. In the past, it was a matter of job security to be passing along information or techniques, even to those working in the same shop. There are still so many people in the medium who continuously gatekeep information. I believe that to keep this medium alive, we must share as much as we can. I was lucky to be involved in the sign industry for so long and was able to be exposed to all the facets of neon and neon/electrical safety and assembly— details that many people don't get to be exposed to. I am happy to share and engage with anyone who has any questions or are trying to get started.
What does your creative process look like? How do you get started on a new piece? How do you know when it's "finished?"
[DK]: I like shapes and colors. So I usually find a shape or object that I enjoy and build around that. It's done when it feels done. Most of my work is very modular and changes over time.
What does generosity mean to you as an artist? How do you emulate this?
[DK]: Share whatever you can with anyone who is asking questions. Facilitate a community where asking questions is encouraged.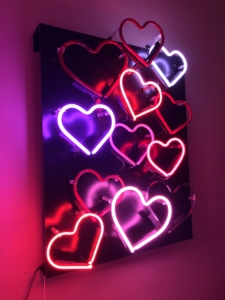 Is there a piece you think is most representative of who you are as an artist and the themes/stories you try to convey?
[DK]: I made a piece that is a set of flashing hearts. It was designed to go in a bathroom, in front of the mirror so when you stood in front of the mirror you would see these bursts of hearts behind you. It was inspired by the moment Pepe Le Pew sees Penelope Pussycat for the first time in Looney Tunes. It's still the piece I love the most, but it works best when in a bathroom.
Are there special challenges to working in glass that others might not expect?
[DK]: It's incredibly expensive, probably in more ways than you think.
Explore Dani Kaes' work as part of GATHER: 27 Years of Hilltop Artists, now on view at Tacoma Art Museum. Find more of Kaes' work on Instagram.