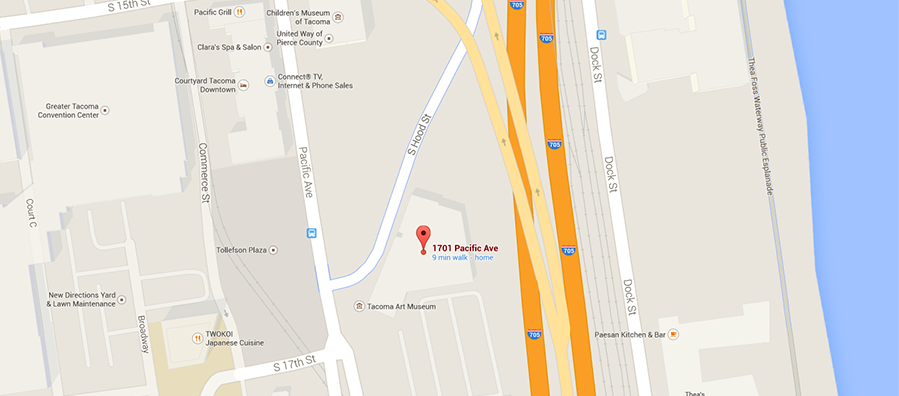 Reserve a date and time for you and your guests to visit the Tacoma Art Museum. Payment will be processed upon arrival.
Download our updated Gallery Map (English) [pdf]
Download our updated Gallery Map (Spanish) [pdf]
---
Location
1701 Pacific Avenue
Tacoma, WA 98402
(map)

---
Driving Directions

From I-5 North or South
Take the I-705 North/WA-7 South exit, number 133, towards City Center
Follow signs to City Center
Take the 21st Street exit
Turn left onto 21st Street
Turn right onto Pacific Avenue
Turn right onto S Hood Street
Follow signage to Tacoma Art Museum's pay parking lot
---
Parking
Parking is available below and around the building in numbered stalls marked with "TAM", and is managed by Republic Parking Northwest. There are stairs and an elevator from this area into the museum. A limited number of accessible parking spaces are available at this location. Please prepay before entering the museum.
Cost is $2 an hour with an all-day rate of $12 for up to 10 hours.
Additional parking immediately around the museum is also managed by Republic Parking Northwest. Please prepay before entering the museum. For a map of area garages, click here.
To download a printable map of additional parking options, click here.
Limited spots available.
---
Public Transit

Bus Routes
Routes 1, 11, 13, 15*, 41, 42, 48, 53, 61, 102, 490, 500, 501, 582, 586, 590, 594, 603, and 603A all stop within walking distance of the Tacoma Art Museum. Visit Pierce Transit for information or call 1-800-562-8109.
Tacoma Link Light Rail
The Link stops within walking distance of Tacoma Art Museum (Union Station/ S.19th). Click here for more information.
Amtrak
We recommend making your reservations early to get the best fares. Fares are generally higher during holidays and peak travel periods. For current scheduling information, visit Amtrak's website  or call 1-800-872-7245.
Group Rates for Amtrak
Parties of 20 or more passengers traveling together can enjoy the benefits of traveling as a group. You must make reservation requests for your group at least four business days before departure. Please book as early as possible for best fares and accommodations. To book a group reservation visit Amtrak's group rates page  or call 1-800-USA-1GRP.
---
Boating Visitors
The Dock Street Marina  is conveniently located in front of the Museum of Glass at 1817 Dock Street (map). Visitors may dock their boats at the marina at docks G and H and easily walk to Tacoma Art Museum by way of the Bridge of Glass. Contact Dock Street Marina at 253-250-1906 for rates, hours, and further information.