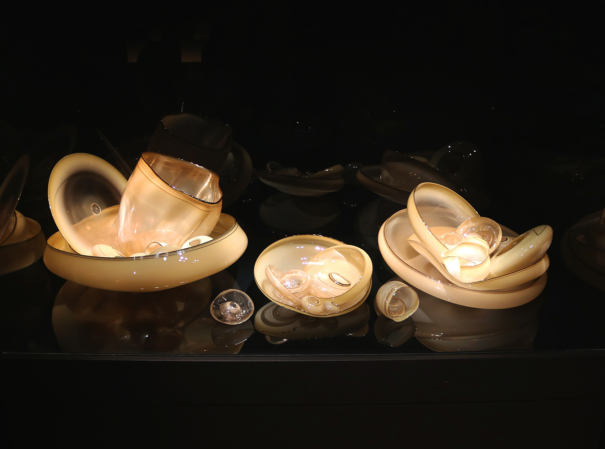 Exhibitions
Chihuly at Tacoma Art Museum
On Extended View
Dale Chihuly has emerged as one of the most prominent American artists of the last century, all the while remaining closely associated with the Pacific Northwest and, notably, Tacoma. Tacoma Art Museum has followed and shared his story as it has unfolded since the late 1960s.
Tacoma, Chihuly's hometown, has been a critical source of inspiration, support, and development for him. He fondly remembers a stained-glass window above the front door of his first childhood home, finding beach glass on the shores of Puget Sound, and the city's brilliant neon signs that once illuminated downtown.
Chihuly began his relationship with Tacoma Art Museum in 1968 with an exhibition featuring works by artists associated with Seattle's Attica Gallery. The museum and the artist presented subsequent exhibitions together including the spectacular Dale Chihuly: Mille Fiori in 2003, and Dale Chihuly's Northwest in 2011 in celebration of the museum's 75th anniversary.
Other major projects in Tacoma include the exhibition 100,000 Pounds of Ice and Neon at the Tacoma Dome in 1993, and the permanent installations Chihuly at Union Station (created in 1994) and the Chihuly Bridge of Glass inaugurated in 2002. Chihuly has also been a featured artist at the Museum of Glass.
Many of the works on view in this gallery were gifted by Chihuly in 1990 in honor of his parents, Viola and George, and his brother, George W. Chihuly. In 2003, when Tacoma Art Museum opened its new building, Chihuly added seven new works to the collection. In 2006, he installed the museum's much-loved Ma Chihuly's Floats and later that year gifted them in memory of his mother. Additional works by Chihuly seen here are from the 2013 gift by his long-time friend and patron Anne Gould Hauberg.
---
Chihuly at Tacoma Art Museum is made possible in part by the generous support of Liliane and Christian Haub, Georg Haub, and Propel Insurance.
Copyright for the artwork and the photography of the artwork lies with the artist, their assigns, or the museum. Images are available to view here for educational purposes only and are not for commercial use.