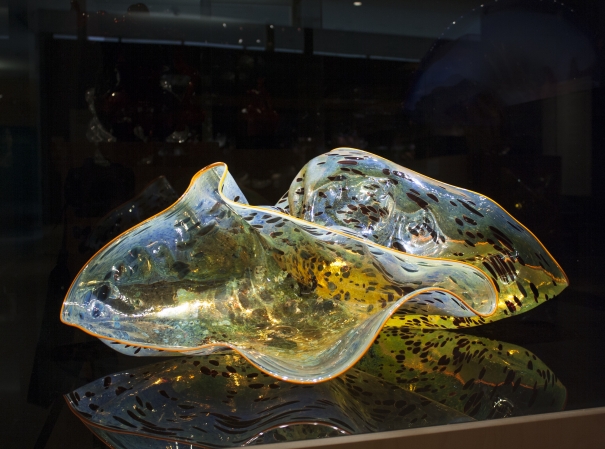 Exhibitions
Dale Chihuly at TAM
Ongoing Exhibitions
Most of the works on view in this gallery were donated by Chihuly to provide visitors a retrospective of his career. His gifts to the museum's permanent collection represent the artist's recognition of the importance of his hometown as a constant source of inspiration and support throughout his career. A number of additional works by Chihuly are from the 2013 gift by Chihuly's long-time friend and patron Anne Gould Hauberg. These works emphasize the early support by Hauberg for Chihuly's art.
The core of the Dale Chihuly Collection was first installed in 1987 on the third floor of the former Tacoma Art Museum building at South 12th Street and Pacific Avenue. With special cases and dramatic lighting, the collection offered museum visitors a retrospective exhibition of each major phase of the artist's career.  The artist donated 31 works to the museum in 1990 in honor of his parents, Viola and George, and his brother George W. In 2003, when Tacoma Art Museum opened its new building, Chihuly added seven new works to the collection to ensure representation of his more recent series. In 2006, Chihuly first installed the museum's much-loved Ma Chihuly's Floats in the central courtyard.  Later that year, he gifted them in honor of his mother, Viola. These floats are installed each spring and remain on view until late autumn. In total, this collection represents most phases of Chihuly's career: Baskets, Blanket, Cylinders, Seaforms, Macchia, Persians, Ikebana, Putti, and Niijima Floats.
Dale Chihuly at Tacoma Art Museum brings together for the first time key gifts from the Anne Gould Hauberg Collection with long-time favorites from the internationally renowned Tacoma-born artist.
Listen to the audio tour of Dale Chihuly at Tacoma Art Museum using the free STQRY app on your phone, or accessing the web version.