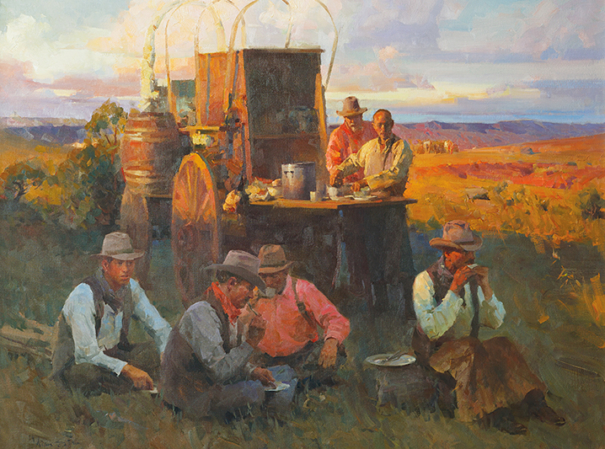 Exhibitions
Immigrant Artists and the American West
On Extended View
Immigration is a topic on many peoples' minds. With changing policies and shifting values that affect many people's lives in our community and beyond, Immigrant Artists and the American West draws attention to how art relates to and responds to personal and political issues around immigration.
Immigration has been an issue affecting people in the American West since the region was first explored by Europeans. The 19th and 20th centuries saw the greatest surges of immigration to the West with people arriving from the north, south, east, and west. Often in pursuit of better opportunities, immigrants have had a profound impact on helping settle and develop the West. Among the immigrant populations are artists who create works that emphasize the people, places, and ideas that are meaningful in their new homeland. Immigrant artists share visions that further reveal their interests and experience in the West and at times relate to both the positive and negative experiences of immigration.
Drawing from Tacoma Art Museum's Haub Family Collection of Western American Art, its Northwest Art Collection, as well as loans of contemporary art, Immigrant Artists and the American West highlights artists from diverse places including China, Denmark, England, France, Germany, Japan, Mexico, and Russia, among others. Although not fully representative of each of the unique places from which people in the West hail, the exhibition explores how immigrants' experiences are shared through art.
While immigrants and their descendants share many experiences, there is not one universal immigrant story; the exhibition represents a range of viewpoints to highlight just a few of the many stories that can be shared about immigration. The American immigrant experience is a common narrative, but we are also a nation comprised of Indigenous people and descendants of enslaved peoples. In celebrating one group, we should not erase or disregard the histories and contributions of everyone who makes this country their home.
Learn more about the Haub Family Collection in "Art of the American West: The Haub Family Collection at Tacoma Art Museum," available in the TAM Store. 
Immigrant Artists and the American West was organized by Tacoma Art Museum and made possible through the generous support of the Haub Family Endowment.
Top to bottom: Mian Situ (Chinese American, born 1953), Beef, Beans and Biscuits, 2004. Oil on canvas, 41 × 48½ inches. Tacoma Art Museum, Haub Family Collection, Gift of Erivan and Helga Haub, 2015.29.16. Frederick Billing (German American, 1835–1914); Peter Moran (English American, 1841–1914); and Thomas Moran (English American, 1837–1926), Falls of the Grand Canyon of the Yellowstone River (detail), circa 1894. Oil on canvas, 28 × 24 inches. Tacoma Art Museum, Haub Family Collection, Gift of Erivan and Helga Haub, 2017.14.6.