About John Mix Stanley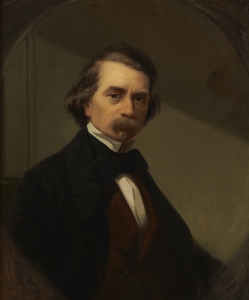 John Mix Stanley (1814–1872) possessed a greater spirit for adventure than most artists of his time. Driven by wanderlust, Stanley embarked on a career as an itinerant scene and portrait painter and later became an artist-explorer employed by the U.S. government. Over the course of eleven years, the artist traveled extensively throughout the American West, creating an impressive visual record of the region's people and landscapes.
Stanley's fascination with the West and, particularly, the Native Americans who lived there inspired him to create an Indian Gallery. This ambitious endeavor included over 150 portraits and scenes of everyday life. However, Stanley's greatest achievement would also be his greatest loss. In 1865, thirteen years after he consigned his Indian Gallery to the Smithsonian Institution in Washington, D.C., the museum went up in flames, destroying all but seven of his paintings.
Stanley was forced to start from scratch in the twilight of his career, and spent his remaining years trying to recreate his Indian Gallery and rebuild his reputation. Despite his dramatic loss, John Mix Stanley's legacy lives on. His surviving works, along with the Indian Gallery paintings, played a vital role in shaping ideas about the American West, Native American cultures, and our national identity.
---
John Mix Stanley (American, 1814   1872), Self-Portrait, circa 1860. Oil on canvas, 29 í— 24 ¼ inches. Gilcrease Museum, Tulsa, Oklahoma, L.394.2015.6 (0126.1139)