The Still-Life Tradition in the Northwest
Featured Artists
Norman Lundin
Norman Lundin (born 1938) studied at the School of the Art Institute of Chicago before earning his Master of Fine Arts at the University of Cincinnati in 1963. Shortly after graduation, he began teaching at the University of Washington where he is now Professor Emeritus. Lundin's work has an extensive exhibition history including museums and galleries in Los Angeles, Seattle, and New York among others. His paintings can be found in the collections of the Art Institute of Chicago, the Corcoran Gallery in Washington, D.C., and the Museum of Modern Art, New York as well as numerous regional museums and corporate collections. He has received fellowships and grants from the Ford Foundation, National Endowment for the Arts, and Louis Comfort Tiffany Foundation.
Morris Graves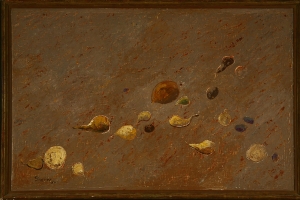 Morris Graves (1910–2001) was born in Fox Valley, Oregon; his family moved to Seattle in 1911. As a teenager,  he sailed to Asia which had a major impact on his personal aesthetic.  He spent much of his professional life in Seattle and La Conner, Washington, sharing a studio for awhile with Guy Anderson. His first one-man exhibition was in 1936 at the Seattle Art Museum. .He also worked for the WPA in 1939. In 1942, his paintings were part of the New York Museum of Modern Art's "Americas 1942" exhibit, bringing Graves national recognition. In September 1954, Life Magazine did an article on "The Mystic Painters of the Northwest," featuring Graves, and including Guy Anderson, Kenneth Callahan, and Mark Tobey–the artists who came to be known as the Northwest School. From 1954 through 1964, Graves lived in Ireland and sculpted. In lateryears Graves moved to Loleta, California.
Louise Crow
Louise Crow (1891–1968) was a Seattle native who began her studies with Washington impressionist Paul Gustin then joined the American impressionist William Merritt Chase at his summer school in Carmel. She later attended classes at the San Francisco Institute of Art, Cincinnati Art Academy, and National Academy of Design. From 1921 to 1925 she traveled through Europe absorbing the work of both Old Masters and the European avant-garde as well as creating her own work.  In the United States, she moved a great deal spending several years in Washington, D.C. and San Francisco but living primarily between Seattle and Santa Fe, New Mexico. Many of Crow's works had California or Southwest themes and often included Native American sitters or object. During her lifetime Crow's work was exhibited at the Oakland Museum, California, the Corcoran Gallery of Art in Washington, D.C., the Salon d'Automne, Paris and the Museum of New Mexico in Santa Fe among others.
Additional Featured Artists
Virginia Banks
Ned Behnke
Byron Bratt
Wendell Brazeau
Doris Chase
Art Hansen
Robert Helm
Hazel St. Clair Koenig
Rene Rickabaugh
David Shratter