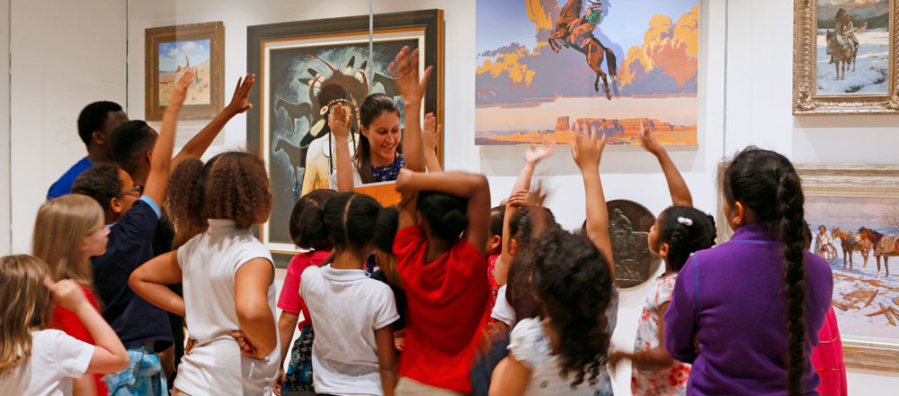 School Programs
TAM school programs are designed for students in PreK-12th grade, and are aligned to state and national standards.
Our Philosophy
We believe all students are artists, with the power to make meaning by viewing and creating works of art.
Artists express the realities and possibilities of communities, society, and the world.
We foster students' empathy and inspire them to envision a more equitable world.
How We Teach
Field trip programs typically last two hours: one hour of discussion and activities in the galleries and one hour of hands-on art-making.
Trained Museum Educators facilitate field trip programs.
Discussions and activities with original works of art are adapted from Harvard's Project Zero and are designed to build critical thinking skills and cultivate visual literacy.
Art-making is driven by the Studio Thinking framework, which emphasizes student voice and agency during the creative process, and the cultivation of Studio Habits of Mind.
School Tour Costs
$7 per student, Scholarship rate of $5 per student for eligible schools.
Transportation reimbursement is available on a first-come, first-served basis.
Free lunch space is available.
Self-Guided Experiences
Self-guided experiences are recommended for middle and high school groups who have specific learning goals separate from our field trip programs.
Cost: Free for students 18 and under.
Please schedule your self-guided tours with our tour manager so we may provide the best experience for all our visitors.
More Information
Questions? Please email us at  Tours@TacomaArtMuseum.org  or call 253-272-4258 x3060.