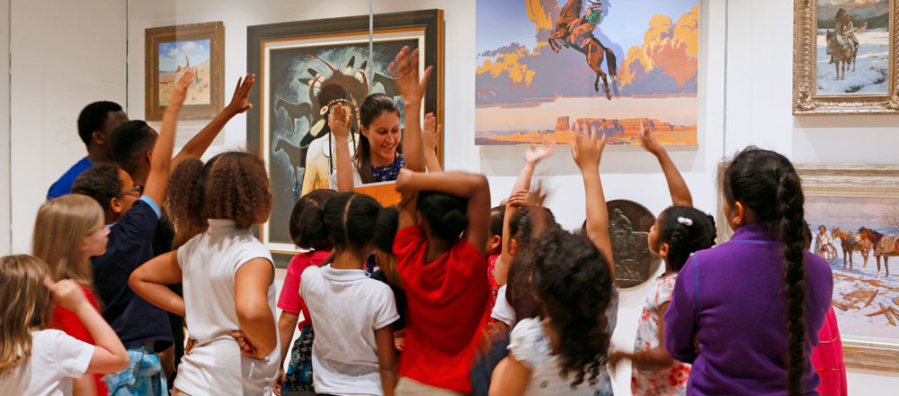 School Programs
Bring Tacoma Art Museum to your class with a virtual program!
TAM school programs are designed for students in PreK-12th grade, and are aligned to state and national standards.
Our Philosophy
We believe all students are artists, with the power to make meaning by viewing and creating works of art.
Artists express the realities and possibilities of communities, society, and the world.
We foster students' empathy and inspire them to envision a more equitable world.
What We Teach
Virtual programs typically last 20-75 minutes, depending on grade and program. Every program includes a virtual tour that looks in-depth at two or more works of art. Some programs include a 20-30 minute facilitated art-making activity, with materials provided. Suggested pre- and post-program activities help extend students' learning beyond the program time.

Each program is guided by an essential question and 2-3 learning targets related to a specific theme.

Programs   support Common Core State Standards in English Language Arts, as well as state Visual Art, Social Studies, and/or Social-Emotional Learning standards.
How We Teach
Trained Gallery Educators and Teaching Artists facilitate field trip programs.
Discussions and activities with original works of art are adapted from Harvard's Project Zero and are designed to build critical thinking skills and cultivate visual literacy.
Art-making is driven by the Studio Thinking framework, which emphasizes student voice and agency during the creative process, and the cultivation of Studio Habits of Mind.
Additional Information
$100 per program session (up to 30 students)

Add $75 per classroom (up to 30 students) for programs with facilitated art-making activity.

Art-making materials can be delivered to local school sites (within a 25-mile radius) free of charge. Alternately, you can pick up supplies from TAM. Outside this area, schools are responsible for paying the shipping cost.  

A scholarship rate is available to schools with at least 50% of students enrolled in the free and reduced lunch program.  

This rate is 25% off your total program cost, and must be requested at the time of registration.

Building discount: If multiple teachers from the same school book a program, each program receives 10% off. (This can be combined with scholarship rate if applicable.)
Refer a friend! If you refer 5 teachers who book a program with us, you will receive a free year-long TAM membership. This Pioneer-level membership also includes admission to other reciprocating museums around the country.
More Information
Questions? Please email us at  Tours@TacomaArtMuseum.org  or call 253-272-4258 x3060.