During the economic depression of the 1930s, U.S. government art projects created a wealth of public art and supported artists across the country, as explored in the Tacoma Art Museum's recent exhibition Forgotten Stories: Northwest Public Art of the 1930s. Like artists from nearly a century ago, in response to the complex issues facing the United States, contemporary artists have been busy making powerful, relevant, and inspiring messages and delivering them to our community through murals on the boarded-up storefronts.
Spaceworks Tacoma has been helping connect artists to places with their Rapid Mural Response Program, a program made possible through partnership with Tacoma Creates, Tacoma-Pierce County Chamber, and the Downtown Tacoma Partnership. These temporary murals, painted directly onto installed plywood panels, serve to 1) reduce crime and unwanted graffiti, 2) support local businesses, 3) provide income for local artists, and 4) offer civic hope and positive messaging.
Spaceworks partner Gabriel Brown notes that most of the project was organic across the community, with many murals and pieces going up independent of the Rapid Mural Project. Out of the roughly 100 murals to go up since the start of the pandemic, some twenty-five were facilitated through partnerships made by Spaceworks between artists and business owners.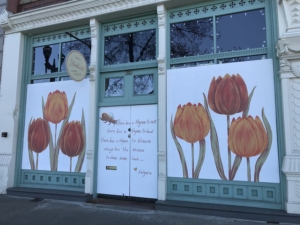 Saiyare Refaei was initially inspired to work on murals by the arrival of spring. When they started working on murals for Stocklist, the stay-at-home order had just been put into place. That moment informed her mural pieces at London's on the Ave and Channing Baby & Co., as well. "I was thinking about what folks were probably missing, not being able to leave their homes. Though I've never been to the Tulip Festival (Skagit Valley Tulip Festival), that was one thing that came to mind. Springtime is the time when things are blossoming and emerging so why not bring some of those things here?"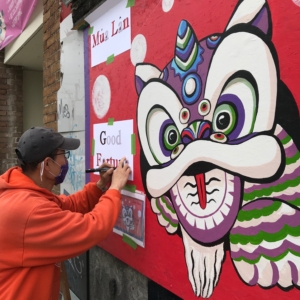 Other artists expressed their desire to use the murals as an act of community collaboration. Nori Kimura used the project of painting his Four Dragons as an opportunity to both work with his students and to make the viewer part of the piece itself. "My intention with the murals is that I don't want to paint by myself. I like to share anyway I can. Either in the form of the wings where people can be part of the art or people can participate in drawing with me."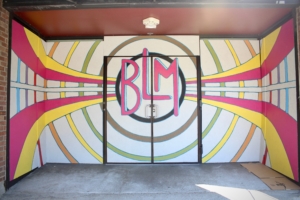 Like everyone in the community, artist Mindy Barker had to change the way that she worked once the pandemic started. The Rapid Mural Project required her to stay flexible when creating her murals throughout Tacoma. "Usually my stuff is more involved. I'll design it for the spot, for the location; talk to the community and get feedback and whatnot. These murals were ones I could replicate easily so all the designs were really simple. And I just wanted to keep it simple."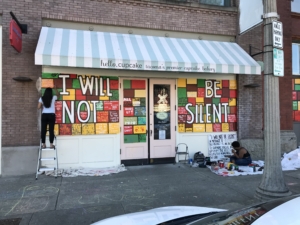 What started off as a way for businesses to beautify closed storefronts became an opportunity for artists to address the systemic issues facing our communities. Artist Tiffany Hammonds, who completed works at Indochine and Satori on Pacific Ave., said of her work on the mural project, "I felt as part of the Black community there was so much grief going on and I remember what that grief felt like after losing people close to me. And I was going through a grieving process of losing people I didn't even know. I realized that I have hope and I have joy and I have peace enough to give for folks who don't. That was my goal: to deliver that message of hope. Saying, 'If you don't see the light in this time then be that light.'"
Learn more about this community beautification project by visiting Spaceworks Tacoma online. You can also check out an in-depth discussion with organizers and artists of the Rapid Mural Response Program on the Tacoma Art Museum YouTube channel.