Ahead of TAM's Virtual Spring Luncheon, we wanted to introduce guest speaker Manny Santiago, who was appointed by Governor Jay Inslee as Executive Director of the Washington State LGBTQ Commission in August 2019 . Manny has served as a leader of change in our South Sound community for several years.
Born and raised on a coffee farm in Puerto Rico, Manny has been involved in social justice work from a young age. Before his appointment, Manny served as Executive Director of Rainbow Center, Tacoma/Pierce County's LGBTQ community center. In 2007, Manny became the first openly queer Latino to be ordained a minister in the American Baptist Churches, USA. Since then, he has served progressive congregations in Boston, MA, New York, NY, and Seattle, WA. While living in Washington, Manny has been part of campaigns for marriage equality and to ban conversion therapy in the state, frequently being invited to speak at public hearings at the state Legislature. In 2011, The Huffington Post listed Manny as one of the "Most Inspiring LGBTQ Religious Leaders in the USA."
Manny has felt a deep connection to the art world from a young age:
"I've loved art since I was a kid. Growing up in a rural and poor community in Puerto Rico, we didn't have the chance to have art classes as part of the curriculum. However, I had the chance of having wonderful teachers, some of whom introduced us to both the history of art and took us on school trips to museums and galleries. It was at an early age when I was introduced to what is now my favorite piece, "Flaming June" by Sir Frederic Leighton. This piece is at the Museo de Arte de Ponce (Ponce Museum of Art) in Ponce, Puerto Rico. The museum has the largest art collection in the Antilles, and is a required stop on my visits home. It was that painting that made me fall in love with art. Both my husband and I love art, and have our own mini-collection of originals from different artists from Latin America. Some of our most precious pieces are from the late Wilfred Labiosa, from Puerto Rico."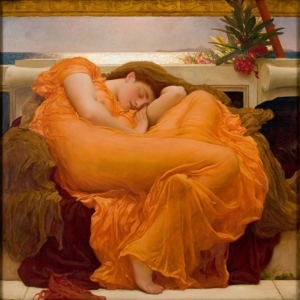 Manny's connection to TAM started personally and then grew into a professional working relationship during his time as Executive Director of the Rainbow Center.
"I have been a member of TAM for about a year now, although I have been visiting since moving to Tacoma three years ago. When I was with Rainbow Center, we fostered a collaborative relationship with the Tacoma Art Museum, including having TAM's Pride event as one of the official events for Tacoma Pride. My husband is from Mexico, and we have enjoyed participating in the Dia de los Muertos altar exhibits (although, in his indigenous culture, this is a slightly different celebration than the one people in the USA are familiar with.)
Recently, I took my niece and nephew to TAM. My nephew, Jose Roberto (Betito), loves drawing and painting. The whole family has encouraged his artistic expression by giving him all sorts of paints, brushes, pencils, canvas, paper and whatever we can. When they came with me to the museum they were both ecstatic. The first surprise they had was to see my picture there on the main floor. They were so proud to see their tio up on the wall of a museum! They also really enjoyed spending time making their own creations at the children's area. But there was something else that was a real impact in their lives. My husband's family is of Mayan Yucatec background. These are the indigenous group that people only know by the famous Chichen Itza pyramids they visit when on vacation in Cancun. But the Yucatec people have a sizable presence here in Washington, and they are not just part of history; they are still here. As my nephew entered the permanent exhibit at TAM, he noticed all the art about and by Native Americans. When we entered that wing of the museum, Betito's face lit up! He said, "Oh my God, tio, look! We are here!" He was, of course, referring to seeing himself in the paintings. He loved every minute of that visit. I had the chance to talk to him about the possibilities that art can offer both him and his sister, Emely. This was so important to us, and it is part of the reason why diversity in the permanent collection is so important. These kids, both children of immigrants, indigenous kids, bicultural and bilingual kids were able to see themselves everywhere on that visit to TAM."
Will you join TAM in raising funds to help make experiences like this possible for everyone in our community? Visit our luncheon webpage today to join our virtual fundraising event and help support TAM's commitment to diversifying TAM's permanent collection and growing our artistic representation.