This sculpture by Spanish-born Manuel Izquierdo flows vertically, taking on an abstracted shape of a human body with an X shape for its head. As the name Iberian Venus implies, this figure represents the Roman goddess, Venus, and the title also brings in Izquierdo's origins of the Iberian Peninsula. This sculpture takes on a different approach than how we would normally think of the classical Roman statues of gods and goddesses. Perhaps Izquierdo is aiming for something intellectually bigger, with an abstract shape that is difficult to make sense of, like something more sacred or powerful than the human body alone. The green patina of this bronze piece gives a cooler, softer tone than if the piece was unoxidized.   The sculpture was made while he was a faculty member at the Museum Art School in Portland, Oregon, in 1983.  
Before the creation of this piece, in 1975, the students of Western Oregon University commissioned Izquierdo to create an outdoor sculpture of the same title, that can still be seen on the campus today. Comparing the two works of different size and material, but sharing the same theme and name, creates an interesting conversation around how Izquierdo shapes and executes his sculptures that are meant for outdoor, public interaction, versus those that are more meant to be viewed in a gallery.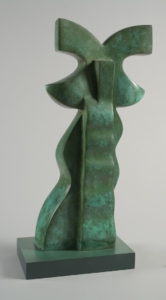 Manuel Izquierdo began his art training at the í‰cole des Beaux Arts in Marseilles, France before relocating to the United States. In Portland he took classes at the Museum Art School as well as with sculptor Hilda Morris (1911–1991) and with Lloyd Reynolds (1902–1978), a nationally-known calligrapher and printmaker who taught Izquierdo how to make wood engravings. Izquierdo was instrumental in raising the profile of abstract sculpture in the Northwest through exhibitions of his work, numerous public art commissions, and his 46-year career as a teacher at the Museum Art School.