When thinking about French landscapes, the vivid colors and rich textures used by Impressionists (1870-1890) are usually the first that come to mind.   These artists, however, were not the first to experiment and break out of the rigid French approach to landscape in the nineteenth century. Eclipsed in popularity by their successors, artists of the Barbizon School (1820-1870) were some of the earliest French painters to concentrate on pure landscape, or the depiction of the everyday life in natural settings.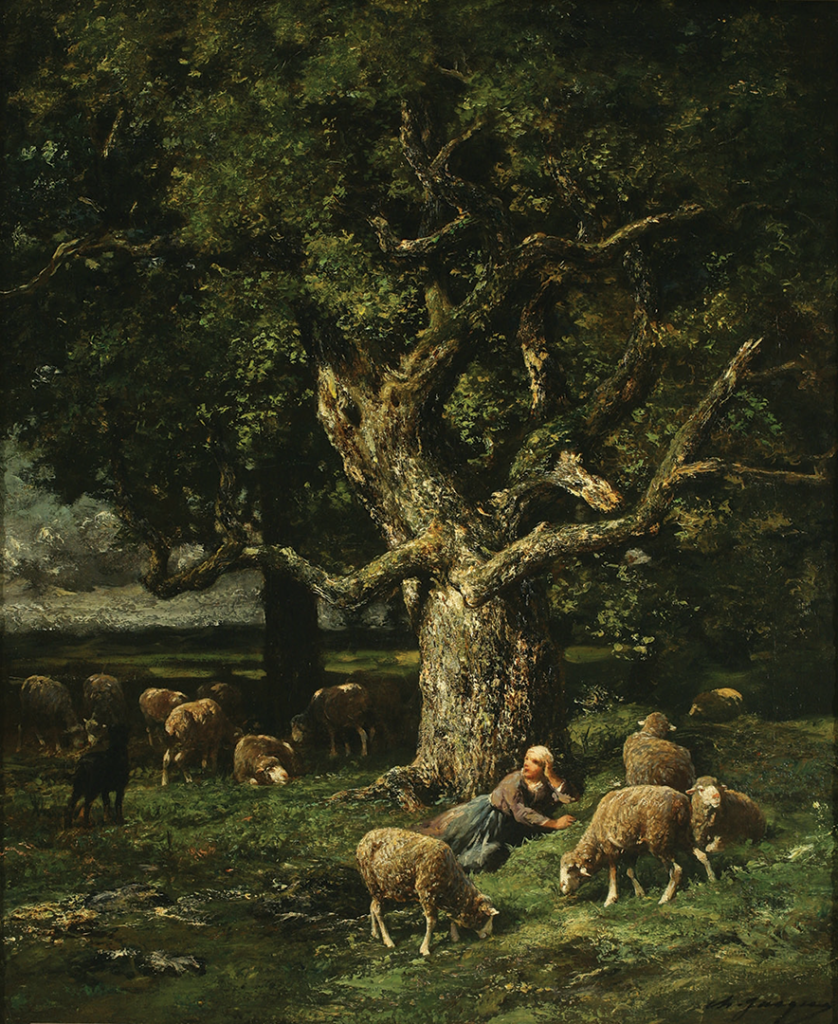 The way artists in the Barbizon School approached landscape painting was a clear departure from contemporaries who created in a Neoclassical tradition that revered history and drew inspiration in style and subject matter from the Renaissance and antiquity. When it came to nature, nineteenth century artists trained at the Royal Academy of Painting and Sculpture were encouraged to look to ancient poetry or to the ruins available in Italy. With these inspirations, French trained artists created an often idealized and stylistically formal sense of the natural world.
Outside of this seemingly strict French tradition, landscape painting had a rich history across Europe, with many examples making their way to France and influencing artists. Seventeenth century Dutch and Flemish landscapes on view at the Louvre embodied the long naturalist tradition in the Netherlands while English landscape painting became more widely available to artists thanks to an exhibition of John Constable's pictures at the Paris Salon in 1824. These options of approaching landscape penetrated into the French art scene and motivated artists to venture outside the city and work from nature. Popular destinations included the villages surrounding the Forest of Fontainebleau, one of which was Barbizon.
Artists, who would later become known as the Barbizon School, differed in age, technique, training, and lifestyle. What united them was a shared belief in the importance of landscape as a worthy subject deserving of exhibition at the largely conservative Salon in Paris. They also valued the importance of sketching and creating en plein air, or directly in nature. This practice would become the norm for future Impressionists. Artists affiliated with the School, included Théodore Rousseau, Jean-Franí§ois Millet, Camille Corot, Charles Franí§ois Daubigny, Narcisse Virgile Diaz de la Peí±a, and Charles-í‰mile Jacque, the creator of the bucolic work featured above, Shepherdess and Sheep.
Works by Barbizon artists, like Shepherdess and Sheep, use visions of nature as a lens to capture and explore a single moment in time. Unlike the disciplined works created by their contemporaries in the Neoclassical tradition, Barbizon artists, and later the Impressionists, sought to elevate contemporary subjects and explore the rich emotional offerings provided by an afternoon in nature.
---
Image: Charles-í‰mile Jacque. Shepherdess and Sheep, mid to late 19th c. Oil on canvas, 30 ¼ x 25 in. (76.8 x 63.5 cm). Tacoma Art Museum, Gift of Mr. and Mrs. W. Hilding Lindberg. Photo by Richard Nicol.