Ron Ho was a jeweler and art educator. The son of Chinese parents, he grew up in Hawaii surrounded by diverse cultures and their unique artistic expressions. His work, admired for the use of found objects, was influenced and informed by contrasts between American and Chinese culture and by the cultural diversity he encountered living in the Pacific Northwest.
In the 1990's, Ho began work on a series of pieces utilizing furniture, most often chairs, to explore identity and tell stories about the relationships between his family's cultural heritage and contemporary moments, practices, and events. In an interview with Lloyd Herman for the Smithsonian Archives of American Art Oral History Program, Ho reflected on these works saying:
"…that was the turning point in my life, because I started looking and thinking about when I was growing up, what my grandparents or my mother or father had said. And, you know, at that time, it really didn't make a lot of sense; and at first, you didn't think much about it. But, like, for instance, when we had birthday parties, they always served noodles, because noodles represent long life. And so, when I started—well, I did a series in the 1990s, of Chinese chairs, and I found it was a great platform in which I could actually use some of those ideas. So, I put a platter of noodles on the chair, and on the back rung of the back of the chair, I soldered a pair of chopsticks that were holding these noodles that went into the platter. And anyway, so it was called "First Birthday."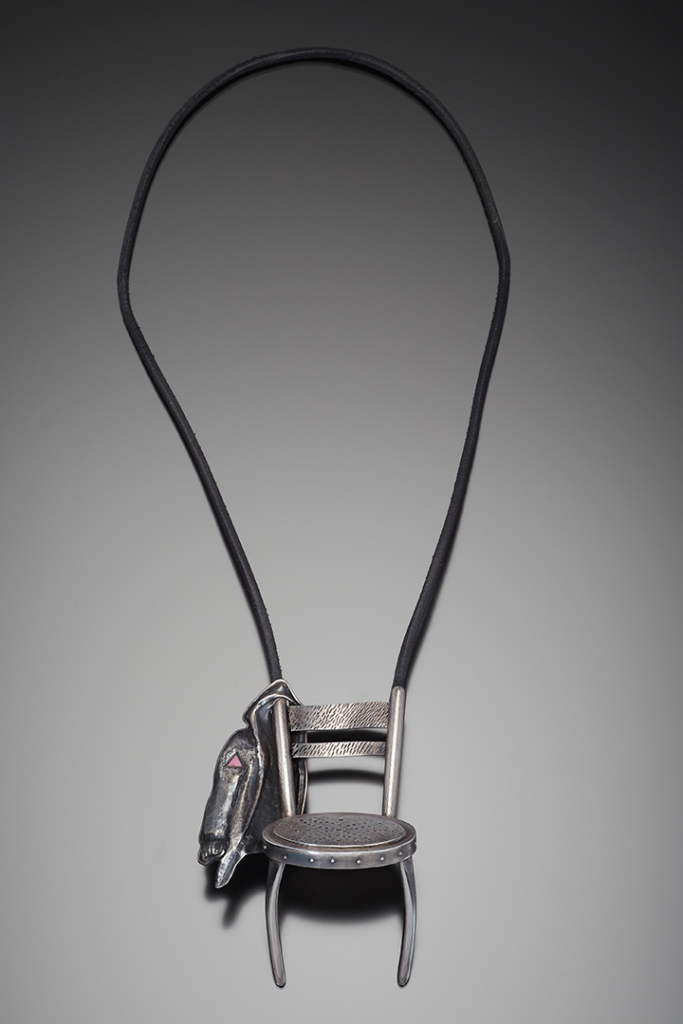 In Vanished Wishes, Ho continues his use of furniture as a storytelling mechanism. The small pendant depicts a simple chair with a round seat and back. Hanging from the right side of the chair back is a jacket with a pink triangle on the right sleeve. The only color on the work, a pink triangle has historically been associated with the LGBTQ community. First used in Nazi Germany, the downward pointing pink triangle marked gay men in concentration camps. The symbol has since been repurposed in LGBTQ circles, especially in the 1980s and 1990s, where upward pointing pink triangles were used to call attention to the AIDS crisis as it ravaged the queer community. The triangle continues to appear in logos and images for LGBTQ organizations and events to this day.
Created for an AIDS awareness fundraiser in 1990, Vanished Wishes expresses the artist's heartbreak over the loss of friends in the gay community. The pink triangle, referencing contemporaneous use of the symbol, connects Ho's mournful piece to the ongoing AIDS crisis. The jacket and the chair, both empty but suggestive recent occupation, push the viewer to consider mortality and reflect on the devastating impact of the AIDS on communities across the nation.
About the Artist:
Ron Ho attended Pacific Lutheran College (now University) in Tacoma. He was interested in an art career but his parents felt he should pursue a more settled profession. Ho received a bachelor's degree in art education and taught briefly in Hoquiam before landing a position in the Bellevue school system. He simultaneously embarked on an art career as a painter and studied for a master's in art education at the University of Washington.
In the summer of 1968, needing one last art course to complete his degree, he registered for a jewelry class taught by Ramona Solberg. Serendipitously, he found his medium as an artist and a lifelong mentor and friend. It was Solberg who first encouraged him to use found objects and materials in his works, a practice that became the foundation of all his subsequent work. In addition to his art work, Ho taught in elementary, middle, and high schools for 34 years before retiring in 1992. He is the recipient of several distinguished art educator honors and his jewelry is in the collections of numerous private and public collections, including the Tacoma Art Museum, the Museum of Fine Arts Boston, and the King County Arts Commission.