"My pieces are meant for dialogue, for discussion, for thinking about…That's my ultimate goal."  Thomas Haukaas
In More Time Expected, ledger, beadwork, and doll artist Thomas Haukaas (Rosebud Sioux Tribe) depicts more than twenty horses, with their knees bent, simulating forward movement across the picture plane.   The horses vary in color and adornment with some moving alone alongside the group while others carry riders traveling solo or in pairs. At the center of the composition is a blue, riderless horse wearing a white saddle and black blanket.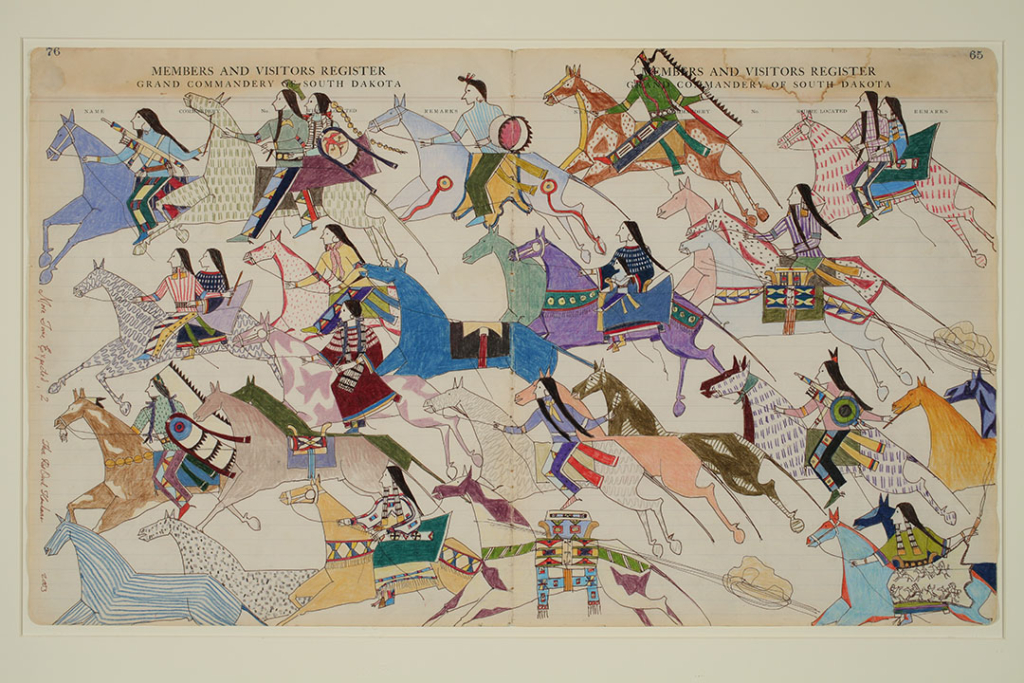 The imagery, specifically the riderless horse, explores the complicated issues of stigma surrounding HIV/AIDS and the Native American experience with the disease. Historically, instances of HIV on the reservation are virtually unmentioned, a silence that only worsens an already high rate of infection.  The horse with no rider, often used as a symbol for a warrior who fell in battle, represents individuals on the reservation who have died of AIDS-related causes.[1] By focusing on absence within a group, Haukaas plays to the importance of community and families within these settings. Continuing the Native American tradition of ledger drawings – begun in the late 19th century by Plains tribes who made drawings of their stories and heroic deeds on discarded ledger paper – Haukaas provides an image to open conversations about the existence and impact of HIV within reservation communities.
---
[1] Rock Hushka, "Undetectable: The Presence of HIV in Contemporary American Art," in Art AIDS America (Tacoma: Tacoma Art Museum with University of Washington Press, 2015), Exhibition Catalogue.