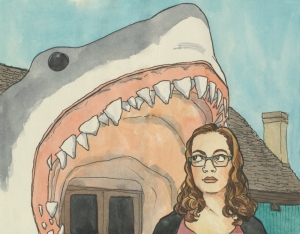 If you've been to any number of places around the Puget Sound, you have more than likely come across work from local artist Chandler O'Leary. For many in Tacoma, her work has become synonymous with the community. Whether through her participation in the annual Tacoma is for Lovers holiday craft fair, the Tacoma Wayzgoose letterpress printing festival, or any number of studio tours she's given in the last decade, Chandler has become a staple of the Tacoma arts scene.
In 2004, Chandler began designing and illustrating work under her in-house brand, Anagram Press. Started as a way to produce her own line of stationery and paper goods, the brand has expanded to include stunning hand-painted letterpress prints. The Flock and Hold Your Horses series depict a variety of iconic horse and bird breeds; and, her ambitious Local Conditions artist book seeks to recreate near-limitless views of Mount Rainier using 120 hand-cut, hand-painted image flats that allow viewers to construct their own scenes of the Washington icon.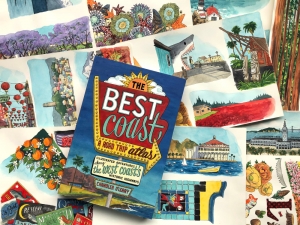 Chandler's work under the Anagram Press brand has also served as the basis for a number of recent books. Her collaboration with fellow artist Jessica Spring published in 2016, Dead Feminists: Historic Heroines in Living Color, collects a series of hand-lettered, letterpress-printed broadsides featuring a quote by women in history and ties it to current social and political issues. Most recently, O'Leary published her second book, The Best Coast: A Road Trip Atlas. A beautifully-illustrated love letter to the West Coast's historic highways, The Best Coast is overflowing with unusual facts, hidden history, Americana, and all manner of offbeat fun celebrating the diversity and depth that make the West Coast such a unique part of the world.
Interested in exploring Chandler's art and publications for yourself? Stop by the Tacoma Art Museum store, shop Anagram Press on our online store, send us an email at Store@TacomaArtMuseum.org, or call us at (253) 272-4258 x3005. Your purchase directly supports Chandler and the museum's mission of connecting people through art.