My Path to Paper Jewelry by Melanie Brauner
I never set out to be a jeweler. Or a hand papermaker. But art-making is a winding road, and through all the twists and turns, this bookbinder found her way to mixing metalsmithing and papermaking into one vocation as a paper jewelry designer.
I've been completely obsessed with paper for as long as I can remember. It can become anything, it transmits knowledge, it's beautiful in its own right. It feels like alchemy.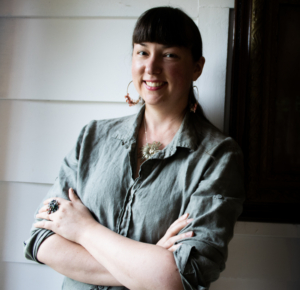 My path started with learning book restoration and archival box making at the Valley Library at Oregon State University. I opened my own book restoration and custom box-making business, which led to starting my BFA in book arts at Oregon College of Art and Craft. The program included letterpress printing, bookbinding, printmaking, and papermaking, all with the focus of making artist books. I loved it. Every minute of it. I ended up working as the studio assistant for two of my teachers: I letterpress printed and bound artist books in Barb Tetenbaum's studio, and I made paper in Helen Hiebert's studio.
But my very first day at the college, I walked into the metals studio and felt a combination of wonder and soul-crushing fear…I knew I had to learn to work with metal as well, even though the prospect scared me. I had never touched any of those tools, and I'd never worked with metal, but I knew I needed to face my fears and learn.
I left school with my book arts/metals degree and started to work as a bookbinder again while experimenting with metal and paper at home, and the jewelry I make today started to find its way into my hands… I formed shapes in metal and dipped them into paper pulp. I dyed them beautiful colors. I experimented with ways to harden the paper to make them waterproof and tough. I made mistakes, tried out ideas, iterated on my successes, and my first paper and metal jewelry collection came together.
I've just celebrated the 6th birthday of my paper and metal jewelry line, Verso. I design new pieces all the time, all inspired by the landscape of the beautiful Pacific Northwest where I live. I love the imperfect beauty of nature, and I'm always trying to replicate in my jewelry designs that organic, simple, elegant quality that the landscape does so well.
I've been working with paper for almost 20 years now, and it still has so much to tell me. Most days I still feel like a beginner papermaker, trying to listen and learn from my medium, staying open to what it wants to teach me.
Check out Verso Jewelry on Melanie's website here or shop her work at the TAM Store online.
Instagram: @versostudio
Facebook: @versostudioseattle
YouTube: Verso Studio
Tiktok: @versostudio
All images and media used with permission of the artist.