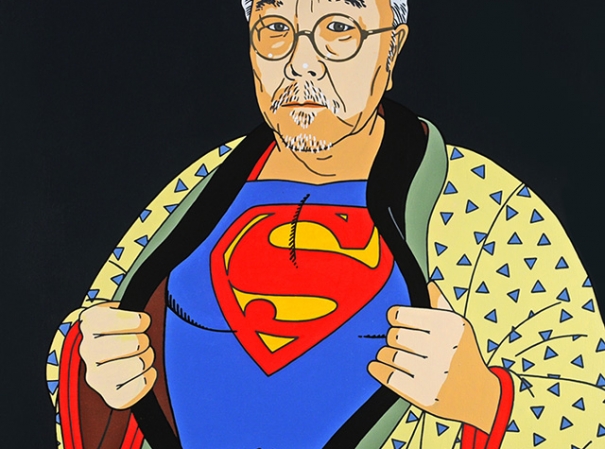 Exhibitions
Roger Shimomura—An American Knockoff
June 20 – September 13, 2015
Roger Shimomura—An American Knockoff    includes 53 paintings and prints dating from 1973, with most dating from 2004-2014. Shimomura's style combines his childhood interest in comic books with his interest in pop art and Japanese woodblock prints. Rendered in lively pop art style, his paintings pack a punch with messages about racism and stereotypes to spur dialogue about Asian American identities and experiences.
Two major life events have strongly influenced his work: his family's incarceration at Camp Minidoka in Hunt, Idaho during World War II, and his move from the culturally diverse hub of New York to the more homogenous Midwest where he faces daily race-related questions and stereotypes. As he states in the exhibition catalogue,
"The need to address my identity was genuinely born out of the need to mediate and reconcile my yellow presence in the Midwest."
An American Knockoff continues to explore Shimomura's experience of being seen an outsider in his own (American) culture. He has created several series related to the Japanese internment experience, including Minidoka in the late 1970s and Diary in the early 1980s (inspired by his grandmother's diaries). For decades, Shimomura has attended the annual reunion at Minidoka.
Organized and distributed by the Museum of Art/Washington State University, Pullman, Washington.