The Apsí¡alooke people have enduring relationships with horses. Paraded at the annual Crow Fair Celebration and other special events, horses adorned in beaded regalia demonstrate their value and importance to the Apsí¡alooke people. In Buffalo Horse Medicine Apsí¡alooke artist Kevin Red Star depicts horses that are an important breed for buffalo hunting. Red Star signifies a connection between this man's identity as a buffalo hunter and his strong relationship with horses.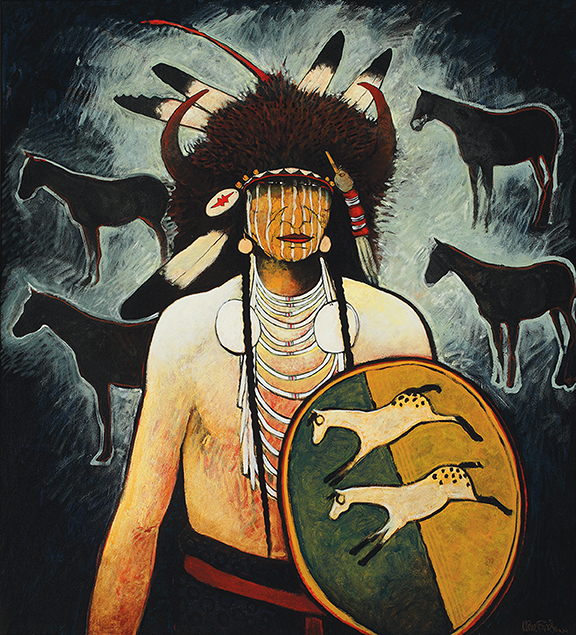 Kevin Red Star was born into an artistic family in Lodge Grass, on the Crow Nation in Montana. His father was a musician and federal police officer and his mother practiced traditional Crow beadwork. In 1962 Red Star was recruited to be a part of the inaugural class at the Institute of American Indian Arts in Santa Fe. He studied under James McGrath for three years and then earned a scholarship to the Art Institute in San Francisco, where he was exposed to the West Coast art scene. Red Star began compiling an archive of photos and a written history of the Crow people to use in portraits that explore the Crow collective heritage and identity. His artwork is frequently inspired by historic images of the Crow people, and his images are immediately recognizable for their bright colors and strong forms. Red Star works in many mediums including oil, acrylic, ink, and collage.
Buffalo Horse Medicine  is currently on view in Native Portraiture: Power and Perception.