At Tacoma Art Museum, we believe that all students are artists, with the power to make meaning by viewing and creating works of art. Through creative expression, artists express the realities & possibilities of communities, society, and the world.
Create with Artists
Explore Art Online
Art Activities for Home
Mindfulness with Young People
Take Your Art Outside!
How to Talk About Art with Your Kids
DIY Paint at Home
Poetry + Art
Create with Artists
We love picture books at TAM!  When we're open, we have a wonderful children's book library in TAM Studio for families to curl up on the couch together, our monthly Second Saturday Studio & Storytime program connects stories with art-making, and we even like to tuck special books in the galleries for families to enjoy while they're looking at art together.  
During this time apart, some of our favorite children's book authors and illustrators are inviting young artists to create alongside them. Check them out here:  
Making Space with Christian Robinson
Read and Draw with Peter H. Reynolds
Explore Art Online
Is the artist in your life needing a bit of inspiration? Check out some of our favorite online resources to keep the creativity flowing with your young artists at home.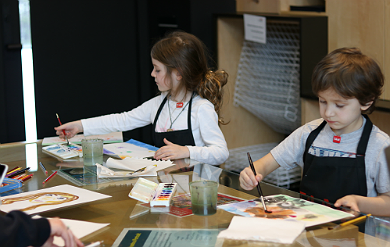 Art Activities for Home
When developing art activities at TAM, we like to focus on creating open-ended invitations for young artists to create. This means the process of exploring materials and making creative choices is more important than what the final product looks like. It means letting go of a bit of control and being open to the joyful discoveries that come with art-making!
Check out some of our favorite art activity sites:  
Happy creating! Be sure to share your art with us at #InspiredByTAM. We'd love to see what you're up to!
Mindfulness with Young People
One of my favorite parts about visiting an art museum is strolling through the galleries to find a work of art I want to spend a quiet moment with. I plop down on a bench (or even the floor), and spend a few moments, just to myself, quietly looking. I listen to the sounds in the gallery. I let my shoulders drop. My breathing slows. I find a sense of calm.  
During these extra stressful times and with museums and galleries temporarily closed, it's been even harder to find these moments of peace. That's especially true for young people who have had their routines interrupted and may be having a hard time transitioning between the different parts of the day: play time, school time, family time. Mindfulness exercises can be helpful for easing those transitions or for when little kids are feeling big emotions. Here are some of my favorite resources for exploring mindfulness with young people:
Mindfulness for Children by New York Times
Yoga and Mindfulness for Kids by Yoga Wild
Guided Meditation for Children by Annaka Harris
Meditation for Kids by Headspace
Take Your Art Ouside!
From inspirational nature walks to giant sculpture construction, spend some time creating art in the great outdoors with these activities from some of our favorite art museum friends:
How to Talk About Art with Your Kids
Here at TAM, we think magic can happen when you start talking about a work of art. You learn to listen carefully to each others' ideas. You learn to find evidence for your reasoning. You learn to respectfully disagree. And you can learn a little more about each other.
You can have these same, dynamic, meaningful art conversations with your kids, and I'll let you in on a secret: you don't have to be an art expert to do so.
Here are some of our favorite ways to talk about art:
DIY Paint at Home
Here at TAM, we love getting messy with paint. And while we enjoy using high-quality watercolors, acrylics, and temperas from our favorite art supply stores, sometimes we like to start the creating with the paint itself.  
Check out some of our favorite DIY paint recipes below, from pudding paint for the littlest artists to egg tempera like the old masters:  
Poetry + Art
April is National Poetry Month, and here at TAM we think art and poetry go together like peanut butter and jelly (just not in the galleries, too sticky).
Here are a few of our favorite poetry and art resources to get you writing:
And if you're feeling especially inspired, submit a poem, thoughts, or musings, about a painting from Painting Deconstructed for a chance to be featured online or in the galleries.