What do you picture when you think of paper collage? A vision board made of magazine clippings manifesting your ideal vacation? A second-grade art project? TAM's virtual learning opportunity published during the pandemic when we made a landscape collage together? Do you look for mood or temperature? Do you try to identify the source materials?
When I'm not working with the Development team in the offices at Tacoma Art Museum, I like to make portraits, birthday crowns, jewelry, and small two-dimensional paper collage pieces in my North Tacoma studio. One of my tried and true ways of identifying a theme to begin a collage is to follow my favorite artists on social media, such as local paper artist Anna Brones, who often provide daily prompts for consideration. They are great for jump-starting my creativity. Sometimes the prompt word is a noun, other times a color or a descriptive word. The descriptive word prompts are the best for the freedom of expression they lend. I love to use color, texture, imagery, tone, and shape to convey a message or a feeling.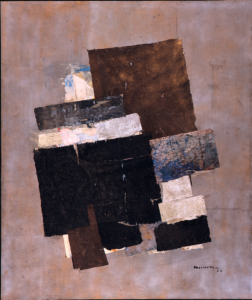 Master of collage Paul Horiuchi, born in Oishi, Yamanashi Prefecture in Japan in 1906, communicated his experience using this medium while living in the Pacific Northwest during the mid-twentieth century. Many of his earth-tone pieces simultaneously convey assertive movement and a sense of quiet stillness. Two such abstract collage pieces in the Museum's permanent collection, titled Dramatic Impasse and Temple Garden, are available to view on TAM's eMuseum. Each makes me wonder what Horiuchi was manifesting when he arranged the pieces of handmade dyed paper on the substrate in his downtown Seattle studio. His personal experiences including moving to the United States, surviving war & internment, railroad labor, and loss of family appear in much of his work.
Dramatic Impasse stands six and a half feet tall, making the message of the piece as impactful as its size. Bold stacked shapes hang in the middle at a tilt imploring me to dwell on them before moving on. Confident layers of solid geometric forms give a sense of something to overcome; standing between me and the undisturbed atmosphere behind them.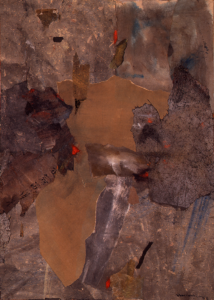 Temple Garden shows a glimpse of serenity and a sparkle of sunlight reflecting off a free-formed abstract pond. The pieces of paper in muted washed earth tones draw my gaze to bright, little orange wisps swimming in the center. I want to follow their playful activity in the next frame, wishing this languid collage would spontaneously become animated. Japanese calligraphy peeks from beneath the layers of organic shapes combining Western and Eastern elements. I could sit by the water's edge for hours.
When I approach themes of bold confrontation and serenity in my own paper collage practice, I like to consider Paul Horiuchi and his ability to create these feelings through abstract paper layers. I find myself ripping organic shapes, forming irregular lines, cutting hard and soft forms with my scissors, un-focusing my eyes and using my imagination. I find colors and textures of earth tones; cheerful for some and moody in others. I'm not often directly inspired to make abstract collages, but it lends itself to such fun expressive outcomes when I do.
Both "Dramatic Impasse" and "Temple Garden" are part of the Tacoma Art Museum's permanent collection. Explore these works and more from Paul Horiuchi on TAM's eMuseum. Revisit our "Object of the Week" post to learn more about Horiuchi's work on the TAM Blog. Find more information about Sarah Jane's paper collage work on Instagram at @TinyArtGalleryOnCedar