"I consider myself an African-American Feminist and environmental artist. My approach to producing art is environmentally and politically infused: neither waste humanity nor the gifts of nature. I am primarily a mixed media sculptor who uses discarded materials. My art draws upon relics from the African Diaspora. The discarded materials represent how people of African descent were used during the institution of slavery and colonialism then discarded, but who found ways to repurpose themselves and thrive in a hostile world. I seek to use recovered materials, reconfiguring and incorporating them into pieces of art where possible and appropriate, and to mitigate waste and pollution in all my work. This is a creative challenge, but a commitment I incorporate into my professional and personal activities." – artist Marita Dingus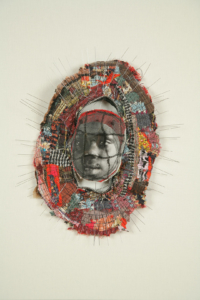 Born in Seattle in 1956, Marita Dingus attended Tyler School of Art at Temple University in Philadelphia (BFA, 1980) and San Jose State University (MFA, 1985). She currently lives and works in the state of Washington. She received a Visual Art Fellowship from Artist Trust (1994), a John S. Guggenheim Fellowship (1999), and the Morrie and Joan Alhadeff PONCHO Artist of the Year Award (2005).
She has had solo shows at Henie Onstad Kunstsenter and The Stenersen Museum both in Norway (2002, 2006) and the Museum of Glass in Tacoma WA (2005/6). Her work has been included in Nature/Culture organized by The Society for Contemporary Craft in Pittsburgh (2006-8), Outwin Boochever Portrait Competition at the National Portrait Gallery in Washington DC (2006/7) and 21st Century American Women Artists at the Residence of the United States Ambassador to NATO in Brussels, Belgium (2006-10). Her work is in many regional museums and corporate collections.
Image: Marita Dingus, Baby Face, 2005. Mixed media. Gift of Flora Book.