Seattle-based artist Barbara Earl Thomas weaves order into the chaotic natural world in order to tell stories. Drawing from history, literature, folklore, biblical stories and her surrounding communities, Thomas' work explores and addresses major contemporary social issues ranging from the violence against black men and youth to gun violence and the climate crisis. Reflecting on her process, Thomas questions "What is our responsibility as humans to each other, especially in times of tragedy, violence, death, natural or human disasters? … Dramatic tension helps me draw viewers in, finding their own meanings and connections, as I reference the issues most pressing to our own time"
This work, Man Cleaning His Fish II, comes from her "Book of Fishing," which together tell a story inspired by the fishing traditions of her family. Differing from other fishing cultures, Thomas' Southern family only fished for bottom fish. She notes, "there was no concept or talk of trout or steelhead. It was catfish, crappy, and perch that lived in our dreams."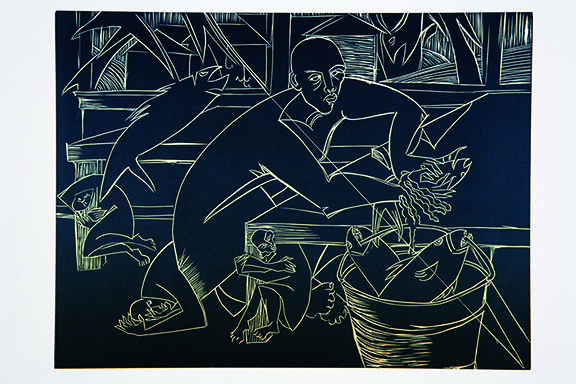 Barbara Earl Thomas is an artist, writer, and arts administrator. She studied painting with Jacob Lawrence (1917-2000) at the University of Washington, earning both her bachelor and master of fine arts degrees. She has exhibited work at Tacoma Art Museum, the Whatcom Museum, Savannah Contemporary Art Museum and the Evansville Museum of Art and Technology in Indiana. Thomas will open a solo show of large-scale narrative works at the Seattle Art Museum this summer.
Learn more about Barbara Earl Thomas and her work on her website: http://barbaraearlthomas.com/
Image: Barbara Earl Thomas, Man Cleaning His Fish II, 2006. Linocut on paper. Gift of the Washington Art Consortium through a gift of Safeco Insurance, a member of the Liberty Mutual Group.