"I have always worked in the field, never in a studio, because I wanted to photograph subjects in their own environment. It is the spirit of the subject which is most important. As the photographer, I have always tried to stay in the background, and shoot the subjects as they arrange themselves. My subjects become forms in space, forms moving through space, especially in nature, 8 where they become illuminated and molded by the light and shadow of the moment" – Mary Randlett[1]
Mary Randlett was a distinguished landscape and portrait photographer. Her portraits of figures from the Northwest's creative community – poets, novelists, teachers, architects, musicians, and artists – provide invaluable documentation of a time and place as she captured each sitters personality and a glimpse into the creative process. Over the course of five decades, she documented more than 500 of the key figures whose work has defined the Northwest as a region.This impressive body of work includes this image of visual artist Jacob Lawrence.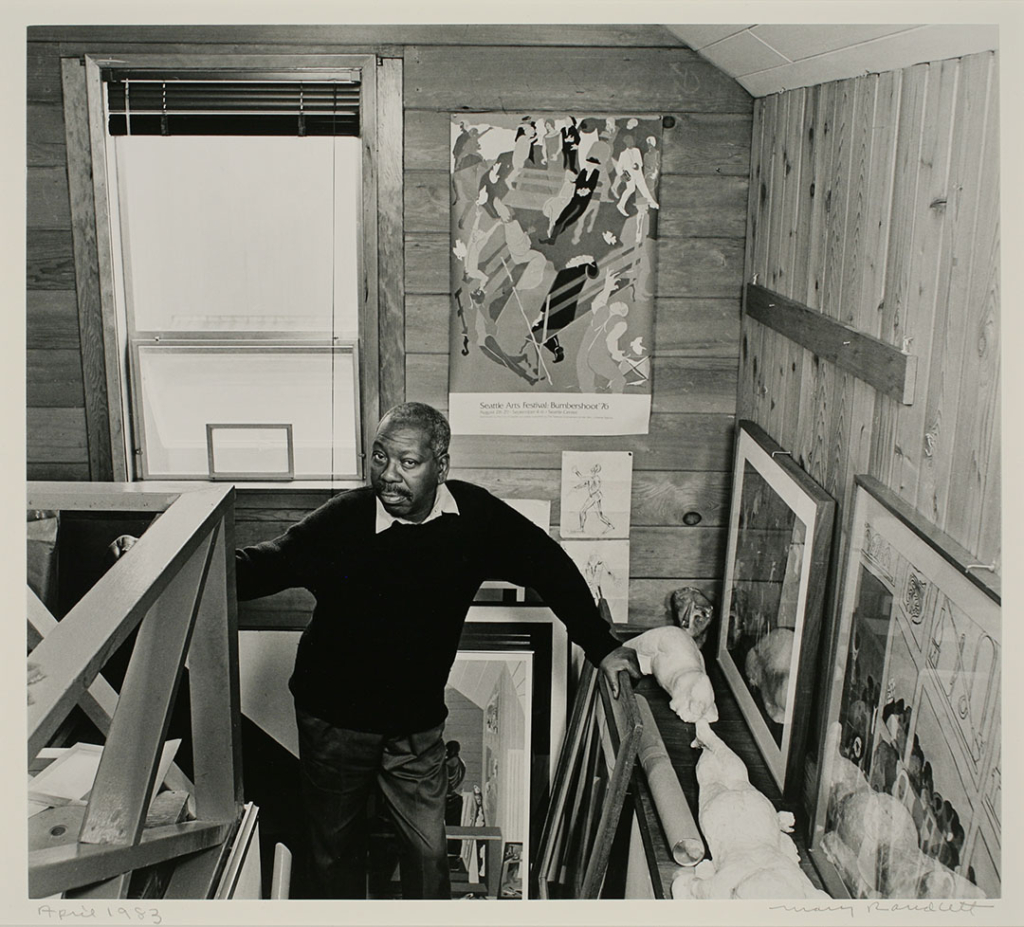 Jacob Lawrence, one of the Northwest's most celebrated artists, is captured here standing on the stairs into his loft studio. An impassioned observer and storyteller, Lawrence's art documented both the African American experience as well as the larger human struggle for freedom and social justice. Lawrence was raised in Harlem, and his works from the 1930s and 1940s capture the ever-changing street life in gouache, watercolor, and tempera. He also created a body of work focusing on important African American figures and several large multi-part narratives. In 1970, he moved to the Northwest and became an art professor at the University of Washington, teaching painting and printmaking as well as continuing to build an international career.
Mary Randlett lived her entire life in the Puget Sound area. She taught herself dark room photography, working in the chemistry building's darkroom at Whitman College in Walla Walla and apprenticing briefly with photographer Hans Jorgensen (1915-2003). Her work is in the collection of more than 40 American museums, including Seattle Art Museum, the Metropolitan Museum of Art in New York, and the National Portrait Gallery of the Smithsonian Institution in Washington DC; and her work appears in more than 200 books and exhibition catalogues. She received numerous grants, awards, and citations, including a National Endowment for the Arts Fellowship and, in 1983, a Washington State Governor's Award of Special Commendation for "unique contributions to the field."
---
[1] Deloris Tarzan Ament, "Mary Randlett: Landscape as Poetry," in Iridescent Light: the Emergence of Northwest Art (Seattle, WA: University of Washington Press, 2002), 229.