Befriending a helicopter pilot transformed artist Ed Mell's perception of landscape. Describing the views from a helicopter, he explained, "You get to go places that no artist or photographer hardly ever has the opportunity to. That creates an adrenal connection to the work – you just get excited." Soaring above the tall mesas and deep canyons of Arizona, seeing the features of the land reduced to creases and ridges bound by a wide-angle horizon, Mell found a perfect subject for his abstracted, geometric painting style.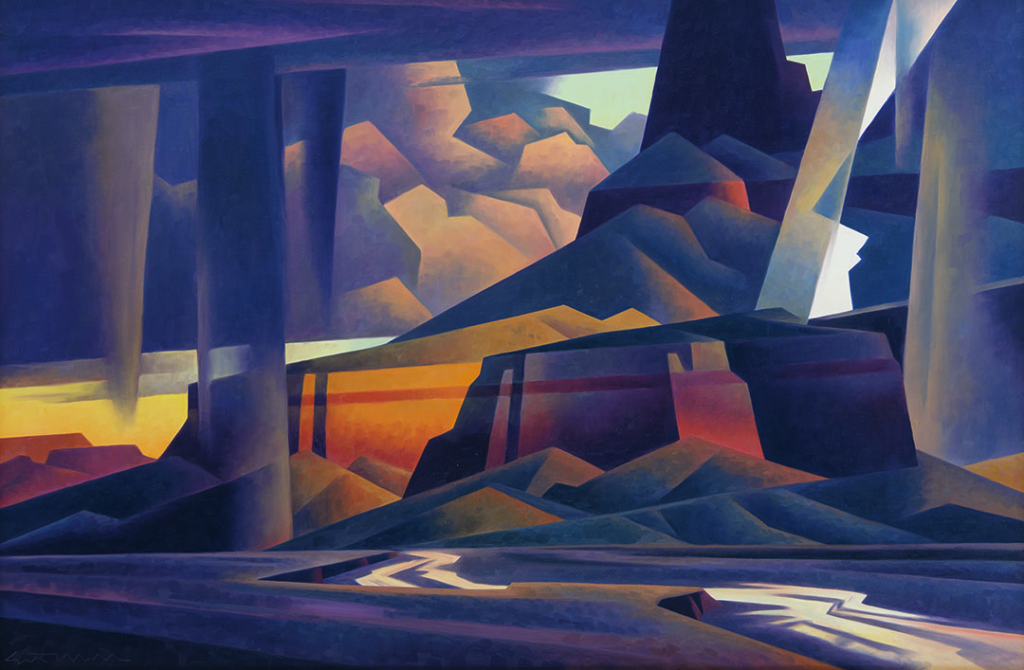 We see this stylistic approach in Mell's painting Rain and Runoff. Towering clouds and columns of rain roll across rock spires and mesas, leaving a silver trail of water running along the desert floor. The red rocks are rendered deep purple in the changing light of the passing storm. Using hard lines, bold shapes, and deep colors, Mell captures the excitement of a storm in the Southwest desert landscape.  
Ed Mell was born in Phoenix, AZ in 1942. He studied at Art Center College of Design in Pasadena, California, before moving to New York in 1967. There he worked as a Junior Art Director at an ad agency for about a year before opening his own firm, Sagebrush Studios, with a friend. Mell continued to work as an illustrator in New York until he decided to move back to Phoenix in 1973 after teaching summer art classes on the Hopi Reservation in Hotewilla, Arizona. After his return to the Southwest the artist began sketching landscapes, eventually transitioning into painting. By 1979, Mell had given up illustration completely to pursue painting full time. He still lives and works in Phoenix, sometimes employing helicopter flights in his search for new landscapes.
Learn more about the Haub Family Collection in "Art of the American West: The Haub Family Collection at Tacoma Art Museum," available in the TAM Store.