James Lavadour grew up around and continues to live on the Umatilla Indian Reservation outside Pendleton, Oregon. An avid hiker, Lavadour's connection to geography and the natural world is reflected in the methodical and labor intensive process he undertakes in his daily painting practice. He has said of his work "I owe everything about my art to the land. It's where I was educated, where I dreamed, got solace and empowerment." In his works, the addition and removal of layers of paint or other media mimic the strata and erosion of natural formations.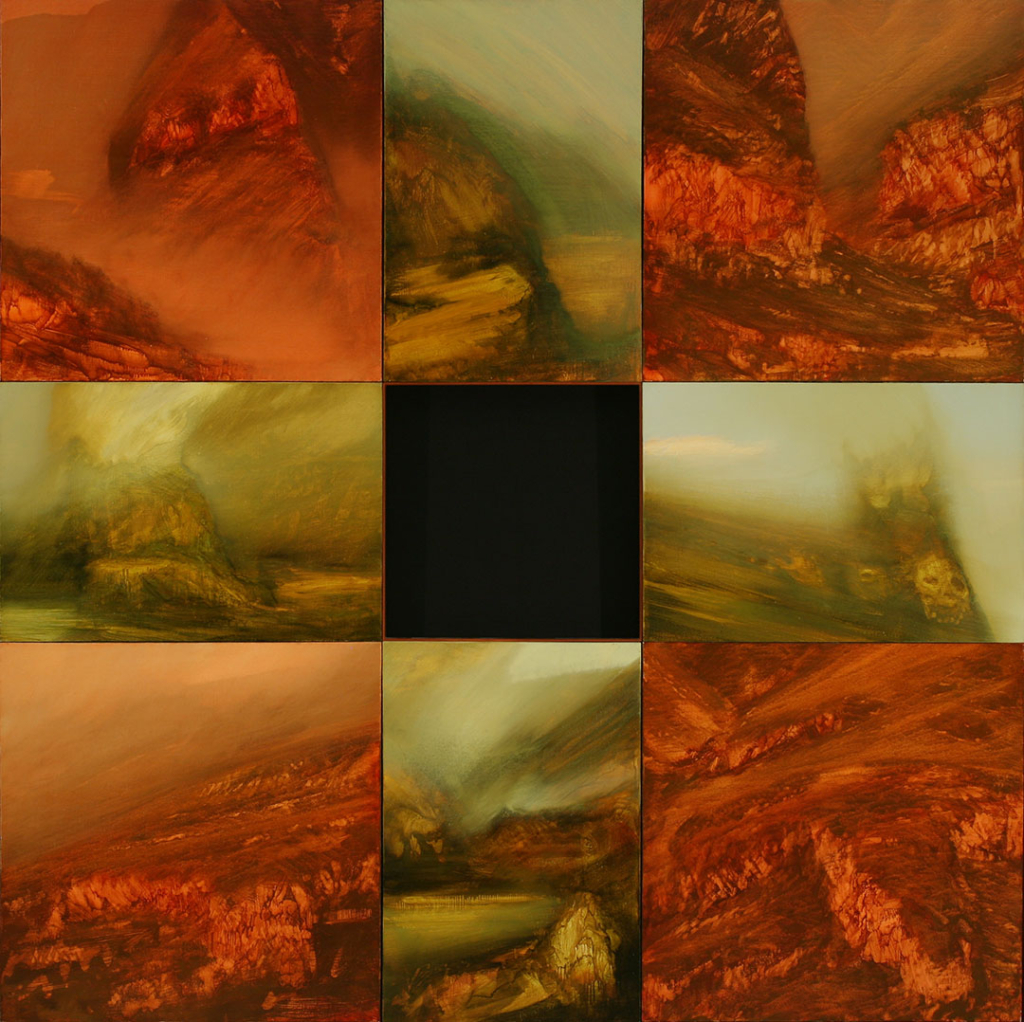 Though largely abstract, Release the Sun evokes a specific landscape. A large work, it is divided into eight rectangular sections. The corner sections are in redish-brown tones, the middle sections in green tones, and the center section is a square void. The shifts in bold color, sweeping paint strokes and smears, and fragmented canvas panels distill the artist's experience in and response to the mountainous terrain of northeastern Oregon. The skull imagery in some of the panels represents the spirits of the artist's ancestors.
James Lavadour is a largely self-taught painter who drew early inspiration from varied sources including Romanticist artists and Chinese ink painters. He has exhibited frequently in the Northwest and around the United States. He has exhibited at the Portland Art Museum, Seattle Art Museum, Northwest Museum of Arts & Culture in Spokane, Maryhill Museum of Art, the Eiteljorg Museum of the American Indian and Western Art in Indianapolis, Indiana, and the Smithsonian's National Museum of the America Indian. In 2013, with the assistance of his gallerist Jane Beebe of PDX Contemporary, Lavadour exhibited 15 of his paintings at the Palazzo Bembo in the 2013 Venice Biennale.  
In addition to his distinguished career as an artist, Lavadour founded the Crow's Shadow Institute for the Arts in Pendleton, Oregon, in 1992. Crow's Shadow has a prestigious artist-in-residence program and is the only professional fine art print publisher located on a Native American reservation in the United States. Lavadour is past-president and current board member of the institute.