Inspired by the natural landscape, diverse visual histories, and everyday surroundings, Charlene Liu creates mixed media works through an amalgam of printmaking, painting, and papermaking processes, alongside multimedia projects in video and installation.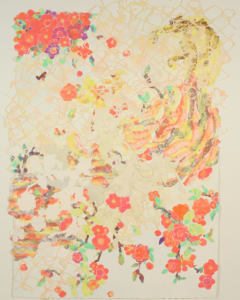 By combining imagery drawn from cultural and natural references and deliberate choices in color and artistic technique, Liu creates work that pulses with energy as it explore themes of hybrid identities, translation, fragility, and heritage.
Born in Taiwan and raised in the American Midwest, Charlene Liu currently lives and works out in Oregon. Liu has exhibited at Taylor de Cordoba Gallery (Los Angeles), Elizabeth Leach Gallery (Portland, OR), Shaheen Modern & Contemporary (Cleveland, OH), Galeria Il Capricorno (Venice, Italy), and Andrea Rosen Gallery 2 (New York). Her work has been reviewed in The Los Angeles Times, The Huffington Post, New American Paintings, The New York Times, and FlashArt International and is included in the collections of the Museum of Modern Art (New York), the New Museum (New York), and the Progressive Art Collection. Liu received her MFA from Columbia University in 2003 and a BA from Brandeis University in 1997. Charlene Liu is an Associate Professor of Art and the Printmaking Coordinator at the University of Oregon, Eugene.