Keep Calm and Carry On. This phrase, coined on the eve of World War II to boost the morale of an anxious nation, has been much on my mind lately. As we fumble to navigate this difficult circumstance, what are we doing to try and infuse the directive of this slogan into our lives during this unusual time?
Carrying on the work of the art museum's curatorial department at the time of a building closure is challenging. In my role as Collections Manager, I spend much of my typical workday surrounded by artwork in the galleries and storage areas. Nowadays I sit at my laptop, sighing melodramatically, working in our database, and trying to log into video meetings. Although I appreciate the virtual camaraderie and verve of my (delightful!) coworkers, I find myself missing my dearest colleagues: The artworks. As I sit here, at home, I feel the physical distance from the collection acutely.
Like many folks able to stay at home, I am streaming a torrent of news, movies, podcasts, and playlists, blithely ignoring lists of projects to do around the house, catching up on reading, attending a few too many virtual happy hours, and resisting the urge to give myself a haircut that would prove a terrible mistake. I am spending a lot of time in the kitchen, and a lot of time thinking about art.
 I have been thinking a lot about Night Bird.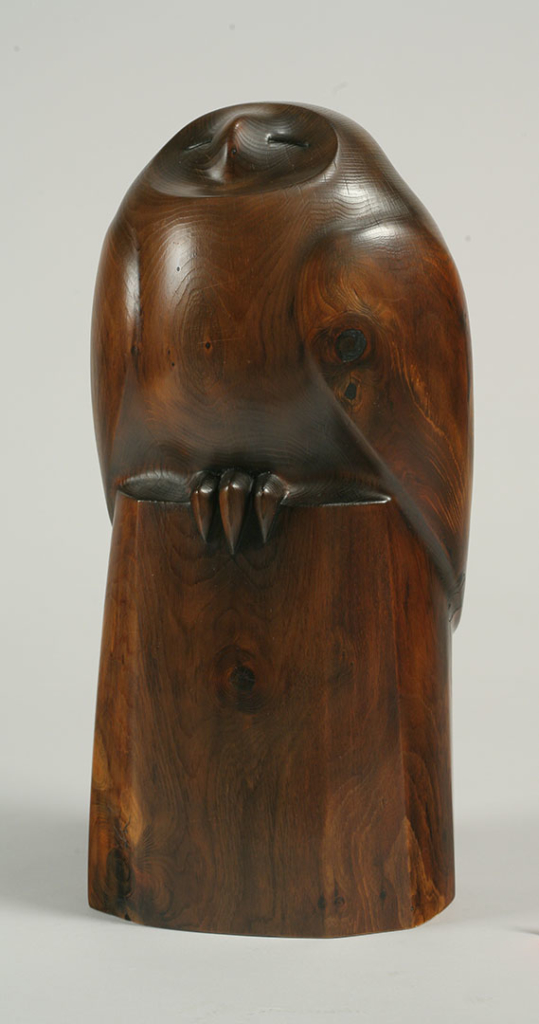 I have been eating an awful lot of toast with miso and butter on top.
Night Bird is a yew wood sculpture in the museum's permanent collection, created by artist Phillip McCracken. Minimal in form with curving, simple lines, it is evocative of Inuit motifs and rocks worn smooth by rushing water. The inscrutable countenance of Night Bird at this moment seems like a totem for this stay at home order:
Is Night Bird asleep? Thinking? Worrying? Yearning? Meditating? Waiting? Just..being?
Me too, Night Bird, me too.
Northwest artist Phillip McCracken was born in Bellingham and, among other things, worked for a time in the studio of British sculptor Henry Moore. His sculptures of animals are lauded for the precision of execution, and an ability to convey the spectrum of human emotions and experiences thoughtfully. There are a number of publications that can give you more information about McCracken's broader practice, and offer plenty of terrific images of his artwork. If you want to see an owl, a dog, and a deer all casually hanging out together with the artist in his home, or regard an unexpectedly moving depiction of a shriveled, bedridden banana, I highly recommend sleuthing on these books.
Keeping calm during all of this is a challenge. Science suggests that complex carbohydrates stimulate the production of serotonin in the brain, producing feelings of calm. I am choosing to interpret these findings as a scientifically based permission slip to eat as much bread as I can right now just to stay centered. I encourage you to do the same. Can I even pretend this is a recipe? Much like pants these days, let's leave the rules at the door and keep it simple, like Night Bird.  Keep Calm and Carry On.  
If it was a recipe, which it isn't, it might be called:
Deceptive Simplicity, or Night Bird Toast
Unsalted butter or plant butter
Miso to taste (I use white)
Toasted bread. I like rye for this especially.
You could let the butter soften and mix it all up into a compound spread, very handy for adding to anything that could benefit from a nod (or punch) of umami. It seriously transforms a roasted sweet potato. Have I melted this tricked out butter in a pan and fried the bread with good results? Yes, an emphatic yes.   Proportion is key here. Miso is very salty, so start with a little and go from there. Or you can do it like I have been more recently, as all remnants of structure and decorum continue to fall away, and simply butter your toast and follow with the faintest scrape of miso.