Ginny Ruffner is an internationally known artist based in Seattle who creates works in a variety of media including painting, metalworking, and glass. Ruffner received her MFA from the University of Georgia in 1975. Her glass sculptures helped popularize the field of lampworked glass art worldwide. In fact, Ruffner is credited as introducing the use of borosilicate glass for lampworking at Pilchuck Glass School. This type of glasswork, where a torch is used to melt the glass which was molded by blowing and shaping with tools and hand movements, was commonly used in the manufacture of scientific glassware. Using a harder glass that softened at a much higher temperature enabled Ruffner and others to fabricate lampworked pieces on a scale previously unimaginable. Ruffner went on to combine this lampworked glass with other materials, particularly metals, throughout her career.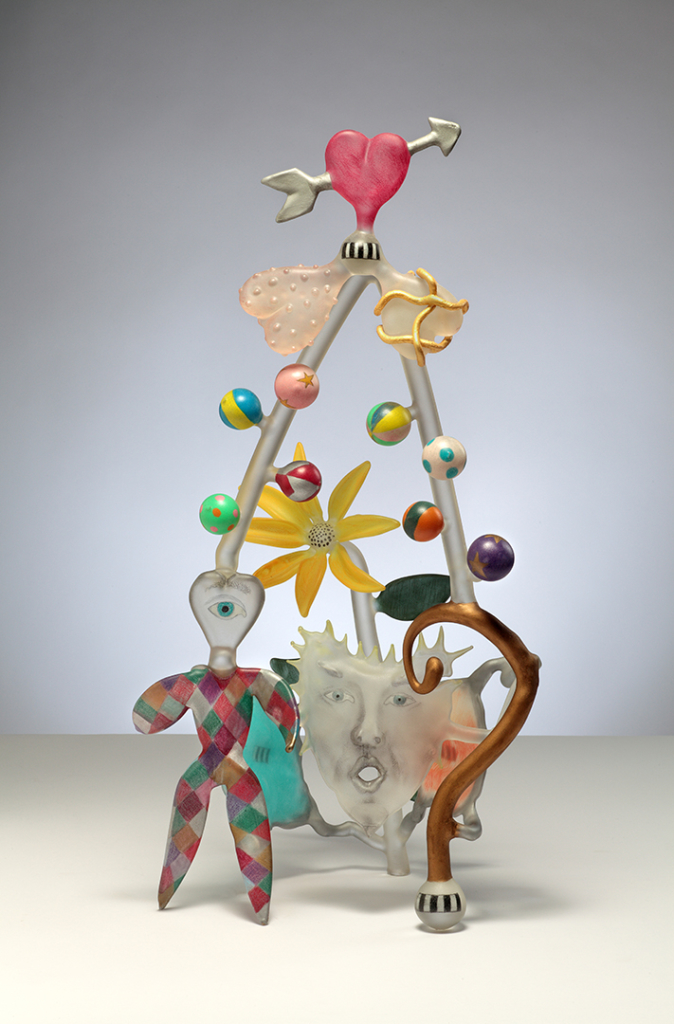 Her work in glass, like "The Juggler of My Heart in Person," often demonstrates a playful approach to subject matter and representation. For Ruffner, this style encourages viewers to feel vulnerable and open to interpret and experience the work before them. The difference between playful and whimsy, however, is clear for the artist. On using the term whimsical to describe art, Ruffner said:
"Whimsy to me implies that there is very little intention of forethought, and I really disagree. It is very intentional, very thought out. And there is – it's not a whim, in the sense that that's an important thing….What I mean by that is that I think the concept of play is important in the work because of all of the things that play implies. If you truly think about it, in order to play, you have to be willing to risk. And to be silly, one of the things you have to risk is to be vulnerable. And for me, I think art-making requires that. If you make good art, you have to be vulnerable. And that takes a lot of courage, I think… It is not whimsical – but serious/silly, in other words, invites the viewer to perhaps let down their defenses for a minute and believe or feel or think whatever. Also, serious/silly is letting those defenses down and being vulnerable, being open to all kind of other transformative life experiences, I think."
Ruffner has had over 40 solo shows and participated in several hundred group shows. Her work is in 42 permanent collections in museums around the world including the Cooper-Hewitt Museum (New York, NY), the Hokkaido Museum of Modern Art (Sapporo, Japan) and the Museum of Design & Contemporary Applied Arts (Lausanne, Switzerland). She also has executed a number of commissions for public artwork.
She was also recently the subject of an award-winning documentary film, Ginny Ruffner: A Not So Still Life.
---
Featured image: Ginny Ruffner. "The Juggler of My Heart in Person," 1988. Lamp-worked borosilicate glass, colored pencil, and fixative. 26 1/2 x 14 x 12 1/2 in (67.3 x 35.6 x 31.8 cm). Tacoma Art Museum. Gift of Anne Gould Hauberg.