Sonja Blomdahl has been working in glass for over forty years. Her vessels are based on classical traditional forms, symmetrical in shape with clean, spare lines. A specialist in the incalmo, or double bubble, glassblowing technique, she layers different colors of glass to create rich hues that shift in intensity as light moves through them. This need for color comes from living in Seattle since 1979: "If you go to Greece, it's all so shockingly bright and light that you don't see color. But in Seattle, color pops out against the gray." Blomdahl's works are a subtle balance of form with color, meant to communicate moods rather than meanings. She conveys these messages through her manipulations of color, light, and reflection.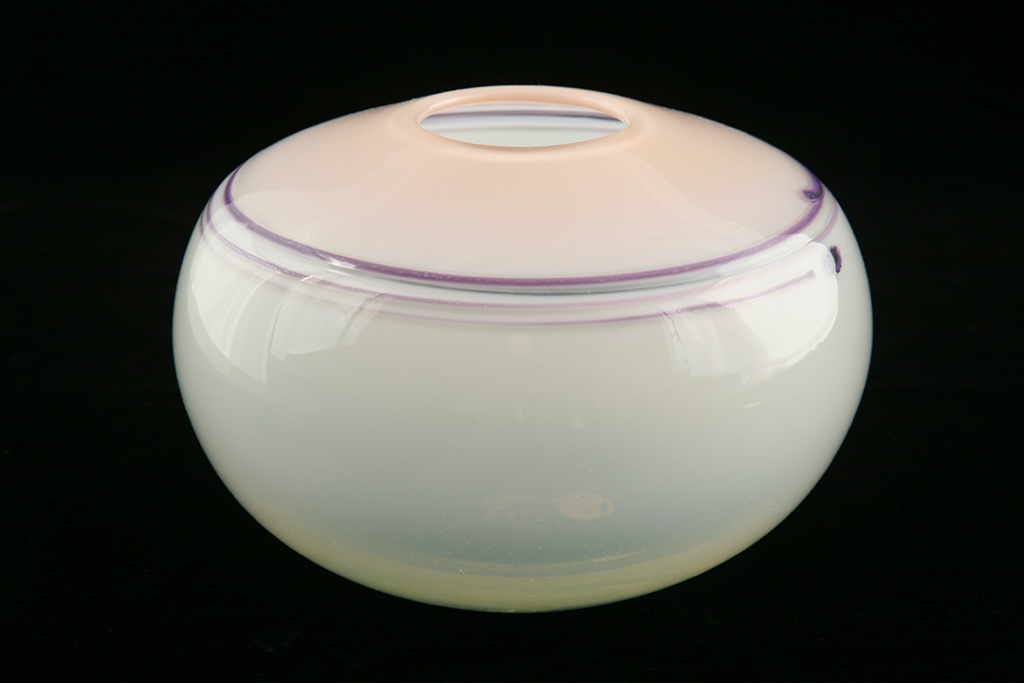 Blomdahl runs a glassblowing studio in Seattle and has served as an instructor at Pilchuck Glass School in Washington and Haystack Mountain School of Crafts in Maine. She received he bachelor of fine arts from the Massachusetts College of Art in 1974 and pursued further studies at the Orrefors Glass School in Sweden. She has an extensive exhibition record, including Sonja Blomdahl: Incalmo at the Montgomery Museum of Fine Arts in Alabama, a 20-year retrospective at the Museum of Northwest Art in La Conner, Washington, and notable group exhibitions such as Masters of Contemporary Glass Art at the Berkshire Museum in Pittsfield, Massachusetts, and Taking Shape: The Pilchuck Glass School in the 70s at Bellevue Art Museum (now Bellevue Arts Museum). Her work can be found in numerous museum and corporate collections.
---
Featured image: Sonja Blomdahl. Untitled white and pink vessel, 1981. Blown glass. Tacoma Art Museum. Gift of Paul Marioni.