Preston Singletary has been working to make his culture known in the glass world since 1982 with works like Transference. He uses form line design and bases the images of his work off of stories and figures from his Tlingit heritage. The sleek black and vibrant red make the piece quite an eye catcher when on display. The only part of the piece that strays away from the black and red color-palate is that of the sandy-tan head of the figure on the back of the bird, bringing attention to the center of the piece. On the chest of the figure is a frog-like creature sticking its tongue into the mouth of another animal located on the wing of the large bird.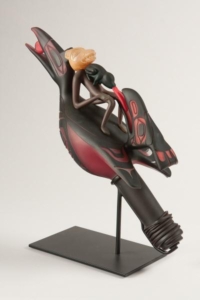 Singletary states on his website that he uses the medium of glass to transform "the notion that Native artists are only best when traditional materials are used." He finds that his incorporation of modern movements in his art act as a way to "advocate on the behalf of all indigenous people —affirming that we are still here—that we are declaring who we are through our art in connection to our culture." Transference is one example of Singletary presenting the traditional art of his cultural heritage in a new form and a new light.  
Preston Singletary learned to work with glass by assisting artists such as Dante Marioni (born 1964) and Benjamin Moore (born 1952) and alongside masters of the Venetian tradition of glassmaking including Lino Tagliapietra (born 1934) and Pino Signoretto (born 1944). He also traveled to Sweden to study Scandinavian design at Kosta Boda. He credits his mentor Northwest Coastal artist Joe David (born 1946) with helping him better express his own Native heritage through his work. Singletary's sculptures can be found in museum collections in Sweden, Boston, Corning, New York and Seattle, among others. He also teaches and lectures internationally. In 2009 the Museum of Glass held a mid-career survey of his work.