When you first see this work by Rick Bartow, what are the first emotions you see? Excited? Angry? Happy? Or something else? What about sound – what do you hear? What do you notice?
I gave a tour to a school group last year and asked them, "what do you notice about this work of art?" Immediately, one of the elementary students put up their hand and said, "it's loud." I loved that answer, and wanted to follow up with it, so I asked, "what about it seems 'loud' to you?" The student then explained that the bright colors that spread across the painting and the expression on the figure's face makes the work 'loud.' Having given tours with this work before, I knew most students find that the figure looks angry, so I asked the student one more question: "and what do you mean by 'loud'? What about the figure's facial expression makes this piece loud?" Expecting the student to say something about the figure looking angry, they simply said, "I don't know. Something about it just made me look right at it when we first walked in. Like it wanted me to look at it." I'm always amazed with what young students have to say about art; their fresh, eager eyes and their brains, like sponges, ready to absorb what the world has to show them. These growing, independent thinkers have so much to say, and I find myself needing to step back sometimes, and let them be the teacher.  
In Old Time Picture I, Rick Bartow creates an image that appears to be moving. With the motion lines strategically incorporated into the strokes, and the colors that move as quickly as your eyes can scan over the piece, this painting is, indeed, "loud." In the bottom left quadrant of the work are the words "POWWOW SINGER" which then immediately clarifies what we are looking at. The emotions we perceive from this singer then shift: are the expressions organic, or are they part of the performance? I   stare at this piece for a few minutes each time I see it – there's just so much going on and so many questions that come to my mind: "What is the figure singing about? Where are they? What does Bartow want me to take away from this?" Regardless, Bartow draws in your attention as soon as you walk into the gallery, with this piece that is loud enough for you to immediately notice.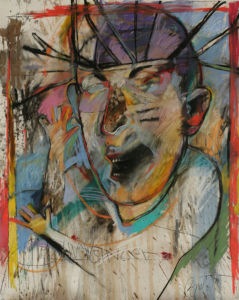 Rick Bartow (Wiyot Tribe, born Newport, Oregon, 1946; died Newport, Oregon, 2016) earned a Bachelor of Arts in Art Education from Western Oregon State University in 1969. After serving in the Vietnam War he returned to artmaking building an impressive professional career. He has had solo exhibitions at museum, universities, and galleries internationally. His work was the subject of a retrospective organized by the Hallie Ford Museum of Art, Willamette University in 2002 and he inaugurated the Continuum 12 series at the National Museum of the American Indian, New York in 2003. Most recently the A.D. Gallery, University of North Carolina curated a major survey exhibition of his work in 2011. Honors include an Eiteljorg Museum Fellowship for Native American Fine Art and a year-long installation in the Jacqueline Kennedy Garden at The White House.