Marsha Burns has spent much of her career capturing people whose existence is self-defined. Working in Seattle in the 1970s, she focused on creating figure studies and nudes in her studio. Her models, usually friends and acquaintances with androgynous qualities, posed in a mostly empty setting in various states of undress accompanied by select objects or architectural features. In creating such minimalistic compositions, Burns used the human figure to explore the relationship between form and emotion. In some cases, her selection of model and/or costume plays with the viewers expectations and questions the social constructs surrounding gender.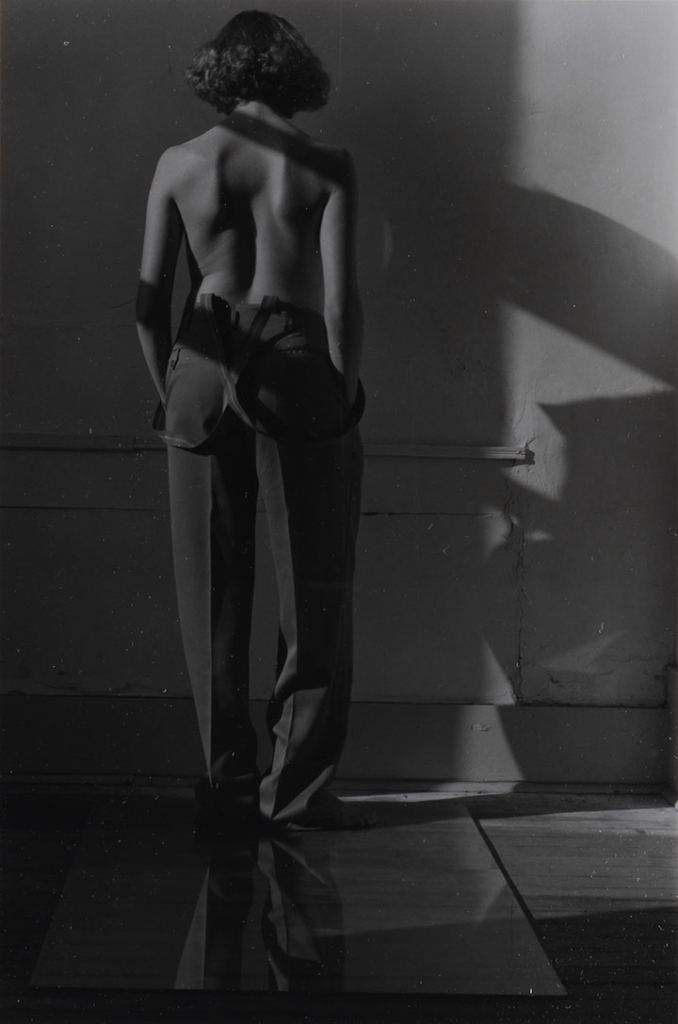 Burns questions the performative nature of gender in "Untitled." The photograph depicts a figure facing a wall with their back to the viewer. They are nude from the waist up, exposing a seemingly delicate torso and arms. The figure is wearing pleated trousers with suspenders that hang down around their hips and thighs. The sitter's hands are in their pockets and their right knee is slightly bent, taking on a somewhat relaxed or casual posture. Light streams in a window outside of the picture plane, strategically highlighting the figure's torso and pants against the wall that is largely covered in shadows.
Overall Burns' compositional decisions encourage the viewer to focus on the figure and interrogate their presence. Dominated by light, the figure's torso, a clear focal point, is suggestive of femininity through its slight shape and delicate musculature and bone structure. This presence is complicated by the trousers and suspenders, which can be seen as symbols of masculinity and even professional power. The idea that one article of clothing can have so much gendered weight plays into the performative nature of this image. The point is not that a woman isn't free to wear pants. Rather, it is that something shifts the way gender is perceived when people take on characteristics or accessories normally attributed to another gender presentation.
In the 1980s, shortly after this photograph was taken, Burns captured a generation of unconventional personalities and do-it-yourself fashion trendsetters who sought to create an alternative and safe world for themselves. Still living and working Seattle, Burns' practice has shifted slightly as she now works mostly on abstract portraits manipulated using digital technologies.
Marsha Burns has earned a number of honors over the course of her long career. Her photographs can be found in distinguished museum collections including the Museum of Modern Art (New York, NY), the Metropolitan Museum of Art (New York, NY), the Center for Creative Photography at the University of Arizona (Tucson, AZ), and the Stedelijk Museum (Amsterdam, the Netherlands) among others. She has received two fellowships from the National Endowment for the Arts and has exhibited her work in both solo and group exhibitions regionally and nationally. Burns received her training from the University of Washington (1963-65) and the University of Massachusetts (1967-69).