Zama Vanessa Helder's work is often identified with a style known as precisionism for the sharp, linear edges used to define objects. Precisionist images celebrate America's then-fledgling industrial and urban age and the crisp geometry of its factories, skyscrapers, bridges, and other architectural wonders. Helder took this style to new heights by working in watercolor, creating works that radiate clear color and showing a rare talent for tightly controlling a medium known for its fluidity and soft, blurry lines.
Helder's favorite subjects were landscapes, saying in a letter to friend and gallery associate Hazel Lewis, "I did landscapes because I felt nature was so much more harmonious in function than people were." Her body of work also includes town- and cityscapes as well as some portraits and other figural works, all of which drew inspiration not only from the world around her but also from her memories, dreams, and imagination.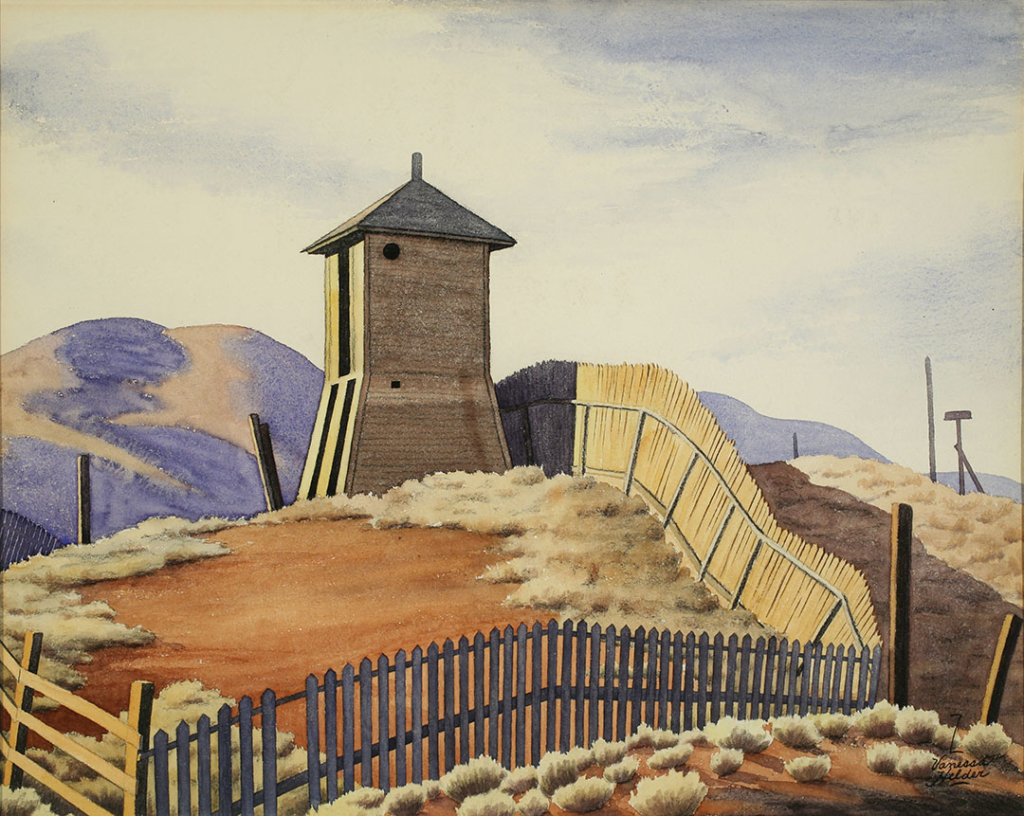 This image was painted in eastern Washington while she was teaching at the Federal Art Project's [FAP] Spokane Art Center in the late 1930s. During the Great Depression, the FAP, an arm of the Works Progress Administration, provided a working wage to artists creating original art for public buildings and schools to introduce art into the lives of the general population. In her role with the FAP, Helder taught watercolor, oil painting, and lithography. While working in Spokane, she executed a series of watercolors depicting the construction of the Grand Coulee Dam and its environs for the U.S. Bureau of Reclamation. The Northwest Museum of Art & Culture in Spokane is the repository of her complete series of the Grand Coulee Dam construction.
Born in Lynden, WA, Z. Vanessa Helder lived in Seattle and Spokane until relocating permanently to Los Angeles in 1943. She studied at the University of Washington and at the Art Students League in New York with Frank Vincent DuMond, George Picken and Robert Brackman.
Helder first gained national attention in 1936 having her work accepted in the American Watercolor Society's exhibition in New York. Her talent and skill was noticed by Maynard Walker who began representing her at his prestigious New York gallery, which at the time carried some of America's finest artists.
A major accomplishment for the artist was her inclusion in the "Realists and Magic Realists" exhibition at the Museum Of Modern Art in New York in 1943 where she exhibited with major artists including Edward Hopper. In addition, Helder's work was also exhibited at the Whitney Museum, Denver Art Museum, and Seattle Art Museum. She had a one-person exhibition at SAM in 1939.
Her work is in the permanent collections of the Tacoma Art Museum, Seattle Art Museum, Smithsonian American Art Museum,   the High Museum of Art in Atlanta, and the Portland Art Museum.