Virna Haffer experimented with and mastered a variety of photographic styles and techniques throughout her career, creating images that can be categorized as pictorialist, surrealist, documentary, straight, or modernist. She further manipulated her images in the darkroom by altering and combining negatives and using equipment such as her enlarger to create striking new works.
In the 1950s and 1960s, while the art world was experimenting with the radical idea that meaning in art could be defined by the act of making it, Haffer's approach to photography shifted. She embraced the process of creating photograms, a practice she would continue to play with, master, and eventually publish a book on the process in 1969.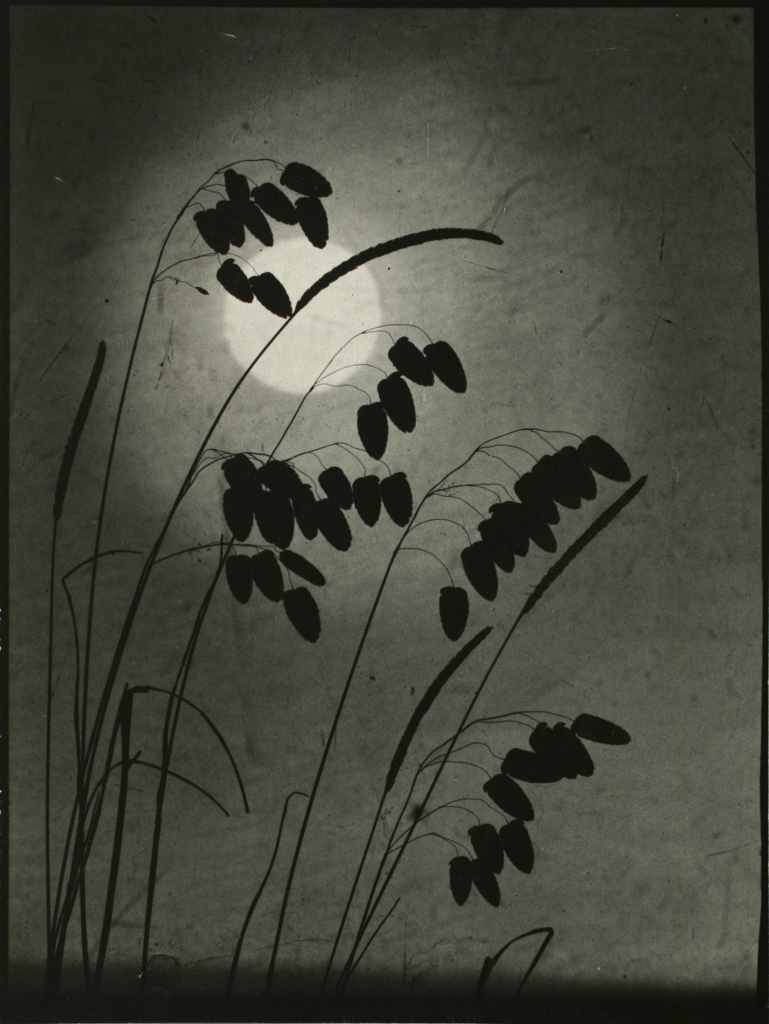 Photograms are rooted in processes and experimentation of early photography. Perhaps the most notable were those of William Henry Fox Talbot, who in 1839, placed ordinary objects on paper coated with photographic chemicals and exposed the combination to light so that the objects left white outlines on the paper. This technique was revived by Christian Schad in 1918 and taken up later in the 1920s by Man Ray and Lí¡szlí³ Moholy-Nagy, who was the first to label them photograms. Both Ray and Moholy-Nagy took Talbot's experiments further by layering objects and using collage elements and other techniques to add depth and interest.
Haffer used the basic photogram technique in a number of works. Her experiments show that she was determined to figure out how to add detail, spatial depth, and narrative content to her works. Ultimately, Haffer pioneered a setup using layers of glass plates that created depth and space within the composition. The layers also offered freedom to move, add, or remove objects from the composition and then the whole work could be re-exposed. Layers could also be exposed for different lengths of time and at different light intensities. This system offered Haffer an almost infinite variety of ways to create, and the resulting body of work is highly diverse.
Some of her most beautiful photograms are those she made from plants and insects. Haffer was deeply interested in the natural world and published a number of essays that paired her poems about nature with her photograms. Her house had an extensive and much-loved garden, and she carefully researched ever specimen she gathered, taking them to the Washington Agricultural Station or sending them to the Washington State University Botany Department to have them identified by their scientific names. These images are directly related to the work of photographers such as Edward Weston and Imogen Cunningham, who used extreme close-ups to draw out patterns and abstractions from natural objects.
See more work by Virna Haffer in TAM's Collection and at the Washington State Historical Society.
---
Headline Image: Virna Haffer. "Rattlesnake Grass," ca. 1960-1969. Photogram, 13 3/4 x 10 1/4 in. (34.9 x 26 cm). Tacoma Art Museum. Gift of John Butler.