Seattle based (and TAM collection) artist Steven Miller has been spending much of his time during the stay at home order creating a new series of work informed by the circumstances of the lockdown: Miller has been making photographic portraits of people as they self isolate in their homes. TAM spoke with the artist about the project, his inspiration, and what else he has been doing while staying at home.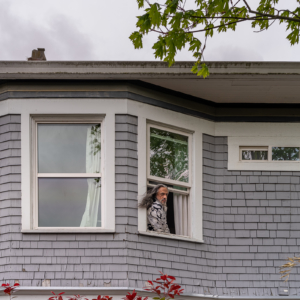 Can you give a brief description of your At a distance: Portraits Under Quarantine series?
I'm documenting my community under quarantine: musicians, visual artists, and a wide range of folks in the queer community. By focusing my eye on marginalized communities I aim to round out the visual history that is being assembled by the media and other artists around this global pandemic.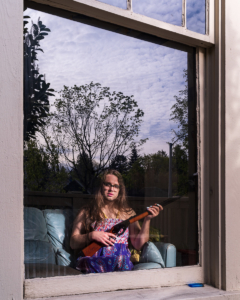 What inspired you to do this project?  
After weeks of being completely isolated at home I was starting to lose my grip on reality. Time quit having any meaning and I was lost in paranoid thoughts way too much. As a social person going cold turkey on any kind of human interaction was really difficult. So the project was borne out of my need to see my friends, even if at a distance. Also, it's impossible to escape that this is a historical moment and I wanted to add my voice to the mix of others who are documenting the pandemic.
Not only are the portraits taken at a distance, during a time of necessary social distance- they are also being experienced at a distance, via the internet. How has exhibiting the work virtually compared to showing in a traditional gallery or studio setting?
I was inspired by Seattle artist Shaun Kardinal who has posted entire bodies of work online without any intention of having a gallery show. With everyone trapped inside I knew I would have a captive audience. I took portraits for two weeks until I figured out how and what I was doing. I decided to reveal one every day for the length of the quarantine – we're going on 42 days in a row now. The response has been fantastic – better than any gallery show I've ever had because the work is sharable and linkable so I've had viewers from all over the world. While I appreciate the reach the project has had on social media I really am excited to show prints of the work – these photos are taken with a medium format and there's so much detail in them that you can only see in person.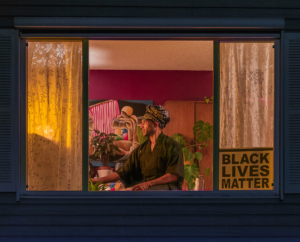 Any unexpected challenges in the process?
I've never taken so many portraits behind glass. Reflections add another dimension to the images and it's something that I have to consider every time – how to show the person and incorporate their outside world reflected on their window. Other than that I've had to figure out how to fit a tripod on a ladder and shoot higher than normal. I'm sure it's not OSHA compliant but it's working for me.  
As lockdown restrictions, ease, and shift,   have you considered how this project might change or evolve?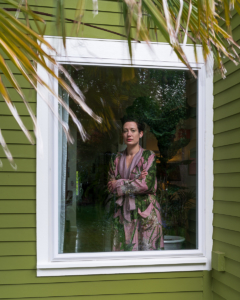 When the quarantine ends, the photographing people through their windows is over. At that point I'm going to focus on finding one or more institutions to purchase the collection because I feel this is an archive that deserves to be in the public realm.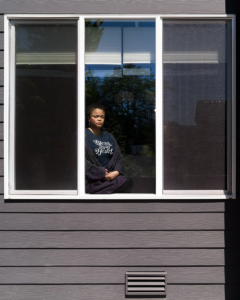 What else are you doing to cope or pass the time during lockdown?
I have been cooking like a madman. Baked goods, savory pies, 4-course Indian meals – I can't believe all the food I am making. Otherwise, I'm using this time like an artist residency: making art, filling out grant proposals, doing interviews, and editing the ever-growing body of work I have.  
Art by Seattle based Steven Miller has been exhibited nationally and internationally in galleries and museums, and his photographs are featured in the public collections of the Tacoma Art Museum, Northern Georgia College and State University, and Seattle's Public Art 4Culture, as well as numerous private collections.
Miller's photographs have been published across Europe, Japan, and the United States, including articles in The Advocate, NY Arts Magazine, London Gay Times, White Crane, Seattle Times, The Stranger, City Arts Magazine, Seattle Weekly,   as well as Milky, a monograph published by DECODE Books.