When I see Marvin Oliver's Raven with Salmonberry it reminds me of the artist. Much like how Raven brought light to the world, Marvin carried with him histories and practices that made the world a better place. Marvin was a ray of light each time I saw him. Beaming with stories and ideas, I hoped we could have worked on a few projects together, but his untimely passing reminds me of the great work he achieved throughout his illustrious career. 
Tacoma Art Museum acquired the Raven with Salmonberry sculpture in memory of the artist. It is an exceptional addition to the collection and it demonstrates not only the artist's sculptural talents, but his use of bronze, which was not previously represented in the museum's collection. Marvin is perhaps most well-known for his work in glass and printmaking both of which are found in TAM's collection including Orca, a stunning seven-and-a-half-foot high glass whale fin that rises above a sea of steel waves; and the much smaller glass sculpture, Untitled is an amber-colored mask-like form with one face emerging from the mouth of another face.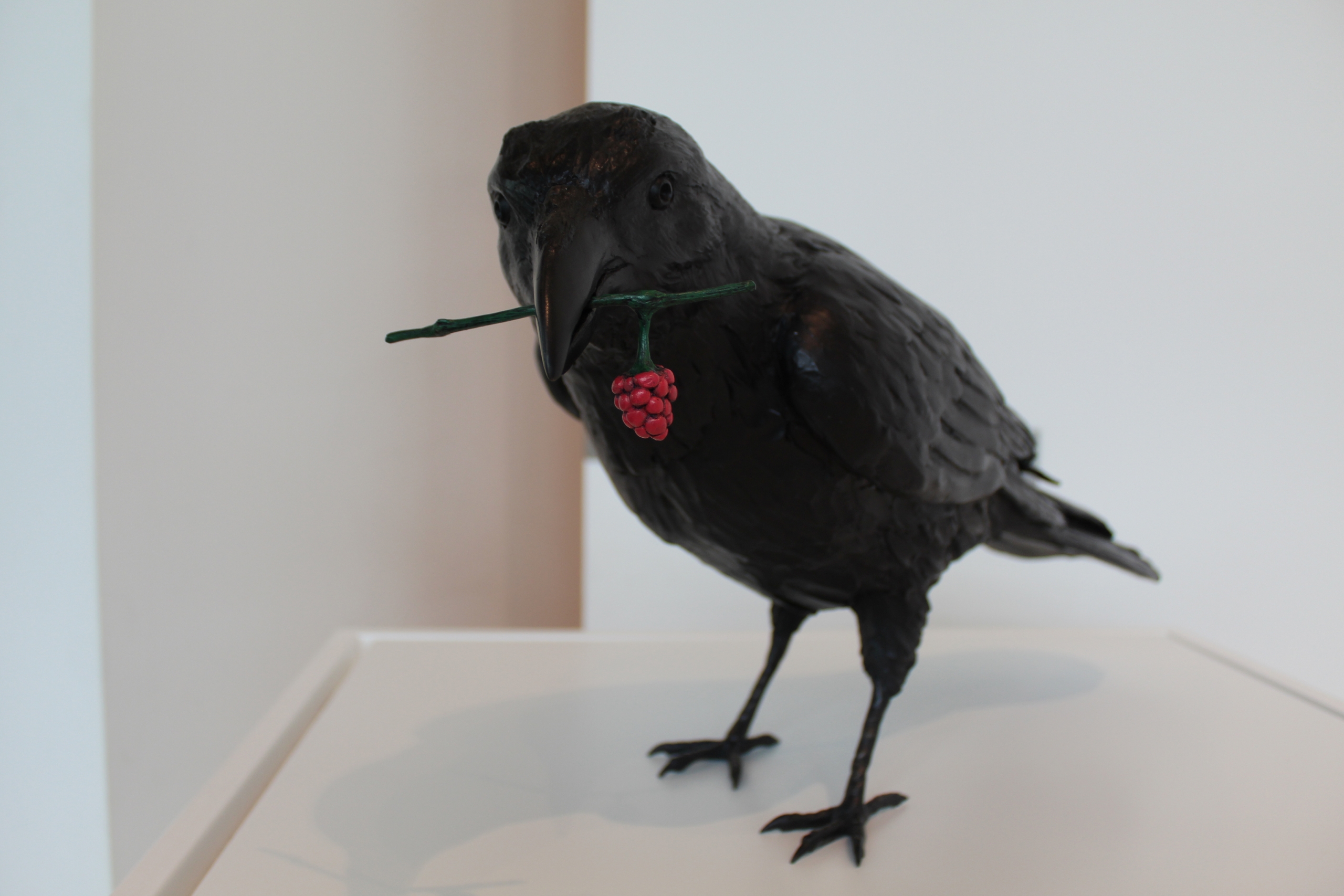 Marvin created work that is meaningful and important. He draws from histories and practices that are often overlooked in most art history books. His work furthered the field of Native American art and fortunately he was also a teacher at the University of Washington where he was able to connect many people to both his work and the larger field of American Indian studies. He has several major art commissions in the Pacific Northwest including Spirit of Our Youth, a 26-foot high bronze whale fin from 1996 for King County Arts Commission in Seattle and Mystical Journey installation of a 12,000-pound glass and steel orca sculpture for the Children's Hospital of Seattle. 
A few years ago, I asked Marvin if TAM could loan Raven with Salmonberry for an exhibition of wildlife sculpture in bronze and I was thrilled when he agreed. The raven is literally the first artwork on view when you enter the Haub Family Galleries and the exhibition Animals: Wild and Captured in Bronze. Raven is well-known as an important character who brought light to the world; and it seemed apropos to open the wing and the exhibition with this important symbol of new beginnings. That is how I viewed the raven sculpture, as a link to northern Northwest Coast storytelling.  
Raven with Salmonberry is 21.5 inches tall by 20 inches wide, roughly on scale with the size of the actual common raven. The sculpture is a dark black with an almost oil slick quality, again making it appear very lifelike. The only other color in the sculpture is the tiny red salmonberry on a stem that dangles from the bird's beak. The raven is exquisitely rendered with many detailed features from smooth head, sharp beak, and feathered wings that add texture and visual interest. The bird's gaze is powerful and piercing. The bird's tiny feet seem like an engineering feat, which balances the weight of the body on such a small and delicate base.  
It is easy to get lost in the aesthetics of the sculpture, but I would be remiss not to reflect on its importance as a contemporary interpretation of intergenerational storytelling. After all, Raven is a recurring motif in Marvin's work. In fact, this was not even the first time I included one of Marvin's ravens in an exhibition. In 2017, I worked with TAM's Haub Fellow India Young on the exhibition Cultural imPRINT: Northwest Coast Prints and we selected Marvin Oliver's Moon Dancing, an embossed screenprint from 1981. This print prominently features Raven and demonstrates some of the complexities of Marvin's works on paper regarding both his conceptual traits and his printmaking techniques. In Moon Dancing, a beautifully drawn, very realistic-looking Raven stands at the edge of the water looking at his own reflection, only the reflection is not the realistic drawing of Raven that we see standing on the rocky ledge, but instead an embossed rendering of Raven in a formline style. The print is exquisite in its combined use of printing and embossing the images of Raven, but also the messaging about identity and how one perceives oneself and how one is seen is poetic. Now that Marvin has passed away, I look at his work with Raven and it makes me think that Marvin was like Raven and brought light to the world through his art.  
"Raven with Salmonberry" is now on view as part of "Animals: Wild and Captured in Bronze."