In 2016 and 2017, many of you may recall the unjust actions and human rights violations taking place against Native American communities on American soil. The Dakota Access Pipeline project sparked protests largely under the auspices of #NODAPL and remains a relevant controversy with ongoing legal proceedings. During the height of the protests, there was a lot of moving photography and images coming from the #NODAPL protests and that is how I learned about Zoë Urness.
According to various articles, Urness went to the Standing Rock Sioux reservation to protest the pipeline. When she was there, she took a photograph titled December 5, 2016/Standing Rock. The photography garnered major recognition when it was nominated for a Pulitzer Prize in Feature Photography.
Zoë's photograph shows the power of protest. There are many other works from the time that show more of the graphic violence and further exemplify the extreme circumstances, but this particular photograph differentiates the #NODAPL protests from other protests of recent eras—it feels particularly significant in that sense.
The Pulitzer Prize-nominated photograph is powerful and memorable and feels otherworldly, which is a poignant reminder about the realities of the time. The protesters are surrounded by snow with winds bolstering the frigid temps. People are seen wearing gas masks and carrying flags. Although it is a color photograph there is very little color present aside from the flags. Located between several people and red flags is a person wearing a Tlingit button blanket that is so striking against the mostly white backdrop. The bright red fabric on the blanket is bordered by a line of small buttons that shine and offer additional meaning to both the photograph and protests. 
After I saw December 5, 2016/Standing Rock, I started looking into the artist's background. When I learned that she is Tlingit and Cherokee it brought even greater meaning to the photograph. I was also very moved by another incredible body of work that explores her Tlingit culture, especially Raven Tells His Story in the Fog which TAM acquired through the generosity of the Aloha Club.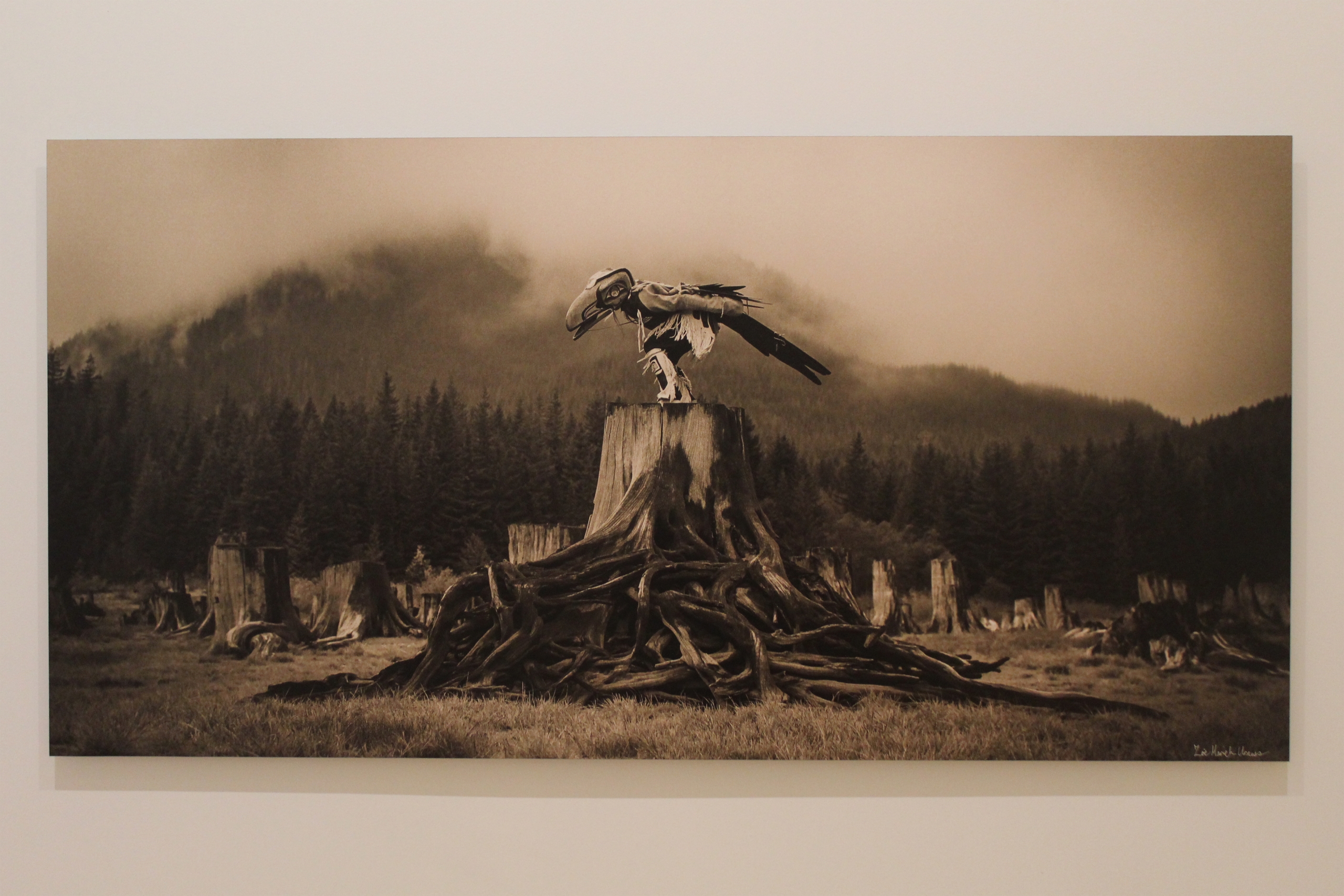 Raven Tells His Story in the Fog is a gorgeous sepia-toned photograph of a masked man in cultural raven regalia. Raven stands on a tree trunk surrounded by a clear-cut area and a thick forest in the background. The fog and forest encircle Raven to create a theatrical, moody setting. The weight of the fog and humidity on the trees feels emblematic of the Northwest. As the fog is lifting off the mountain into the sky above it appears as if Raven will also take off in flight.  We can only hope to hear his story before he goes.
"Raven Tells His Story in the Fog" is now on view as part of "Native Portraiture: Power and Perception."