"Provenance" is the museum term for the ownership history of an artwork. We're interested in knowing this information because it can offer insights into the artist's life and career as well as provide details on the stresses and strains a work may have experienced that could affect its condition. It is also important, of course, to know that a work has been legally passed from owner to owner and fascinating to discover where they've been.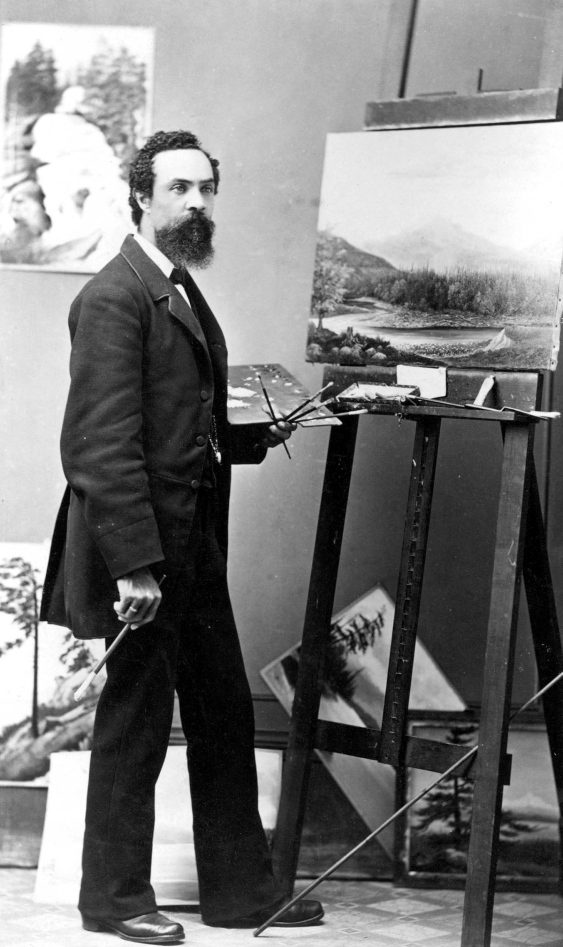 TAM regularly receives questions from people about artworks they own and sometimes those conversations lead to gifts or opportunities to purchase a work for the collection. The purchase of Grafton Tyler Brown's painting of a Columbia River scene started as one of these simple inquiries. I received an email from an organization in Minneapolis. They were conducting an inventory of all the property in their older historical building and had found this painting in a closet. They did an internet search on the artist's name and it led them to TAM hoping to find out more. I shared information about him and some weeks later they contacted me again offering the painting for sale. 
Grafton Tyler Brown is an important 19th century African American artist known for his landscapes of the Northwest and greater West. Born in Harrisburg, Pennsylvania in 1841, he learned lithography in Philadelphia and then sought better economic opportunities in the West. Brown migrated to San Francisco in the early 1860s during the Gold Rush era where he found work as a lithographer and eventually established his own business. In the late 1870s he sold the business to devote his time to traveling and painting. He taught himself painting by studying the work of other landscape artists. Brown settled first in Victoria, British Columbia, using it as a home base from which to travel throughout the Pacific Northwest. In 1885 he moved to Portland, Oregon where he became a member of the Portland Art Club and opened his own studio. He also traveled to Yellowstone and Yosemite National Parks to paint. He left Portland for Helena, Montana in 1891 then eventually relocated to St. Paul, Minnesota where he remained the rest of his life.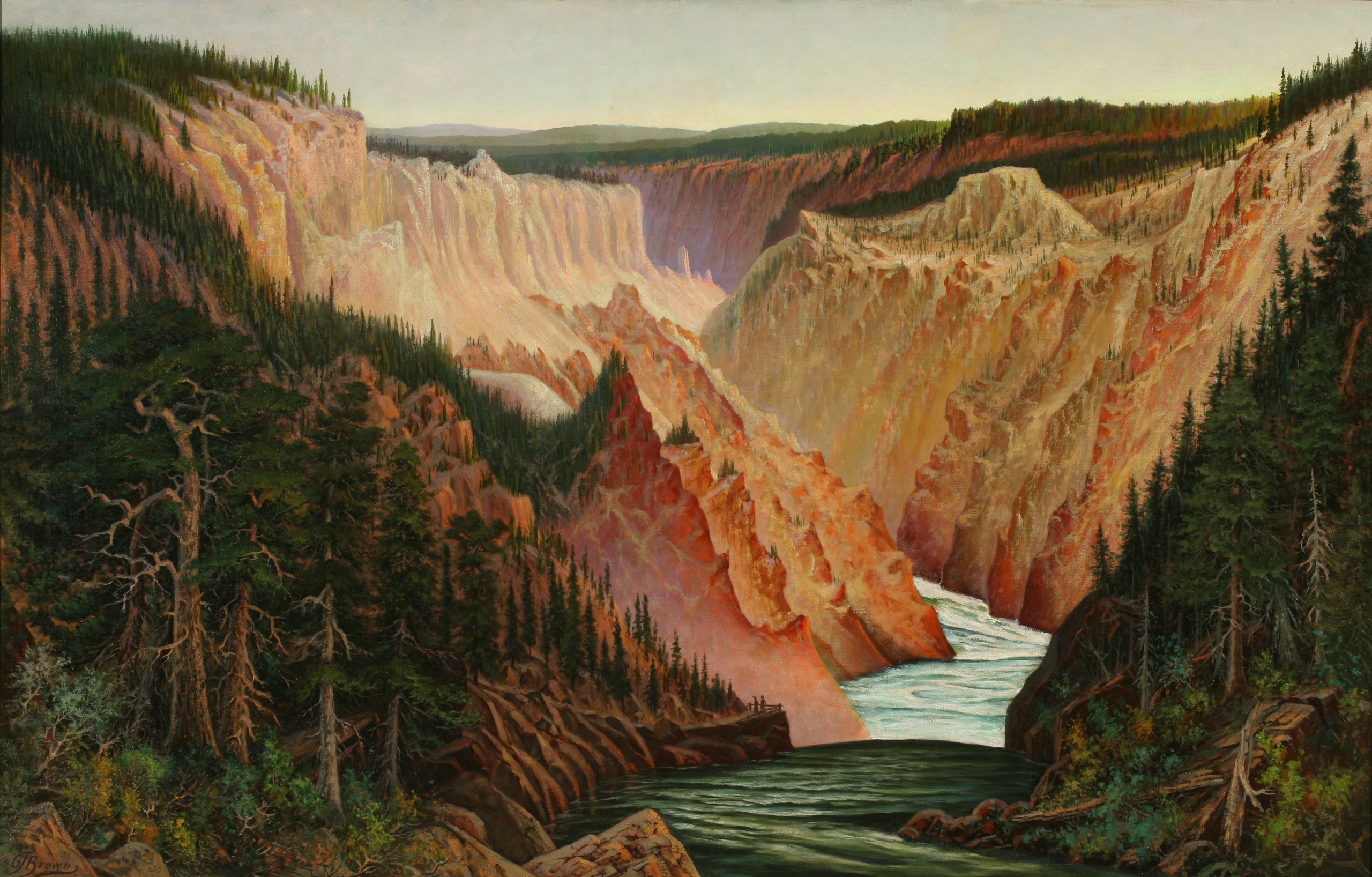 Since Grafton Tyler Brown ended his career in Minnesota it is not unusual for works of his to be found there. And since he worked from sketches, painted studies, and memory the scenes could be any of the places he had lived or traveled. In 2016 TAM acquired Brown's A Canyon River with Pines and Figures (Yellowstone), a major western landscape image, which is now a visitor favorite. But we were also interested in acquiring a work from his time living and traveling extensively in the Northwest. The painting in Minneapolis had no title or other information about the location of the scene but the distinctive rock formations match the volcanic basalts to be found in our region, specifically the Columbia River Gorge. We also compared this painting to other Columbia River images by Brown and photographs of the river from the period before the dams went in and changed the river's appearance. We found numerous similarities and are confident identifying it as a Columbia River scene. Another fun piece of detective work was figuring out when it was painted. Around 1885, Grafton Tyler Brown changed the way he signed his paintings and ours has the new style of signature. Though we can't date it more closely we do know it was created sometime between 1885 and Brown's death in 1918.  
Unexpectedly from Minnesota, the Northwest scene we had been searching for landed on our doorstep. And TAM is fortunate to have a small endowed fund for the purchase of American paintings and prints created before 1940 so we were able to acquire it back in March 2020. With the museum once again open for visitors, the painting is now on view as part of our exhibition Painting Deconstructed: Selections from the Northwest Collection for you to come see in person and help us welcome it back home to the Northwest.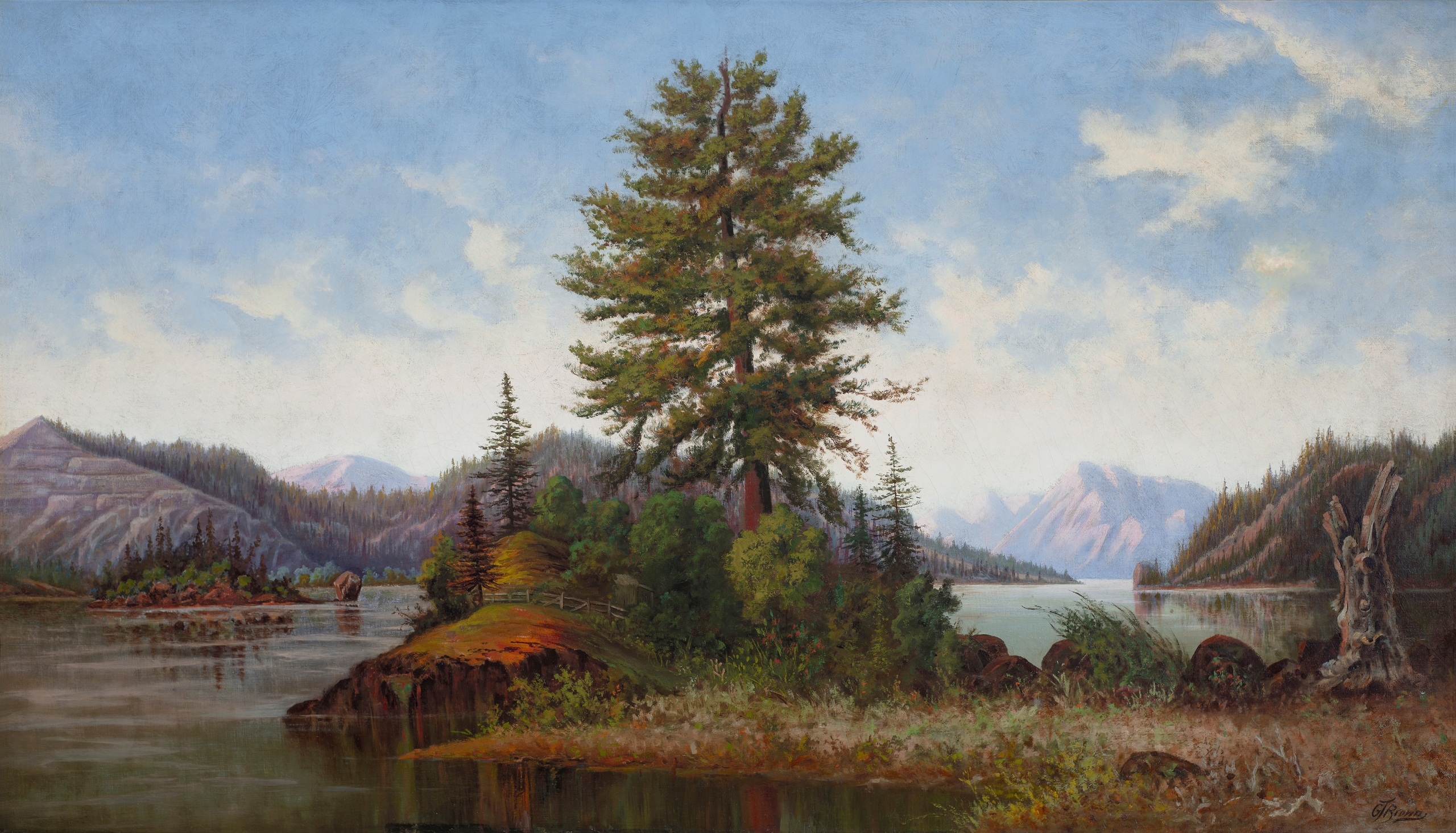 If you'd like to learn more about Grafton Tyler Brown's life and career:
The first retrospective exhibition on the artist Grafton Tyler Brown: Visualizing California and the Pacific Northwest curated by Dr. Lizetta LaFalle-Collins, was presented by the California African American Museum, Los Angeles in 2003. It then traveled to Baltimore,  San Francisco, and Tacoma Art Museum. Dr. Collins has also written several articles on Brown.
The main source for the life and work of G.T. Brown is Robert J. Chandler, San Francisco Lithographer: African American Artist Grafton Tyler Brown. Norman: University of Oklahoma, 2014. Related information can also be found at BlackPast.org and The Missing British Columbia Paintings of Grafton Tyler Brown by John Lutz.
"Untitled (Columbia River Scene)" is now on view as part of "Painting Deconstructed: Selections from the Northwest Collection."