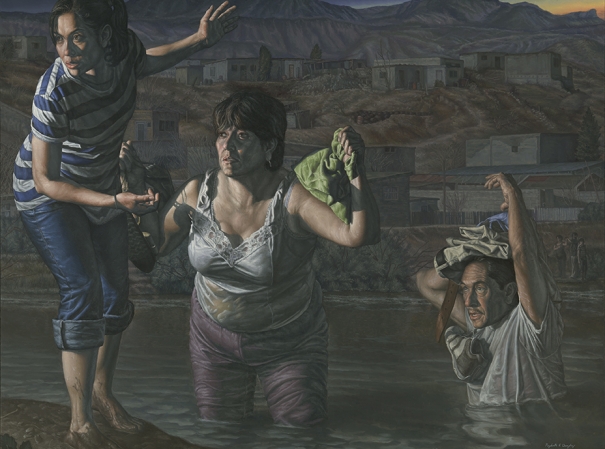 Exhibitions
The Outwin 2016: American Portraiture Today
February 4 – May 14, 2017
We live in a culture that is shaped by social media. We play with identity through technology, which both connects us and isolates us. It is no wonder the genre of portraiture is experiencing renewed significance and thriving in the contemporary art world. As a genre, portraiture is akin to the raw, direct nature of a journal entry, often revealing aspects of the sitter's identity that are messy or complicated, or even artfully concealing the truth. It is the most personal—and certainly the most psychological—of art forms. As a viewer, we step into the relationship between the artist and the subject. Whether an artist is creating a visual autobiography, delving deeper into a relationship, or getting to know someone, the resulting portrait shows us a private world.
Every three years, the Smithsonian's National Portrait Gallery invites artists to participate in the most prestigious portrait contest in the country: the juried Outwin Boochever Portrait Competition. In 2016, its fourth iteration, jurors selected 43 winning works from more than 2,500 entries. The resulting exhibition has become a pivotal marker because, for the first time ever, the Portrait Gallery is sending it on tour. Tacoma Art Museum is honored to be the first museum to host The Outwin 2016: American Portraiture Today, and will be the only West Coast venue.
The Outwin 2016: American Portraiture Today is organized by the Smithsonian's National Portrait Gallery, Washington, D.C. The competition and exhibition have been made possible by generous support from the Virginia Outwin Boochever Portrait Competition Endowment. Local seasonal support for this exhibition provided by ArtsFund.
Image Credits, Top to Bottom:
Rigoberto A. Gonzalez, La Guia ("The Guide") (detail), 2014. Oil on linen. Collection of Matt Gonzalez © Rigoberto Gonzalez.
Amy Sherald, Miss Everything (Unsuppressed Deliverance) (detail), 2013. Oil on canvas, 54 í— 43â…› inches. Frances and Burton Reifler © Amy Sherald.
Jona Frank, James, Post-Wirral Fight (detail), 2013. Pigment print, 40 í— 30 inches.  Collection of the artist, courtesy of De Soto Gallery © Jona Frank.