This February TAM will celebrate Black artists within the museum's collection by critically engaging the collection and past exhibitions from 2019.
Of the more than 5000 works within TAM's collection, only 88 were created by Black artists. In 2019, TAM exhibited the work of eight Black artists. It is imperative that we as an institution recognize and understand the influence our physical space has on the community in which we are situated. The relative lack of Black artists in collections is a systemic inequality that is present in museums nationally. Museums cannot have an accurate, full picture of art history if there is an absence of Black art.
TAM's permanent collection mostly relies on gifts from collectors and the museum has only recently had funds to purchase works. The museum has committed this money for acquisitions that ensure the collection expands to fully reflect the diverse voices of our region and begin to correct inequities.
If you visit the museum, look for the gold-colored labels to learn more about Black artists on view. As you move around the museum, consider the importance of Black artists' presence and absence in cultural art institutions. These voices are necessary in shaping discussions about American art, as well as in their communities.
If you can't make it to TAM, visit the collection online to see a portfolio of work by Black artists in TAM's collection. The museum will also be featuring work by Black artists in the museum's collection on social media all month long.
Many amazing Black artists in the Tacoma/Seattle area are constantly "connecting people through art" including: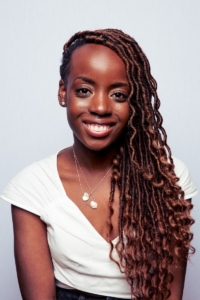 Dara Breeze is a photographer and videographer in Seattle, WA. She graduated from Washington State University with a degree in Digital Technology & Culture.
About herself, Dara writes, "My passion for photography and digital storytelling comes from empowerment of agency in giving a voice to those who aren't heard. The lack of representation of inclusion in mass media channels has caused turmoil in creating a lack of awareness towards minority narratives. I use my lens as a tool to showcase the beauty in diversity and inclusion under a positive light."
The photos come from her recent series, "The Miseducation of Representation". "Act Three" depicts "a  combination of funk, punk and a layer of opulence. This chapter of the Miseducation of Representation, introduces inclusive interpretation of an 1980s punk inspired fashion. The overall mission for this series is to bridge the gap between the relationship of education and representation in eras of popular culture."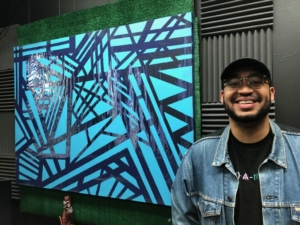 Jalen Calhoun is a Seattle based mixed media artist and part of the collective group Fun.d.a.mental. He's been creating for years but only recently entered the art scene, sharing his work with his community and at various shows.
Jalen creates rich, mesmerizing works of art using vibrant colors, as well as exploring the beauty of darker, muted colors as he draws on different mediums to bring his works of art to life. Jalen shared that he got into pour painting while working with the kids he mentors at work and it's taken off from there.  He paints to preserve his mental health and views art as an act of creative resistance as it allows him to express and explore various thoughts and ideas.
About himself, Jalen says "I'm still exploring, trying to create and find my style while I navigate through the art world.   All of my art is a reflection of where I am in life now."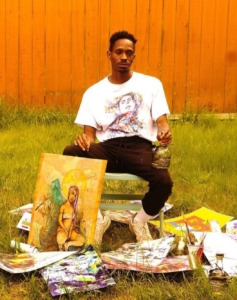 Perry Porter is a painter and song-writer from Tacoma. He is self-described and recognized as "Basquiat meets Hov", which does not need explanation as you are awed by the richness of colors and intensity of emotions he evokes when he flicks a paintbrush to the canvas.
About himself, Perry writes "Art is power. Especially in modern culture. We look up these people as the standard of genius or beauty. But the problem is there's no one that look like us. I want my family and friends to see faces that look like theirs, hair that curls like their, full lips. I want them to know that they are just as or more beautiful than the faces they see immortalized in these museums."