Marie Watt's bronze  Blanket Stories: Transportation Object, Generous Ones, Trek  graces TAM along Pacific Avenue. In it, Watt explores the humble yet significant role blankets play in people's lives, in Native American communities, and in the history of the West. On the title of the work, Watt explains: "Transportation Object  is the term used to classify cradleboards at the Smithsonian National Museum of the American Indian. Physically and metaphorically, blankets transport us: they receive us when we are born and they shroud us at death. On the western frontier, this transportation object functioned as regalia, clothing, bedding, and currency. Generous Ones  acknowledges Tacoma's indigenous inhabitants, the Puyallup and Coast Salish People. The name Puyallup or S'Puyalupubsh means "generous and welcoming behavior to all people (friends and strangers) who enter our lands." The phrase "Generous Ones" also allows us to reflect and acknowledge those who are generous in our lives. Trek  reflects on slow journeys, as well as the dynamic confluence and exchange that is a part of migrating and settling."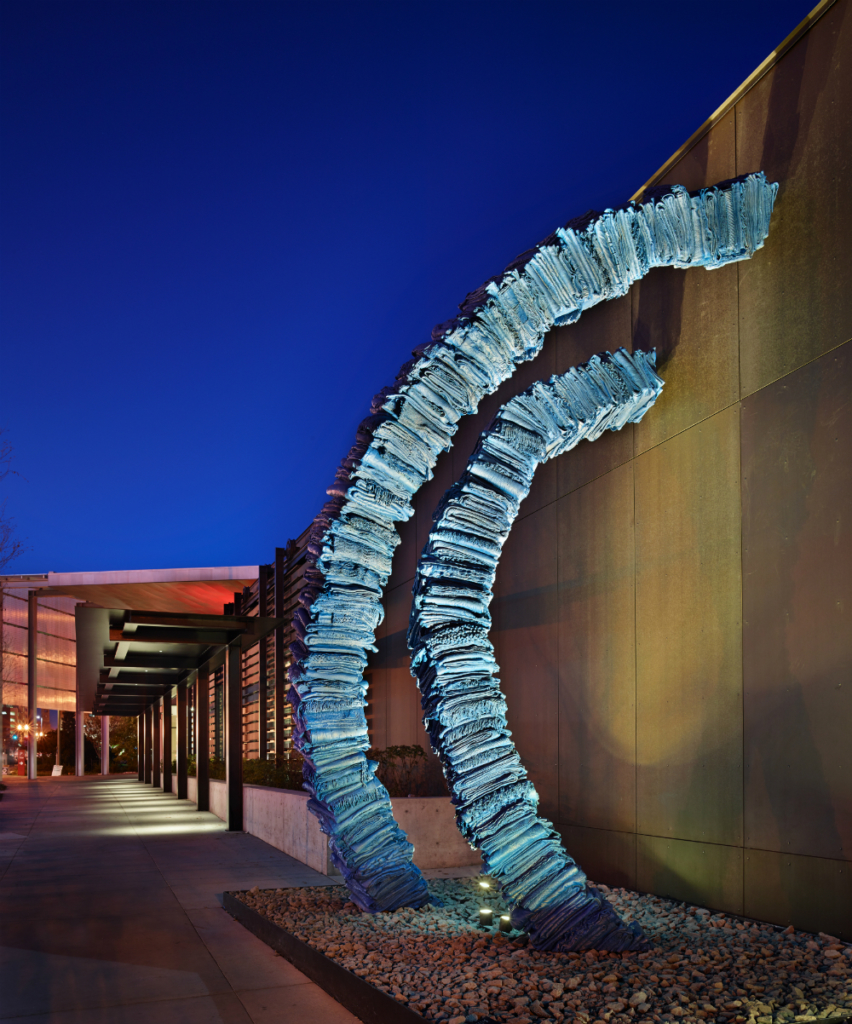 Watt's choice of medium further emphasizes interconnectedness among the community and region. The work is comprised of more than 350 blankets that were donated along with their stories by members of the greater Tacoma community. These personal tales revealed the history of each object, demonstrating relationships across time, generations, and physical space. The choice to cast them in bronze was both practical (to preserve the work in variable weather conditions) and metaphoric. Historically, bronze has been used to honor individuals through statues and busts. Here, Watt memoralizes tales of everyday life and provides a site of personal and public remembrance. While the physical blanket is lost in the casting process, its likeness is preserved and accessible as a permanent marker. You can learn more about the blankets and their stories here.
Marie Watt is an American artist and citizen of the Seneca Nation with German-Scots ancestry. She began her formal education at Willamette University, Salem, Oregon, and then pursued an associate of fine arts in museum studies from the Institute of American Indian Arts, Santa Fe. Watt earned an MFA from Yale University in 1996. Her work draws from history, biography, Iroquois protofeminism, and Indigenous teachings. Through collaborative installations and interactions, Watt facilitates multigenerational and cross-disciplinary conversations that explore connections to place, one another, and the universe. She is the recipient of the Seattle Art Museum's Betty Bowen Memorial Award in 2005, a Joan Mitchell Foundation Fellowship in 2006, and she was artist-in-residence at the Fabric Workshop in Philadelphia in 2008. Watt is currently the subject of a retrospective Marie Watt: Lodge organized by the Hallie Ford Museum of Art at Willamette University.