Inspired by the objects we hold dear and the stories they each tell, Irene Wood began creating at an early age. After exploring jewelry and pottery, Irene set her sights on Whitman College where she studied studio art. The skills she learned there helped her develop a unique painting style, one informed by the bright, the fantastical, and the abstract. These dream-like ecological utopias explore themes of balance, interconnectivity, and binary oppositions.
Irene is not just known for her unique two dimensional work. Since 2011, she has been translating ancient concepts into contemporary adornments through her line History + Industry. The statement pieces she creates are inspired by design concepts and materials of antiquity, combining jewels, bead work, wood, and resin. Each piece is a hand-crafted talisman that "provides an opportunity for its participant to imagine and foster their own personal mythology."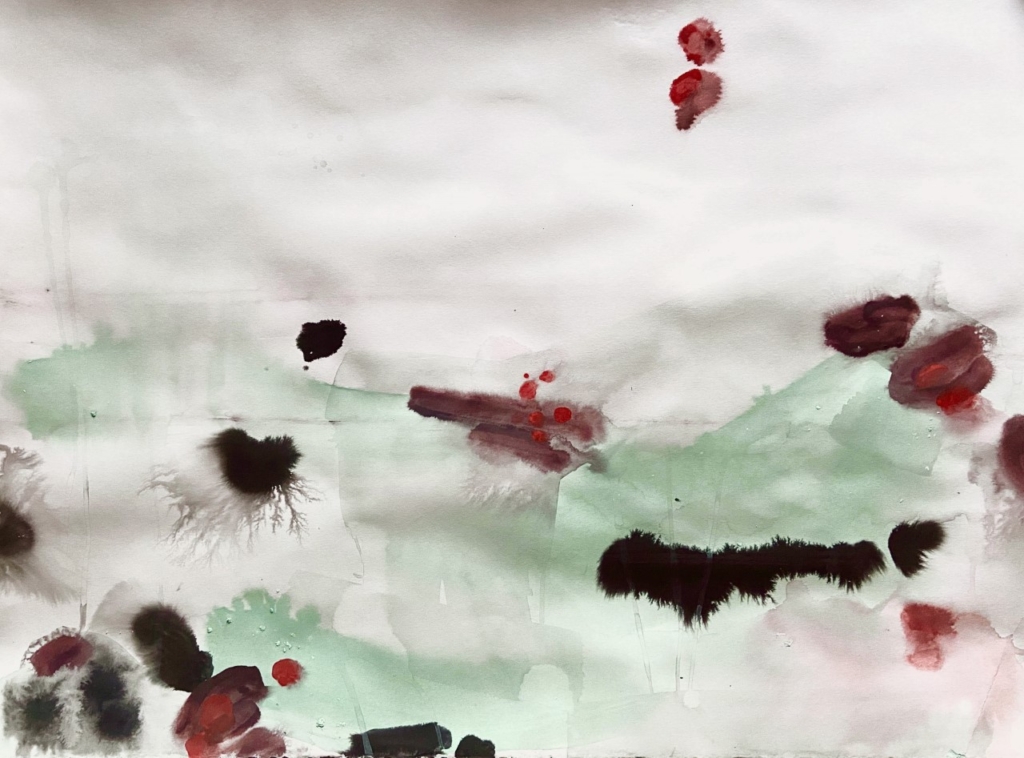 The Tacoma Art Museum Store had a chance to chat with Irene about what inspires her and what drives her to create.
What has inspired you when creating your most recent pieces?
I'm finding my latest inspiration in water, fluidity, the microcosm of elements interacting with each other on paper, much as they would on a macro level. The ink's path in a pool of water on paper resembles the stream of a river as it spills into a larger mass of water.
How do you share your passion for creativity with your community?
I'm involved in a design collective that organizes events, lectures, and pop ups for the community. Much of the creative process can be solitary, so I try to show my work several times a year so I can interact with the people that are interested in what I do.
Who are some artists/creators who you admire or who inspire you?
Helen Frankenthaler, Noah Davis, Anselm Kiefer, Saigyo.
What does your creative process look like? How do you get started on a new piece? How do you know when it's "finished?"
The creative process can vary. But most often, my paintings are made up of layers formed by a washing process. This allows for a freeness in each stage as I can't get attached to the marks and forms. After a few of these washings, a relationship between the marks I make start to form and I'll draw out some kind of impression of a scene or vignette. Whether or not a piece is "finished" is fuzzy. Sometimes it never is, especially if it stays in my possession for an extended period of time. Things can always change.
In addition to your painted works, you also make jewelry. What drew you to create wearable art pieces? What are some inspirations when creating three-dimensional pieces?
Jewelry making satisfies an urge for dimensionality that I don't have with painting. Originally my interest in jewelry was purely to make the thing that I wanted to wear myself at that moment in time. However, it has evolved into an interest in human experience and ancient civilization. I traveled around the world in my youth and was always drawn to adornment artifacts found in the different cultures I visited. I use a multitude of mixed materials to build large statement pieces that are reminiscent of artifacts spanning thousands of years around the world.
In what ways do you try to challenge yourself when making new pieces?
There are patterns I can fall into in art making which can stall my own interest and progress. I change mediums from time to time so I can keep things fresh and new.
The Tacoma Art Museum store proudly carries Irene's paintings and pieces from her History + Industry line. Explore our selection of her works at the museum store or view her works on our online store. You can also contact us to inquire about available works by sending an email to Store@TacomaArtMuseum.org or calling (253) 272-4258 x3005. Your purchase directly supports Irene as well as the museum's mission of connecting people through art.