Joey Kirkpatrick and Flora C. Mace developed their now widely recognizable large fruit sculptures to reflect ideas of abundance, nature, and the rhythm of life.  "We needed a symbol; we needed a symbol of the fulfillment of life and the expected year-in-and-year-out of that symbol," said Mace in an interview with Lloyd E. Herman  for the Archives of American Art, Smithsonian Institution.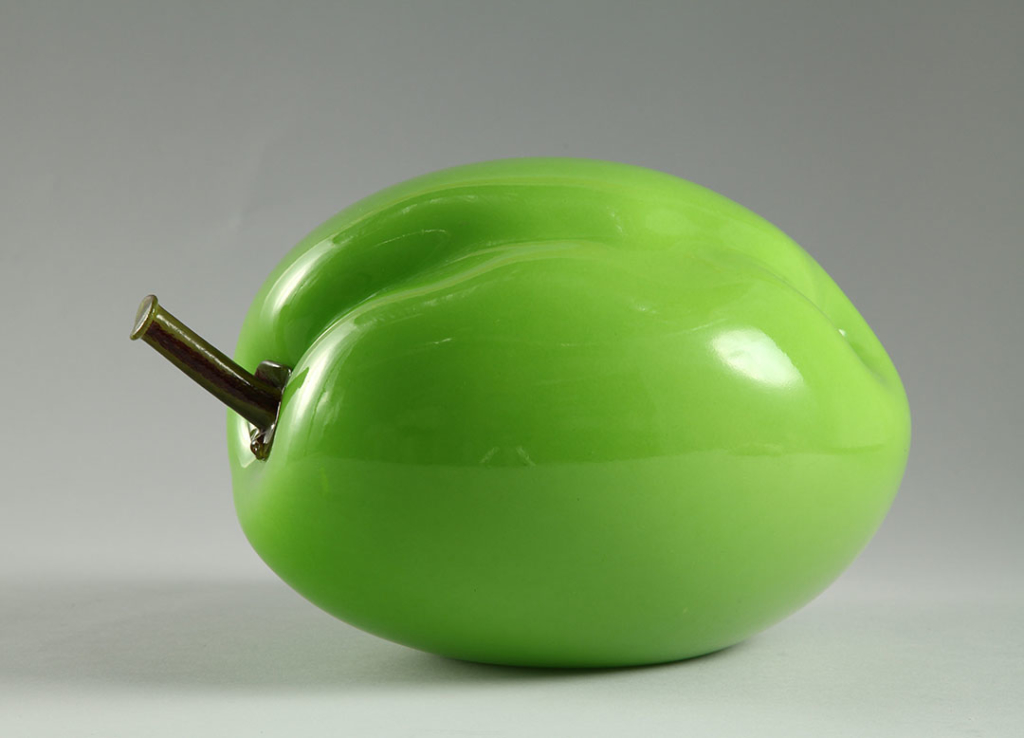 First devised in the late 1980s, these free-blown forms were sculpted and manipulated while hot to get their characteristic natural shapes. Kirkpatrick and Mace also experimented with using colored glass powders to create texture and splashes of color, ultimately creating the highly realistic representations. Glass powder was a relatively new way to pigment glass in the 1980s and offered a more painterly approach to coloring class in comparison to the glass rods used more regularly. Kirkpatrick, a trained painter, saw glass powders as both a natural extension of her practice and a challenge to conceptualize colors three dimensionally. On her technique, Kirkpatrick reflects:
"The powders are like having a watercolor set. You know, I've got all these pigments—laid out, and all we do—it's completely untechnical; I think that's why I love it so much—is, I take a sieve from the kitchen with a handle, you know. It's got half a bowl shape made out of screen material, and they come in different sizes. I would put the glass powder in the sieve, tap it, and the colored powder would fall onto the hot-glass fruit shape as I wanted it."
For over 10 years, Kirkpatrick and Mace created several fruit sculptures, presenting them as solo pieces or in groups. As the works evolved in size and abundance, the artists' understanding of them evolved. These sculptures became investigations of form and a mediation on how to reexamine the mundane average items we encounter every day. Click here to see more works by Kirkpatrick and Mace in TAM's Collection.  
Joey Kirkpatrick earned a B.F.A. degree in drawing in 1975 at the University of Iowa and took graduate classes in glass at Iowa State University from 1978 to 1979. She became one of the first women to teach glassblowing at Pilchuck Glass School in Stanwood, Washington. Flora C. Mace received her B.S. degree in Fine Arts from Plymouth State College, New Hampshire, and her MFA degree from the University of Illinois, Champaign-Urbana in 1975.
Kirkpatrick and Mace met at Pilchuck in 1979 and have worked collaboratively for the past 40 years.  They have created a diverse body of work that includes blown glass vessels with applied imagery, sculpture fabricated with wood, glass and other mixed media, and large scale blown glass fruit and vegetable forms. Kirkpatrick and Mace have both taught at the school regularly since that time. Their exhibition record is extensive and stretches across the U.S. and Europe. Their work can be found in private and public collections in the U.S. and Asia and they have received numerous awards.