Michael Brophy is often considered the quintessential Northwest artist. His decades-long focus and wry approach to the people, landscape, and history of the region have earned him much attention from collectors, museums, and critics. Brophy's solid, realist painting style is remarkably independent from his generation's leanings toward abstraction and conceptual formats. His vigorous painting style harkens back to diverse sources: the WPA-era landscapes and figurative styles, early American modernism, and the European expressionist and romantic movements, and the nineteenth-century Hudson River school tradition.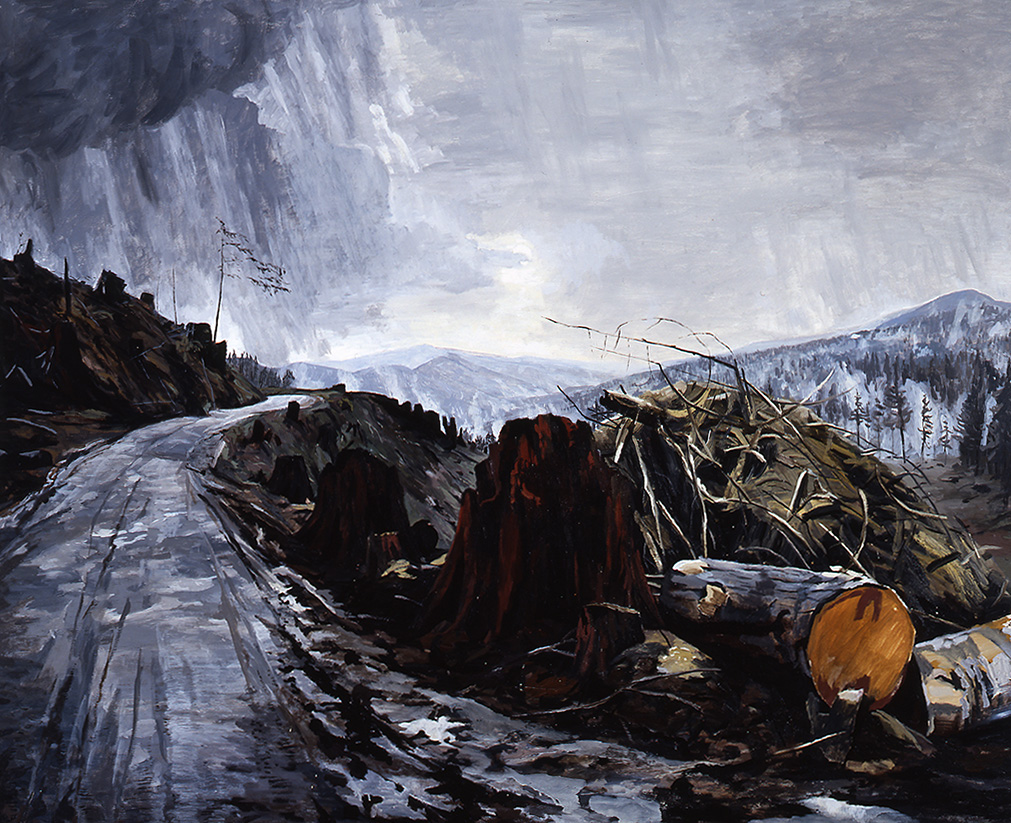 In this painting, the exquisite depictions of a rain-soaked logging road and the revitalizing winter rainstorm capture Brophy's fascination with natural forces that also change the landscape. For the artist, images like January are calculated to explore pragmatic ideas about the environment. Although Brophy does not hesitate to depict the difficult realities of a clear-cut mountainside, his painting also celebrates the regenerative power of nature. Like many Northwest residents, Brophy believes that logging is a vital industry that provides jobs and raises standards of living through the production of essential forest products. January suggests that the costs and benefits of logging practices might be better balanced to benefit forest ecosystems and the Northwest economy.
Michael Brophy graduated from the Pacific Northwest College of Art in Portland with a Bachelor of Fine Arts. He has shown extensively in the Northwest, notably in one-person and group exhibitions in Seattle and Portland. He was the subject of a mid-career survey, The Romantic Vision of Michael Brophy, organized by Tacoma Art Museum in 2005 and was included in the recent surveys Baja to Vancouver: The West Coast and Contemporary Art, which opened at Seattle Art Museum in 2003 and Critical Messages: Contemporary Northwest Artists on the Environment at the Boise Art Museum and Western Gallery in Bellingham, Washington in 2010. He has received a Pollock-Krasner Foundation Grant and a National Endowment for the Arts Fellowship.
Image: Michael Brophy. January, 1997. Oil on canvas, 78 x 95 1/2 in. (198.1 x 242.6 cm). Tacoma Art Museum. Museum purchase from Laura Russo Gallery with funds from the Dr. Lester Baskin Memorial Fund.