Joe Feddersen is a printmaker as well as a glass and textile artist. In the tradition of his Plateau Indian ancestors, he uses symbols in his work to record the landscapes around him, both rural and urban. In Plateau design, geometric motifs on baskets and weavings represent topographical details and other markers of a particular place. Using these designs as a point of departure, Feddersen has created his own symbol system to record details of his contemporary environment, including stylized tire tracks, parking-lot stripes, and utility towers.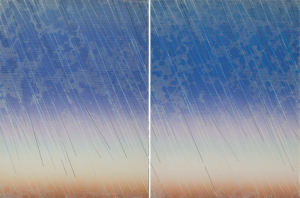 One of the first prints he created while he was a student at the University of Washington, Rainscape refers to both the iconic ukiyo-e print by Utagawa Hiroshige (1797-1858) from the 19th century and the typical Northwest rainy day.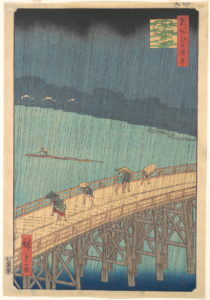 Joe Feddersen is a member of The Confederated Tribes Of The Colville Reservation and has exhibited internationally since the early 1980's. He studied art at Wenatchee Valley College and the University of Washington, receiving his master of fine arts from the University of Wisconsin, Madison in 1989. After graduation, he served as a member of the art faculty at The Evergreen State College in Olympia from 1989 – 2009. Feddersen has had 29 one-person exhibitions, including Continuum 12 Artists: Joe Feddersen at the National Museum of the American Indian – Smithsonian Institution in New York; and the exhibition Vital Signs organized by the Hallie Ford Museum of Art, Willamette University, and on view at Tacoma Art Museum in 2009. Since 1982, his work has been included in more than 125 group exhibitions across the United States and in Germany. His work can be found in museums throughout the United States.