While using his Quinault and Isleta-Pueblo heritage as inspiration for his art, Marvin Oliver quickly became one of the most prominent sculptors and printmakers in the Northwest. In his work, Orca, Oliver uses a mix of watercut, fused, and polished glass to create an orca's docile fin, with steel at its base representing the water. While the top of the fin is made up of black and white, the iconic colors of an orca, the rest is made up of red, yellow and blue designs based off of traditional Quinault art and storytelling. Oliver intentionally uses modern art mediums and techniques to recreate and reimagine the art of his ancestors to merge "the spirit of past traditions with those of the present… to create new horizons for the future" according to his studio website. Marvin Oliver passed away in July of 2019, leaving behind diverse and expansive body of work in collections and on display around the world.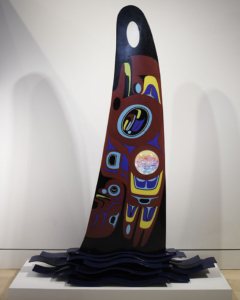 Marvin Oliver worked with a variety of media including cedar, bronze, steel, and glass and created both smaller scale and monumental works for public settings in the United States, Canada, Japan, and Italy. In collaboration with expert technicians and the manufacturer Bullseye Glass in Portland, Oregon, Oliver helped develop a new cutting and fusing process for sheets of colored glass. Using this technique, Oliver transformed the curves and bulges of carved wood into richly colored light that moves through the slumped and fused glass.
Oliver was a Professor of American Indian Studies and Art at the University of Washington, and served as Adjunct Curator of Contemporary Native American Art at the Burke Museum. He also held a part-time post at the University of Alaska Ketchikan.