Milton Simons was an important Northwest African American artist from the 1940s until his death in 1973. In addition to his skills as a painter, Simons was an educator, poet, dancer, and noted musician/composer.
Born and raised in Seattle, Washington, Simons' work reflected his varied cultural backgrounds. As a young adult he won a national scholarship competition which was withdrawn when it was learned he was black. After serving in the Army during World War II, he attended and later taught at the Burnley School of Art in Seattle. He studied under nationally known artists at the Art Students League and performed with the Katherine Dunham Dance Troupe in New York City. In Seattle he studied music at the Cornish School of Art. His art has been exhibited regionally including the Seattle Art Museum, Frye Art Museum, Henry Art Gallery, and the Little Gallery (all in Seattle). His work has won the National Negro Women's Association (Grand Prize), and Boeing Company Annual Art Show (Grand Prize).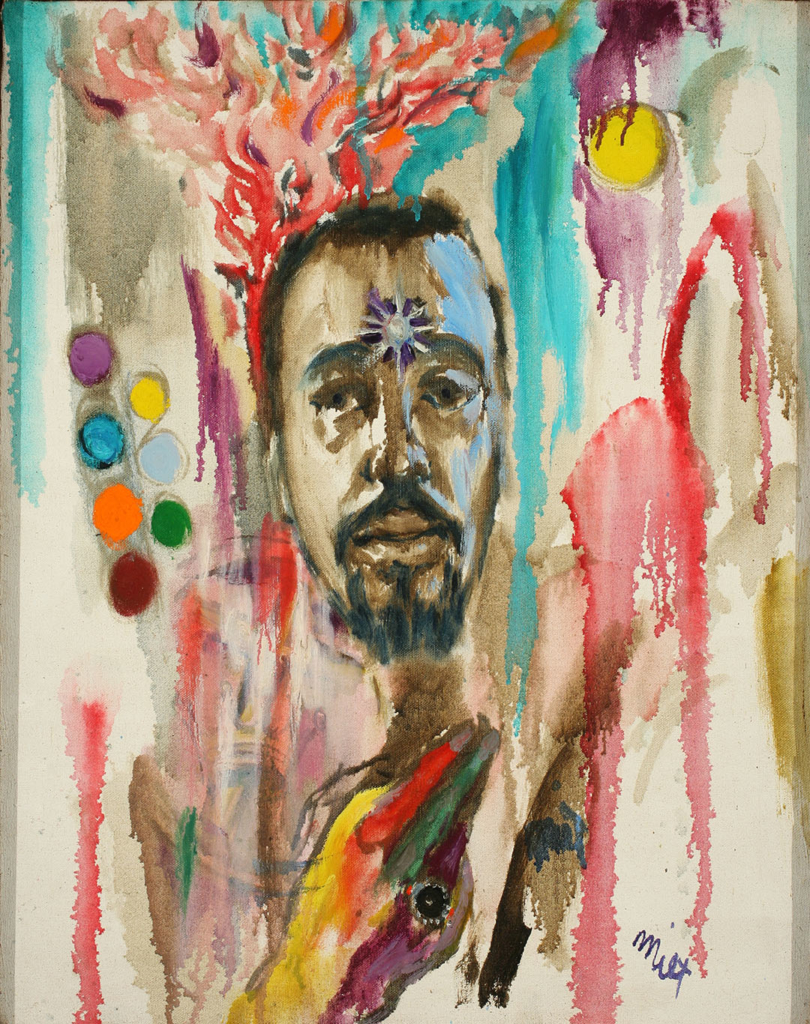 In his Self Portrait, Simons created an image of himself that uses color to recreate the palette he preferred, which for him represented the building blocks for both his artwork and his musical compositions. His wife has said of this work: "Simons here deals with self-reflecting motifs that he considered his inner identity: the flaming ambition to communicate, a sun shining indifferent light on his face, and the 'third eye' moon radiating from his forehead. Included are color circles of an ancient musical notation system illustrating the 'harmony of the spheres.' His right hand holds an invisible brush with the multi-colored fingers of an artist. His onyx and silver ring, which he wore constantly, represents a symbol he considered essential to understanding: center and circumference, which he adopted for his personal logo."
Image: Milt Simons, Self Portrait, 1969. Oil on canvas. Tacoma Art Museum. Museum purchase with funds from the Dr. Lester Baskin Memorial Fund.