Studio Art Glass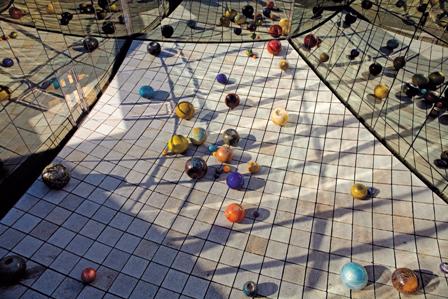 The studio art glass movement, which is nearly synonymous with the Pilchuck Glass School in Stanwood, WA, is represented in the museum's collection by a variety of significant works. Tacoma Art Museum is proud to be the repository of a body of studio art glass numbering nearly 900 that records the history of the Pilchuck Glass School and preserves and illustrates the history of how the Northwest came to be a world-renowned center for studio art glass. The school was co-founded by Dale Chihuly and Anne Gould Hauberg with her husband John Hauberg. Paul Marioni served as a long-time instructor. The museum's collection is built upon key gifts from Chihuly, Hauberg, Marioni.
Anne Gould Hauberg Collection
The museum's glass collection is anchored by Anne Gould Hauberg's gift of 151 works. As one of the founders of the Pilchuck Glass School, Hauberg's collection charts the development of the early years of Pilchuck. As a leading arts patron in the Northwest West, Anne Gould Hauberg championed many artists and cultivated deep friendships with many of them, notably Dale Chihuly. Her gift to TAM includes outstanding examples of early Chihuly works including a hand-woven window covering with colored glass bars, a wine bottle, cylinders and baskets. The collection also includes works by such renowned artists as James Carpenter, Joey Kirkpatrick, Flora C. Mace, Paul Marioni, Richard Marquis, William Morris, Italo Scanga, Therman Statom, Lino Tagliapietra, and Toots Zynsky. She also collected favorite artists in depth such as Anna Skibska, James Minson, and Ginny Ruffner.
Dale Chihuly Collection
One of the most prominent collections in the museum is the Dale Chihuly glass collection. As a gift to the region, Dale Chihuly donated a retrospective collection of his work in honor of his parents, Viola and George, and his brother, George W. Chihuly. Approximately forty of these works are featured in a long-term installation in the museum's Bill and Bobby Street Gallery. In 2006, Dale Chihuly donated the installation Ma Chihuly's Floats, a collection of thirty-nine works from the Niijima Floats series, in honor of his mother which is installed in the museum's central courtyard from late spring to early fall each year. Tacoma Art Museum's collection now includes 110 works by Chihuly.
Paul Marioni Collection
Paul Marioni, one of the nation's foremost innovators in glass art, gifted his collection of nearly 400 artworks to Tacoma Art Museum in 2012. The Paul Marioni Glass Collection traces the evolution of the Studio Glass Movement through Paul's engagement with the Pilchuck Glass School, where he taught from 1974 through 1988. The core of the collection focuses on more than 70 works by Paul Marioni that document his evolution as one of the most important artists working with glass.
Paul's collection also includes works by internationally recognized artists such as Sonja Blomdahl, Dale Chihuly, Richard Marquis, Lino Tagliapietra, and Cappy Thompson. The collection features more than 90 glass goblets and eight large-scale vessel forms by Dante Marioni, tracing his development from a beginning glassblower learning the Venetian tradition to one of the nation's foremost artists working in glass.
---
Dale Chihuly (American, born 1941), Ma Chihuly's Floats, 1992-1997, Blown glass, Dimensions variable. Tacoma Art Museum, Gift of the artist, 2006.13 A-MM